The following is an excerpt from Gallup News.
STORY HIGHLIGHTS
42% of U.S. adults approve, 56% disapprove of Biden's handling of his job
86% of Democrats, 39% of independents, 7% of Republicans approve
Biden comparable to most other presidents at same point in term
President Joe Biden's latest job approval rating of 42% is essentially unchanged from last month's 44% and maintains the slight improvement he's seen from his 38% personal low point in July.
Still, the majority of Americans, 56%, disapprove of the way Biden is handling his job.
These findings are from a Sept. 1-16 Gallup poll, during which much of the breaking news occurred overseas.
Presidential Approval in Historical Context
Biden's current approval rating is roughly in line with the ratings of most of his modern predecessors at the same point in their first terms as president.
The timing is significant because it is two months before the midterm congressional elections, which are widely seen as a referendum on the sitting president.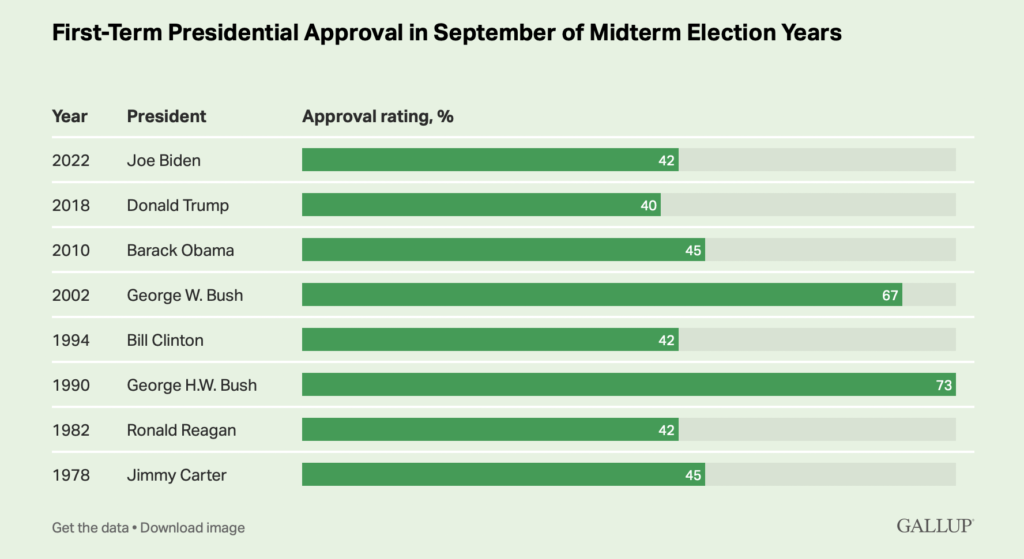 Bottom Line
Biden's job approval rating remains well below the 50% mark, which has typically resulted in significant losses for the president's party in midterm elections.
Biden's current 42% rating is generally in line with five of his seven predecessors' ratings at the same point in their presidencies.
In those midterm elections, the president's party lost between 15 and 63 congressional seats.
Read more here.