The following is an excerpt from Gallup News.
A 54% majority of Americans say the federal government has too much power, while 39% say it has about the right amount of power and 6% say too little.
These figures have generally been stable throughout the Donald Trump and Joe Biden presidential administrations.
Since 2005, no less than 50% of Americans have said they believe the federal government is too powerful, with some of those readings reaching 60%.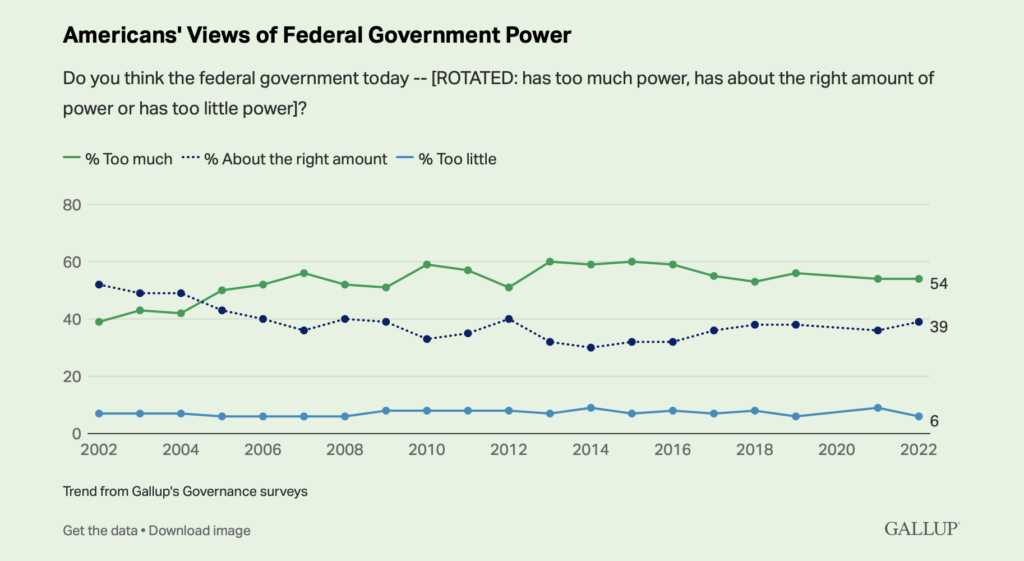 These results are based on Gallup's annual Governance survey, conducted Sept. 1-16.
Americans have typically believed the federal government has too much power, except in the first three years after the 9/11 terrorist attacks.
Between 2002 and 2004, about half of Americans said the government had the right amount of power, while close to 40% said it had too much.
At no point in Gallup's trend have more than 9% of U.S. adults said the government has too little power.
The stability in the overall numbers masks large shifts by Republicans and Democrats tied to the party of the sitting president. Generally speaking, Republicans and Democrats are more inclined to say the government has too much power when the president is from the other party, and less inclined when a president from their own party is in the White House.
But since 2009, Republicans have been consistently more likely than Democrats to say the government is too powerful, just by larger margins under a Democratic president than under a Republican president.
Currently, 74% of Republicans, 32% of Democrats and 54% of independents believe the federal government has too much power.
Americans Most Likely to Believe Business Regulated Too Much
Twice as many Americans believe the government regulates business too much (46%) rather than too little (23%), and 29% say there is the right amount of regulation.
For the past two years -- the first two of Biden's administration -- the percentage of Americans saying there is too much regulation has exceeded the percentages measured in 2018-2020, the last three years of Trump's administration.
Similarly, more Americans thought there was too much business regulation under Barack Obama between 2009 and 2016 than under George W. Bush between 2001 and 2008.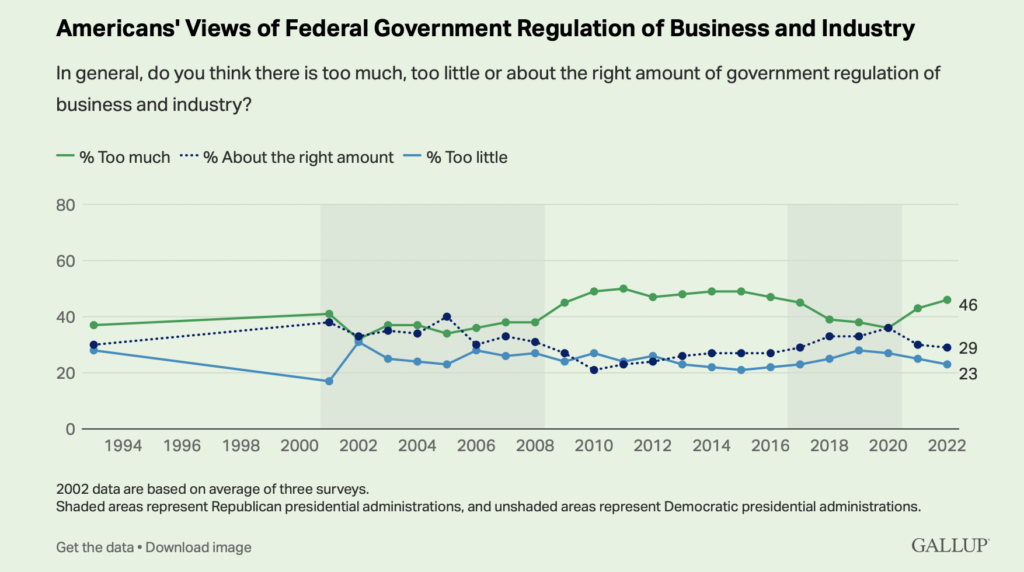 The high point in saying there is too much regulation in Gallup's trend is 50% in 2011. A 1981 Los Angeles Times poll that asked the same question found 54% saying there was too much regulation.
That poll was conducted early in Ronald Reagan's presidency, after he won election on a platform of cutting government regulation.
Read more here.