The following is an excerpt from Gallup News.
After reaching a high of 62% at the start of 2021, the percentage of Americans believing the existing political parties "do such a poor job that a third major party is needed" has returned to a more typical 56%.
At the same time, four in 10 Americans do not see the need for a third party, agreeing that "the Republican and Democratic parties do an adequate job of representing the American people."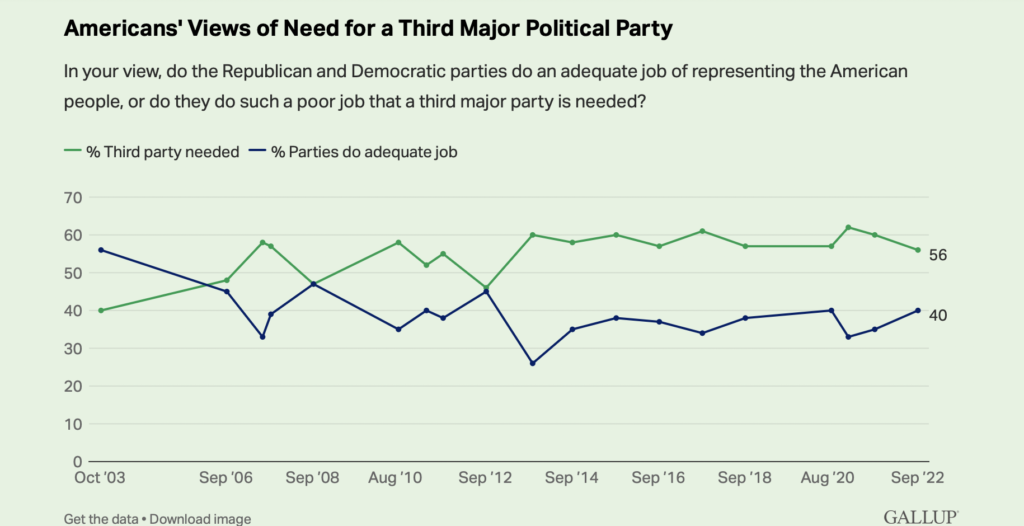 The 56% of Americans who currently believe the country would benefit from a third major party roughly matches the average 55% holding this view across Gallup's trend, since 2003.
Support was much lower in that initial measure (at 40%) than it has been in most years since.
Independents Maintain Above-Average Third-Party Preference
Desire for a third major party has always been much higher among political independents than either Democrats or Republicans, and that continues in 2022.
However, after varying between 2003 and 2012, independents' support has been consistently high over the past decade, not falling below 70% since 2013. And it has been especially high, near 75%, since September 2021.
Republicans and Democrats have expressed relatively similar levels of support for third parties over the years.
However, in two periods when Republican presidents were in power, Democrats' support for a third party was significantly higher than Republicans'.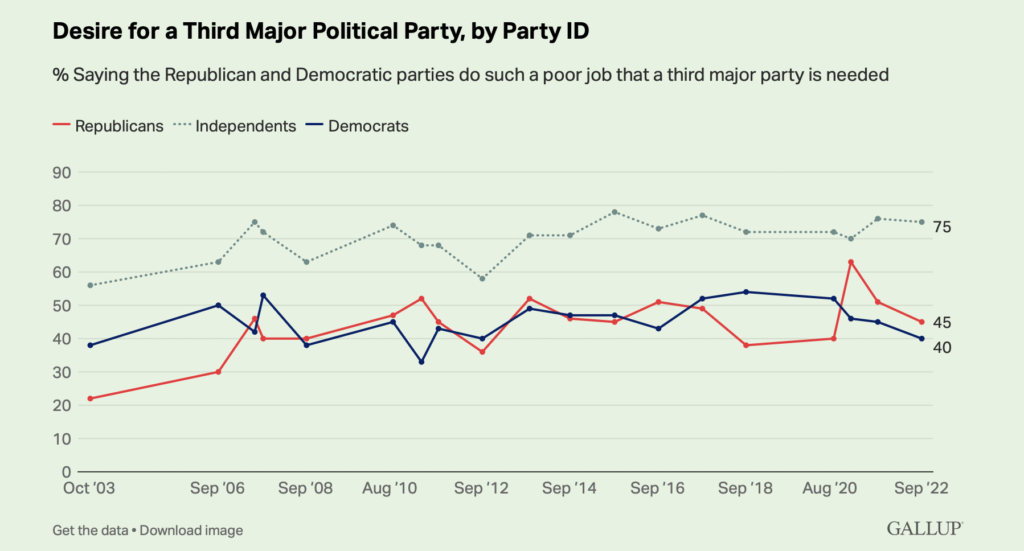 Moderate/Liberal Republicans Increasingly Favor a Third Party
Further differences in support for a third party are seen when combining respondents' party preference and their political ideology.
According to combined 2021-2022 data that span Biden's term thus far, large majorities of independents (74%) and moderate/liberal Republicans (60%) are in favor of having a third major party.
Support falls to a bare majority of liberal Democrats (51%), followed by less than half of conservative Republicans (45%) and barely a third of moderate/conservative Democrats (35%).
These findings could reveal differences in each group's contentment with their own party's political players, as well as dissatisfaction with the opposing party.
Read full survey results here.