Note from Sharyl Attkisson: This article, written by "Fresh Take" University of Florida journalism students, is more informative and is fairer than much of what you'll read in the professional press.
By Carissa Allen, Elena Barrera and Troy Myers
FORT PIERCE, Fla. – Gov. Ron DeSantis tried to hitch Rep. Charlie Crist to President Joe Biden in Florida's lone gubernatorial debate Monday night, while Crist tried to elicit from DeSantis a pledge to serve all four years if re-elected – a nod to expectations the incumbent governor is harboring presidential ambitions.
Crist, a former Republican governor, is running to reclaim his old job – now as a Democrat. As polling places across Florida closed on the first day of early, in-person voting, pressure is mounting on Crist to close DeSantis' double-digit lead. While Crist did not appear to make any fatal errors on the debate stage, his performance is unlikely to turn the tide of the race.
DeSantis, comfortably ahead of Crist in the polls, sought to characterize his opponent as a party-switching chameleon who will shift "with whatever wind he needs to to try to keep his political career alive."
When Crist asked DeSantis point-blank if he intended to serve a full second term, DeSantis stalled awkwardly before moderator Liz Quirantes moved to a new topic.
The line of questioning provided the governor with one of his biggest zingers of the night, telling the audience, "The only worn-out, old donkey I'm looking to put out to pasture is Charlie Crist," DeSantis said.
In a fundraising email sent immediately following the debate, DeSantis said Crist was a "rubber stamp for the Biden regime," allied with allowing criminals to wreak havoc in cities and "dangerous for Florida."
"Ron, you talk about Joe Biden a lot," Crist said. "I understand, you think you're going to be running against him. I can see how you might get confused, but you're running for governor."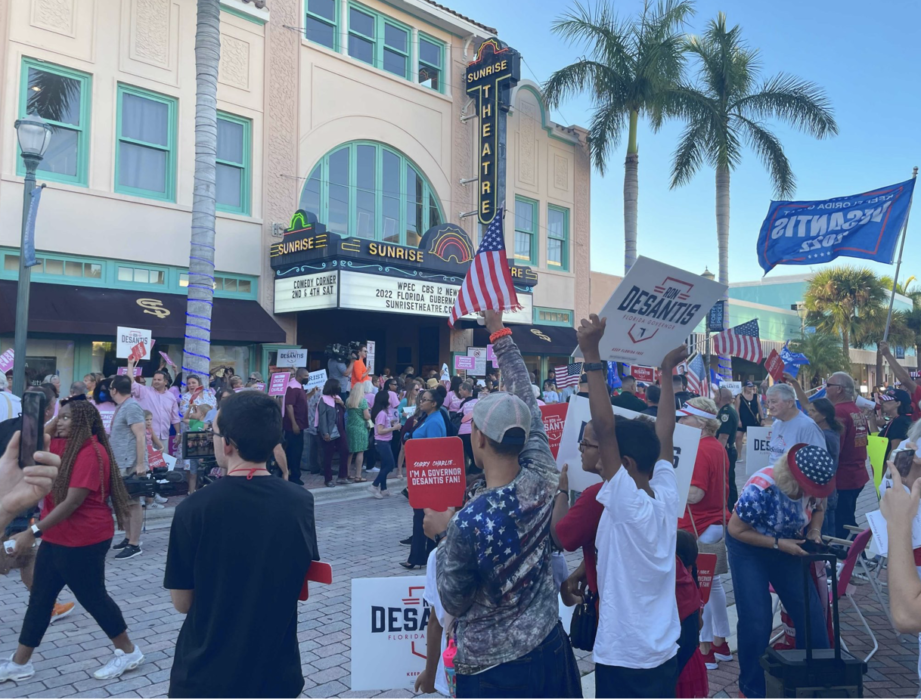 Crist suggested DeSantis would be too distracted by a presidential campaign to tackle rising homeowner insurance rates.
"I don't think his focus is going to be on you," Crist told the audience.
Both candidates were quizzed about high-profile flights DeSantis arranged to transport roughly 50 – mostly Venezuelan – migrants from Texas to Martha's Vineyard.
While Crist referred to unchecked migration as a crisis, he referred to the flights as a horrible political stunt. DeSantis responded saying the effort was intended to draw the attention of political elites.
"It isn't funny – It's inhumane how you treated these people," Crist said.
"What we did, we put this issue front and center."
DeSantis, mostly reserved, scaled back some of the more combative language his campaign has used to tar opponents as radical extremists, though Crist called the governor's positions on LGBTQ issues and transgender athletes divisive.
DeSantis described transgender surgery as "genital mutilation," saying teens should not be allowed to obtain the procedures in the state because they might regret it as adults.
"If you're a 15-year-old, you can't go get a tattoo in the state of Florida, yet we're saying you can get a double mastectomy? Of course not," DeSantis said.
"There you go, Ron, it's all about culture wars," Crist said. "You love dividing our state, Blacks against whites, gay against straight, young versus old." (Continued...)
Read the rest of the article here.