With no end in sight of the war between Russia and Ukraine, there's also no firm endpoint to the crisis caused by refugees fleeing. It's now the largest displacement of European citizens since World War II. A lot of them end up in Germany. I recently spoke to some of them there as well as the relief workers helping.
The following is a transcript of a report from "Full Measure with Sharyl Attkisson." Watch the video by clicking the link at the end of the page.
An abandoned airport in Berlin, Germany quickly became the central staging point for refugees flooding in from Ukraine. Most arrive here by train or bus. Some stay in Berlin. The rest are transferred to other parts of Germany.
Sascha Langenbach is with Berlin's State Office for Refugee Affairs.
Sascha Langenbach: When the war started on the 24th of February, we were confronted with the amount of 10,000, up to 12,000, people arrive in Berlin every day. So after a week or two, it was clear that our reception center that we do run for asylum seekers from all over the world is too small. That's where the Senate of Berlin decided to organize a Ukraine Refugee Center here in the former airport.
Sharyl: Do you have any idea how many Ukrainian refugees have come into Germany?
Langenbach: Well, in Berlin alone, we welcomed more than 300,000 Ukrainians. Of course, not all of them can stay here in the capital, as the capacities for housing, schools, and so on are limited. So we still do not know how many Ukrainians live in Berlin now because they don't need a visa.
Elena says she came March 1st with her 13 year old son, who's training as a professional tennis player. Today, she's here to greet her husband, finally joining them after five months.
Elena: Yes, it was difficult because I was alone with my son. We come to — first of all we come to Hungary and sleep two nights in the car. And then we come to Germany because we have...
Sharyl: Friends here?
Elena: Friends, yeah. Friends, and they help us to stay.
Sharyl: What is your plan now?
Elena: My plan now? If the war is stop, we come to Ukraine. It's only this way. But now my son is training and play for German tennis club here and come to school, and I study German and try to find a job. But if it stop, I want to come to Ukraine.
Tatianna came in April with her 7-year-old daughter Margarita, but without a son who remained in college in Ukraine. She's also here to greet her husband, who just arrived.
Tatianna: It was so, so dangerous and so scary. But we do it.
Sharyl: How many days did it take you when you came here?
Tatianna: 10 days he come. He go 10 days. We maybe...same, same.
Sharyl: Are you going back home someday?
Tatianna: Yeah. We miss my town, beautiful town, Kharkiv. But now we stay here because so dangerous in Kharkiv.
Sharyl: Is there a point at which you can't take more? Or you're not even close to reaching that?
Langenbach: You're the first person asking me this question. I mean, we talk about a war against a European neighbor. And if you ask me personally, I'd say it's our duty to help and to support people in need. And there's no limit.
Sharyl: Last question: Is there any estimate of what this is costing Berlin to operate this center and maintain what's going on?
Langenbach: I have no idea at all.
Sharyl (on-camera): The United Nations estimates the total number of refugees who left Ukraine for other European countries is more than 7 million.
Watch story here.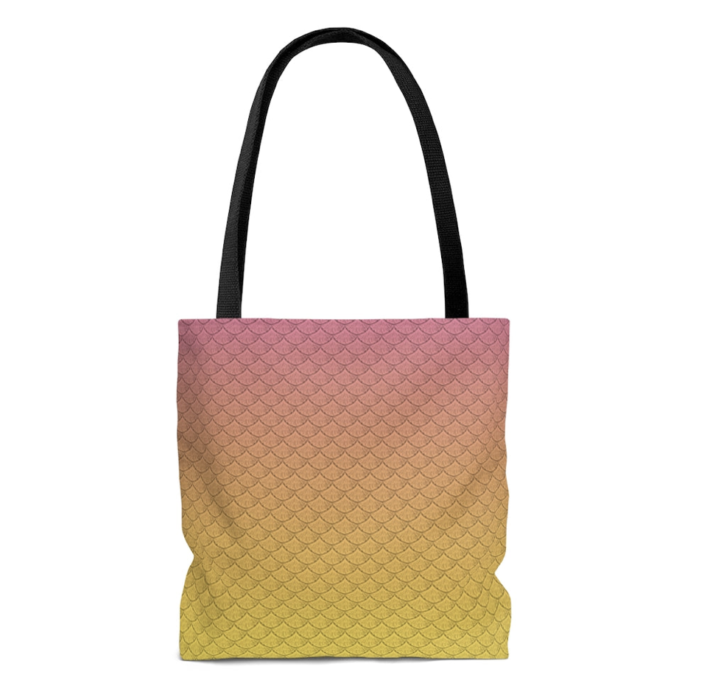 The Lemonade Mermaid Store
Unique gifts for Land or Sea Mermaids, Mer-pets and Little Mermaids!
Left: Our signature Fish Scales design tote bag in Citrus