The following is an excerpt from Gallup News.
Four in 10 U.S. registered voters say they plan to vote before Election Day or have already voted, a higher proportion than in recent midterm elections.
Significantly more voters plan to vote before Election Day this year (41%) than did in 2010 (26%), the first time Gallup asked the question in a midterm election year.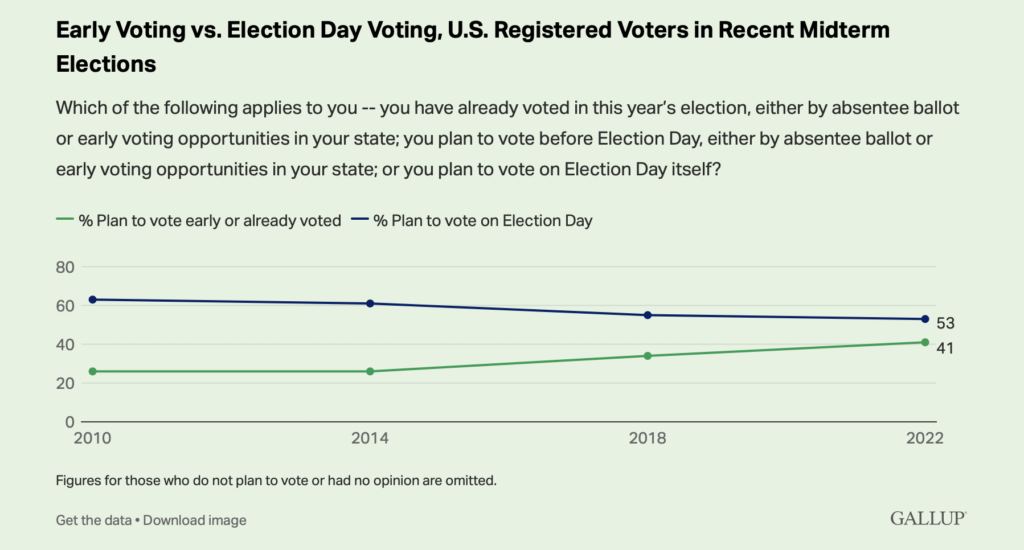 The level of planned early voting measured in the Oct. 3-20 poll still does not reach what Gallup measured in the 2020 presidential election year, during the coronavirus pandemic and before Covid-19 vaccines were available.
Two years ago, 64% of U.S. registered voters planned to vote early versus 32% who planned to vote on Election Day. It is unclear how much pandemic concerns boosted early voting in 2020 because the practice has historically been more common in presidential than in midterm election years.
Early voting intentions this year, though more prevalent than in the last (2018) midterm election, match those from the 2016 presidential election (40%).
Two-Thirds in West Will Vote Early
Consistent with prior years, Gallup finds early voting is most popular among voters living in the Western U.S., with nearly two-thirds of Western residents, 65%, planning to vote early.
Western states have longer histories than other states in extending early voting opportunities, with many allowing voting weeks before Election Day and Oregon conducting its elections entirely by mail.
More people in the South (41%) than in the East (28%) and Midwest (28%) intend to vote before Election Day.
Emerging Party Differences in Early Voting
More Democrats (54%) than Republicans (32%) say they will vote early -- a 22-percentage-point difference -- with the rate among independents falling in the middle (38%).
In past midterm election years, Republicans and Democrats differed little, or not at all, in when they planned to vote.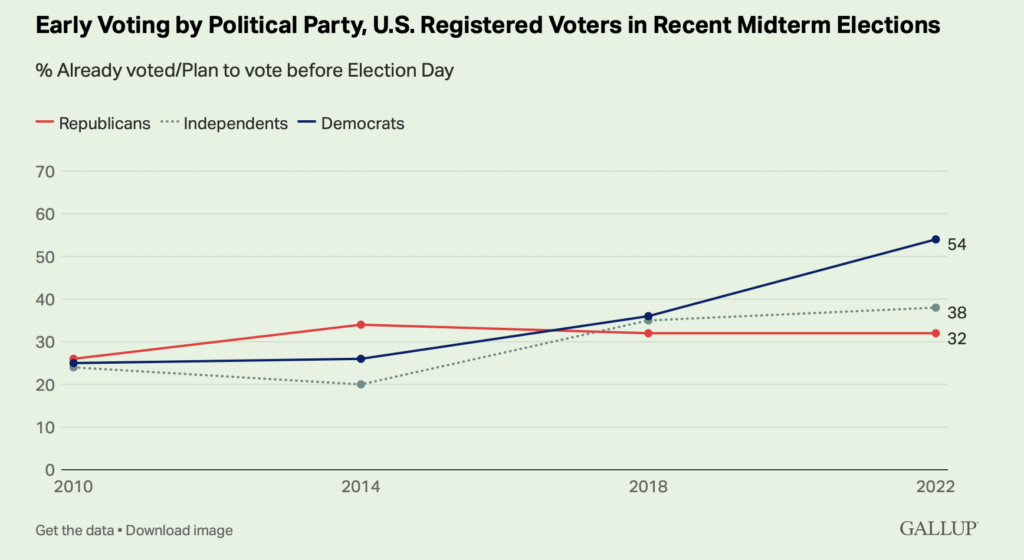 Gallup did not see party differences in early voting in presidential elections until 2020. That year, President Donald Trump raised questions about the security of mail voting -- the primary early voting option in many states.
In Gallup's final estimate of early voting before the 2020 election, there was an 18-point party gap, with 77% of Democrats and 59% of Republicans planning to ovote before Election Day.
Read more here.