The following is an excerpt from The Vaccine Reaction.
A 45-year-old man in British Columbia, Canada will reportedly receive monetary compensation from the government of Canada through its Vaccine Injury Support Program (VISP) for paralysis caused by Pfizer/BioNTech's Comirnaty messenger RNA (mRNA) Covid-19 biologic.
Julian Scholefield, who has been confined to a wheelchair for more than a year, received a second dose of Comirnaty on July 13, 2021.
Twelve days later, he developed a neurological disorder known as acute disseminated encephalomyelitis (ADEM) that left him paralyzed from the waist down.
In the fall of 2021, Scholefield filed a claim for compensation with the VISP and submitted his medical records. On Jan. 13, 2023, he was notified that his claim had been approved and that the "next step would be to be determining the dollar value of that."
As of Dec. 1, 2022, a total of 1,299 claims have been filed with the VISP. Of those, 50 have been approved by the program's medical review board for nearly $2.8 million in compensation. The board determined that there was a "probable link between the injury and the vaccine, and that the injury [was] serious and permanent."
A neurologist diagnosed Scholefield with a myelitic (inflammation of the spinal cord) form of ADEM, which can cause paralysis, loss of vision and difficulty in voluntary muscle coordination. He said:
A neurologist who really took an in-depth study into my case did further testing on me and was able to essentially eliminate any other causes except for the Covid vaccine. … They were able to just eliminate every other possible cause. And there's this outlier, where I had the vaccine."
ADEM has been a severe complication of vaccination beginning with the first vaccines for smallpox and rabies, and also with pertussis, measles, hepatitis B, influenza, HPV and other vaccines.
According to the National Institutes of Health (NIH):
Acute disseminated encephalomyelitis (ADEM) is a neurological disorder characterized by brief but widespread attacks of inflammation (swelling) in the brain and spinal cord that damages myelin. Myelin is the whitish protective coating over nerves that helps with electrical nerve signaling. ADEM often appears following a viral or bacterial infection and sometimes (rarely) following a vaccination. It is sometimes misdiagnosed as the first severe attack of multiple sclerosis, since the symptoms and appearance of damage to the white matter may be similar. ADEM may be an autoimmune condition, in which the body's immune system mistakenly identifies and attacks healthy cells and tissue.
A study published in the journal Forensic Science, Medicine and Pathology in March 2022 states that ADEM has "long been known to be a rare adverse event following some types of vaccinations."
Onset of ADEM reportedly can occur up to six weeks after receiving a Covid shot.
Continue reading full article here.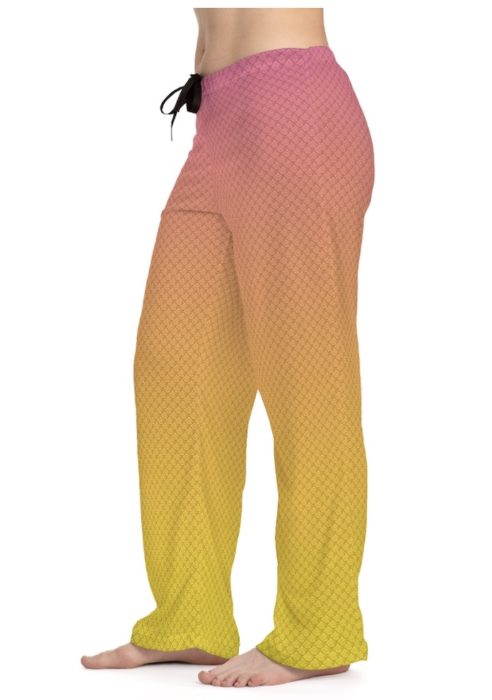 The Lemonade Mermaid Store
Unique gifts for Land or Sea Mermaids, Mer-pets and Little Mermaids!
Left: Our signature Fish Scales design PJ Pants in Citrus