The following is an excerpt from The Vaccine Reaction.
Officials at the U.S. Centers for Disease Control and Prevention (CDC) announced that they are distributing $3.2 billion to state, local, and territorial health departments across the United States in what they describe as an attempt to "strengthen" public health initiatives.
CDC director Rochelle Walensky, MD said the money will give local agencies critical funding to help "reinforce the nation's public health workforce and infrastructure."
The CDC website states that the agency's vision is to "create a world where people in the United States and around the world live healthier, safer, and longer lives" while reducing morbidity and mortality worldwide.
Money to Be Used for Recruiting Epidemiologists and Contact Tracers
Of the total $3.2 billion in funds allocated, $3 billion will come from the Biden-Harris Administration American Rescue Plan enacted in May 2021.
A large portion of the money will also be used to recruit epidemiologists, contact tracers, data analysts, and community health workers.
Public trust in the medical community and public health agencies continues to decline and has dipped below pre-pandemic levels according to a Pew Research survey earlier this year.
In March 2020, 79 percent of Americans said public health officials were doing an adequate job responding to the pandemic. By May 2022, that number dropped to 52 percent.
CDC Director Says CDC in Need of an Overhaul to Rehabilitate Reputation
In August of this year, Dr. Walensky said that an overhaul of the CDC was needed to modernize the agency and rehabilitate its reputation.
As part of this reform, Dr. Walensky is seeking more authority from Congress for the CDC to mandate data collection from states, move money appropriations faster during emergencies, and offer more competitive salaries for recruiting.
Federal funding is also going toward reorganization of a division within the Health and Human Services Department known as the Office of the Assistant Secretary for Preparedness and Response which will coordinate future federal responses to health emergencies, including vaccine distribution.
CDC Continues to Ignore Health Education
With a $7 billion plan dedicated to strengthening public health infrastructure and $4.3 billion for local communities, the White House and government health agencies persistently refuse to address foundational ways to improve health that do not involve use of pharmaceutical products.
Neither of the multi-billion-dollar plans make a single mention of funding efforts to educate the American people about good nutrition and healthy lifestyles or addressing other modifiable risk factors for preventing SARS-CoV-2 and infectious disease complications.
There are no plans to promote regular physical activity, controlling high blood pressure, quitting smoking and vaping, and reducing obesity.
In fact, the CDC had to expand its BMI charts for children last week to now include measurements to cover "severe obesity" to better track and assess obesity rates.
The CDC's plan does not address what actions will be taken to help lessen the burden of obesity among children.
CDC's Sole Emphasis is More Vaccination
With more than 4.5 million children falling into the "severe obesity" category, the focus for public health remains solely on improving childhood vaccination rates.
In fact, Dr. Walensky said that "vaccine misinformation is among the biggest threats" we are facing in public health.
Walensky's comments come on the heels of a recent Kaiser Family Foundation survey, which found that found that 28 percent of adults are now against vaccination requirements for kindergarten entry (up from 16 percent in 2019).
The survey revealed that 35 percent of parents surveyed said parents should have the freedom to decide whether or not their children get vaccinated (up from 23 percent in 2019).
With single minded focus on getting all children injected with the Covid vaccine, the U.S Food and Drug Administration (FDA) recently expanded eligibility for updated booster shots to children as young as six months old.
According to the American Academy of Pediatrics (AAP), by the end of August 2022, only about five percent of children up to age four had received a Covid shot.
Link to article here.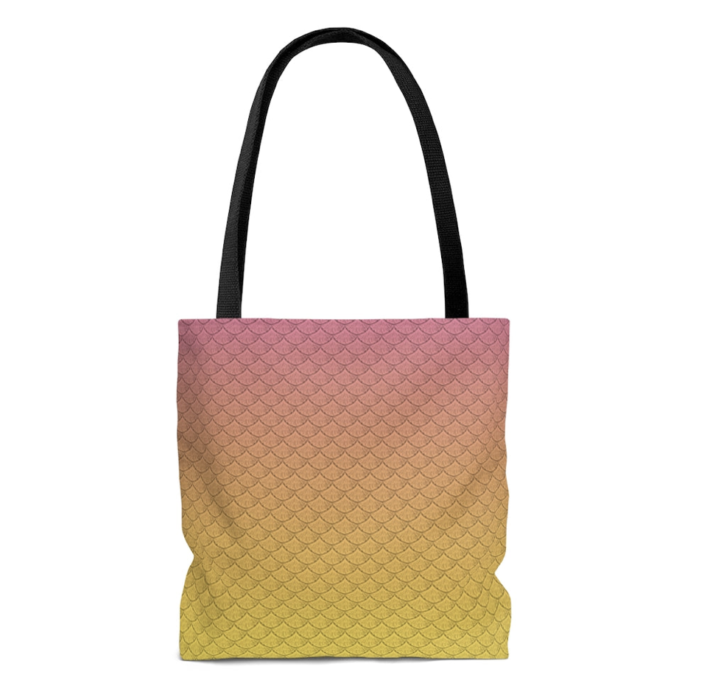 The Lemonade Mermaid Store
Unique gifts for Land or Sea Mermaids, Mer-pets and Little Mermaids!
Left: Our signature Fish Scales design tote bag in Citrus