The following is an excerpt from Gallup News.
More Americans name the government as the nation's top problem in Gallup's latest poll, which encompassed the rocky start of the 118th Congress' term.
With high prices persisting, inflation remains the second most-cited problem (15%), and amid elevated tensions about the southern U.S. border, illegal immigration edged up three percentage points to 11%.
Mentions of the economy in general fell six points, to 10%, the lowest reading in a year.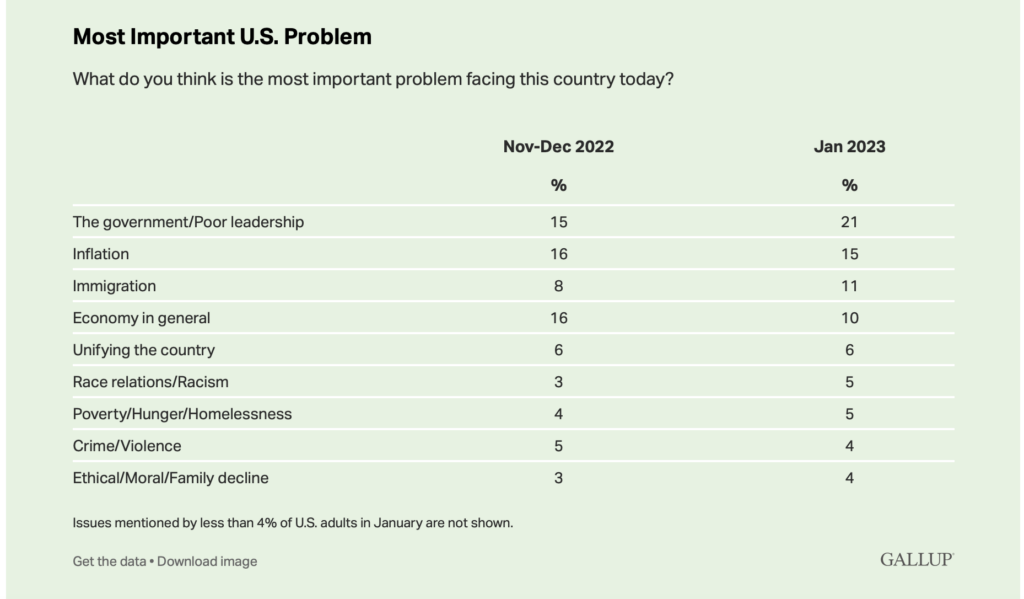 The poll's Jan. 2-22 field period included the four-day, 15-vote process in which Republicans, who now hold a slim majority in the U.S. House of Representatives, ultimately elected Kevin McCarthy to be Speaker of the House.
Revelations about classified government documents from 2009 to 2017 found in President Joe Biden's private office and home also surfaced while the poll was in the field.
Although mentions of the government as the nation's top problem rose six points this month to 21%, job approval ratings of Biden (41%) and Congress (21%) remained flat.
The government ranks as the top problem for both Republicans and Republican-leaning independents (24%) and Democrats and Democratic-leaning independents (18%).
Inflation and immigration are each cited by 18% of Republicans, while mentions of inflation (11%), the economy in general and race relations (9% each) trail the government among Democrats.
Democrats are more likely than Republicans to view unifying the country and the environment as top problems.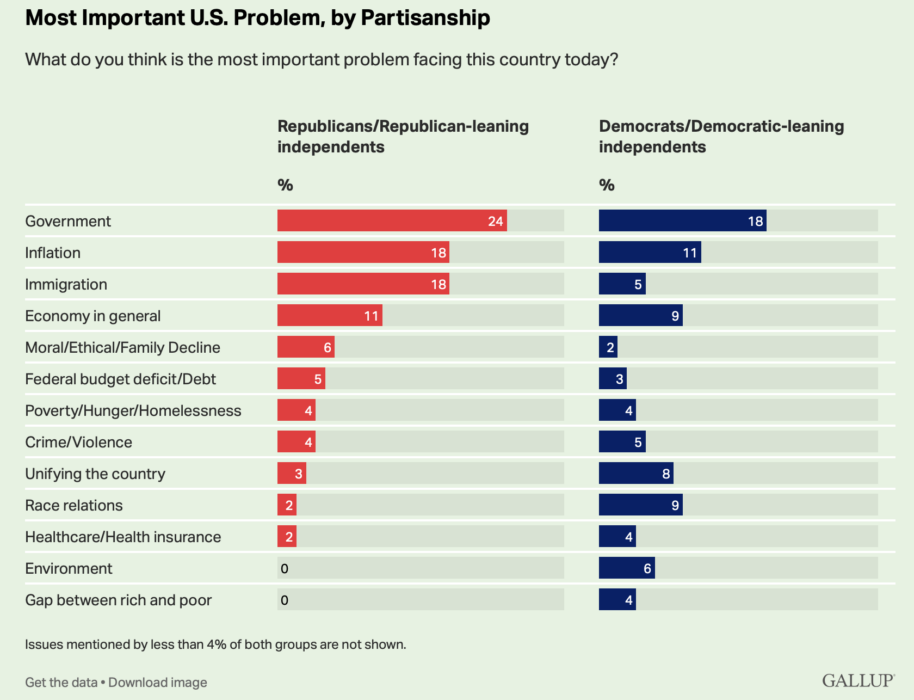 Gallup regularly tracks Americans' ratings of national economic conditions as excellent, good, only fair or poor, as well as their views on whether the economy is getting better or worse.
Currently, more than four in five U.S. adults rate economic conditions in the country as only fair (38%) or poor (45%), with few describing conditions as excellent (2%) or good (15%).
Furthermore, 72% of Americans say the economy is getting worse, 22% say it is improving, and 4% think it is staying the same.
Read more polling results here re: U.S. economic confidence and views on job market.