The following is an excerpt from Gallup News.
STORY HIGHLIGHTS
Favorability of Russia down from 15% in 2022
68% in U.S. view Ukraine favorably, highest by one point
56% now say Russia-Ukraine war is critical threat to U.S. vital interests
Americans' already-negative opinions of Russia have soured further in the past year, dropping from 15% holding a favorable view to 9%.
The current reading for Russia is the lowest Gallup has measured since it first asked about the "Soviet Union" in this format in 1989.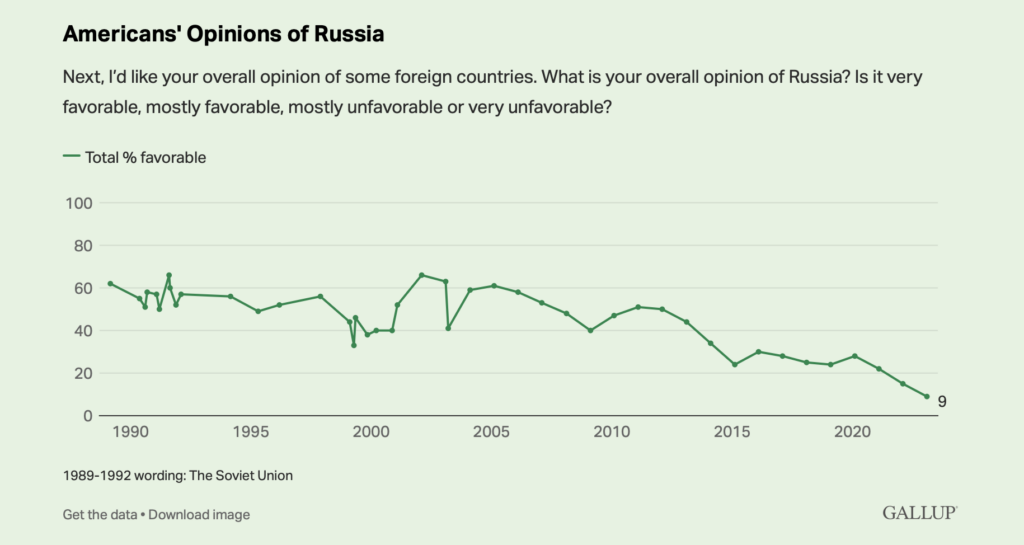 Russia is now the fourth country in Gallup's polling of country favorable ratings to register a sub-10% favorable score.
Iran, Iraq and North Korea have had ratings below 10% on multiple occasions.
The all-time low favorable rating for any country was 3% for Iraq in 1991 during the Persian Gulf War.
Gallup's 2023 World Affairs poll finds 90% of Americans having an unfavorable opinion of Russia, including a 59% majority who have a "very unfavorable" view.
Last year, 42% held a very unfavorable opinion of Russia, and in 2021, 36% did.
uBefore 2020, no more than 32% had viewed Russia very unfavorably.
During the past decade, with Putin in power for a second time, the U.S. and Russia have become increasingly at odds.
This largely stems from U.S. criticisms of Russia's human rights record and annexation of the Crimean peninsula as well as concerns about Russian meddling in U.S. elections.
Americans' favorable ratings of Russia fell to 24% in 2015 after the annexation of Crimea and dropped to 15% last year as Russia was preparing to invade Ukraine.
The current reading comes a year into that conflict, which has seen the U.S. provide billions in support for Ukraine.
Two-Thirds of Americans View Ukraine Favorably
In contrast to their negative opinions of Russia, Americans are mostly positive toward Ukraine.
Sixty-eight percent have a favorable opinion of Ukraine, up six percentage points from a year ago and 11 points higher than in 2020.
The current reading is by one point the highest in Gallup's trend since 2005, with the prior high occurring in that initial 2005 reading.
Americans have become more familiar with Ukraine over time, with the percentage not having an opinion declining from 15% in 2005 to 2% today.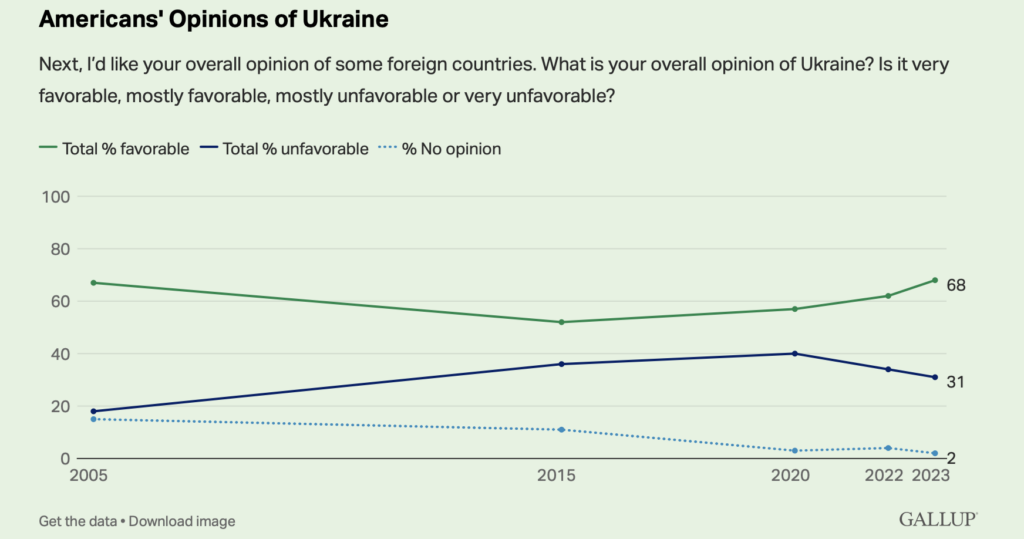 Currently, 23% of Americans have a "very favorable" opinion of Ukraine, more than double the 9% who did so last year. (Continued...)
Read more here.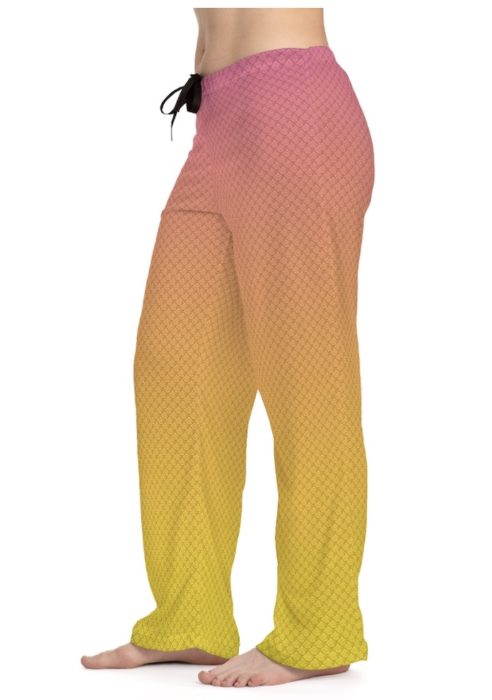 The Lemonade Mermaid Store
Unique gifts for Land or Sea Mermaids, Mer-pets and Little Mermaids!
Left: Our signature Fish Scales design PJ Pants in Citrus