As America's border crisis continues, we recently reported from the Darien Gap in Central America. That's where hundreds of thousands of people pass through on their way to illegally cross into the U.S. It's a dangerous and sometimes deadly journey. Today we visit a hotel in San Antonio that's been turned into a Catholic Charities shelter to help the illegal border crossers.
The following is a transcript of a report from "Full Measure with Sharyl Attkisson." Watch the video by clicking the link at the end of the page.
Antonio Fernandez: Yeah, so we actually have a couple of other rooms with food.
Antonio Fernandez heads up Catholic Charities in San Antonio, Texas.
Sharyl: What would you say are the current trends compared to what you've seen over the years?
Fernandez: So the biggest one is that most of the people that we see, about 90% of them, are from Venezuela.
Most of them cross the Rio Grande into the U.S. Before that, they've often spent months walking through jungle, and taking boats and trains.
Sharyl: So how many would you say per day at all of your facilities?
Fernandez: I think over 200 people, easy. And now we're in the process of opening a 707 facility to actually house more immigrants.
Sharyl: And that's just in San Antonio?
Fernandez: Just San Antonio, correct.
Sharyl: Where does the money come from to have this infrastructure, pay the hotel rooms, pay your employees?
Fernandez: FEMA. So FEMA is the one helping us and supporting us with almost everything. There are some expenses that FEMA will not pay, so actually we have to ask for donations for that. And people are very generous in San Antonio.
Sharyl: Is this an enterprise that's costing millions and millions of dollars?
Fernandez: Yes.
(Talking to border crossers via translator)
Translator: So her name is Maria, and then you have Fabrisa and Savana, and they're seven and five, and they're coming here from Venezuela.
Sharyl: How much did it cost to move the four of them to here across the border?
Translator: They came in here leaving Venezuela with about $1,500, but they got robbed, they had to spend money on food, and then he had to — her husband had to work in certain areas to just make it by.
Sharyl: They were walking?
Maria: Nine days.
Translator: Nine days.
Sharyl: Where will she be going?
Translator: Their final destination right now is New York.
Translator: So her name is Angelica, and this is Nicole. She is five years old. And they come from Venezuela as well. And they started hearing online, like, "Here in the United States, we have refuge. You can come here, and we'll take care of you. You'll be safe, you'll eat, it's a higher quality of life in comparison. If you guys need a place here, we have space here for you."
Sharyl: Had to get the baby across the water?
Translator: Yeah, they had to get the baby across the water.
Translator: Her name is Diely Flores, Douglas Pacheco, Brian Castillo. And they also come from Venezuela. Once they got to the river, it was a little scary because there were some really deep lengths to it.
Sharyl: Did he swim across? How did that work?
Translator: He didn't swim. He was just holding onto his mom and dad.
Sharyl: Did she cross the river to come into the United States? Was that perilous, or frightening? Or it was pretty easy where she crossed?
Translator: It was very traumatic since her brother did pass away in the river.
Sharyl: How old was your brother?
Translator: 24.
Sharyl: I'm sorry. I'm sorry.
Translator: He just kept going down river, and they couldn't do anything. She came over here with a group of six trying to look for a better life. The group of six, the most courageous one, and the one that would also put everybody above and push them forward was the brother. So right now, all her hopes and dreams are crushed.
Translator: Her name is Carmen Martinez. She's from Venezuela. They walked nine days, three days without food. They saw a lot of things that you shouldn't see like rape, little kids dead. They did witness a 12-year-old getting sexually assaulted, raped, and any man that would stand in the way, they would also rape them. It's mostly native individuals what's in the jungle that would jump at the opportunity. And this woman says she herself was also assaulted.
Sharyl: In the jungle?
Translator: Aha. This couple says they wanted to share their story. Her husband says the cartel will kidnap individuals and then ask for ransom. They say it happened to the mom, the father, and the sister. They do know that for her father, they tied him to a post with his hands above his head, and they beat him for six days straight. He says the cartel does ask for $1,500 to release each person. In Mexico, Tapachula.
Fernandez: I will always recommend people not to come because it's a very long way to be here, months and months. I was involved with the trailer where 53 people died. So when I speak to people here, I say like, "You know, just stay home. Why are you coming? Tell your people not to come because this is a very, very hard job to do." I think I've seen thousands and thousands of people, and I can tell you that they're safe. They just want to work. They want a better life. They want the American dream.
Sharyl: Knowing what they know now, would they have tried to come the same way they did?
Carmen Martinez: No.
Translator: Never again. I wouldn't wish it upon my worst enemy.
Sharyl (on-camera): That last family told us that they were heading to California.
Watch story here.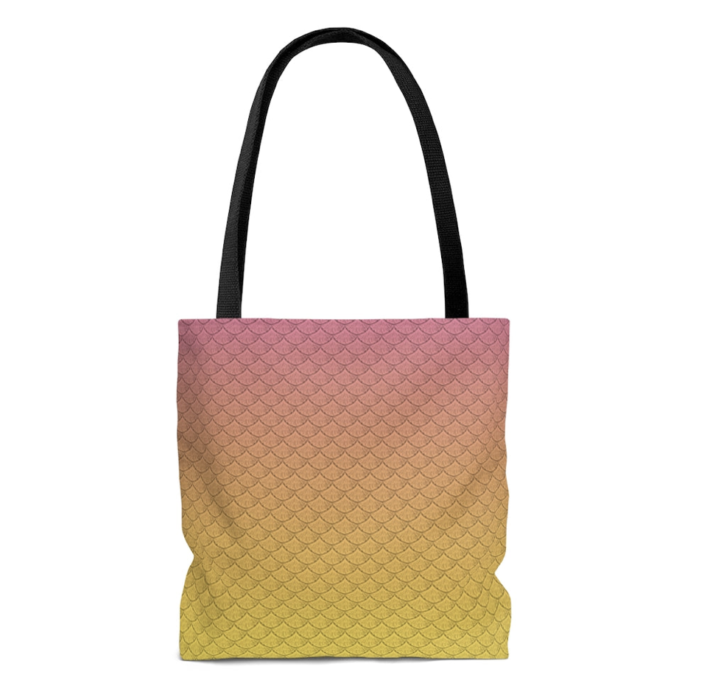 The Lemonade Mermaid Store
Unique gifts for Land or Sea Mermaids, Mer-pets and Little Mermaids!
Left: Our signature Fish Scales design tote bag in Citrus