Maryland and Colorado are two of the latest states to announce they're opening a growing number of jobs to people without college degrees. Due to a labor shortage, opportunities are being offered to people with less education but more vital experience. Lisa Fletcher reports when college requirements are lowered, it could be raising standards.
The following is a transcript of a report from "Full Measure with Sharyl Attkisson." Watch the video by clicking the link at the end of the page.
Patty Bruzdzinski: I grew up with food, as you can tell. Food was always something, a part of our family.
Patty Bruzdzinski has a knack for making desserts and can whip up a recipe for fruit cobbler from scratch.
After high school Bruzdzinski didn't follow a traditional college path, instead opting for culinary school where she learned to be a baker and pastry chef and worked professionally for almost a decade. Until a divorce in the 90's changed everything.
Bruzdzinski: I was getting divorced, I was a single mom, I was taking care of everything. And the reality of baking and cooking and so forth that the cooking shows — a lot of it — doesn't show you is that it is long hours, not great pay. It's not a lot of benefits.
Office temp work and applying for full-time jobs became her focus. At the time, 74% of new jobs were in occupations where a four-year college degree was typically required.
Then, she found a rare opportunity: a job with the state of Maryland that allowed her to submit work experience as a substitute for a college diploma. So Bruzdzinski put her best foot forward, mixing one part office skills with one part kitchen management, and sold her way into a job she's grown with for nearly 10 years.
Lisa: Is there one area that you consider your strong suit?
Bruzdzinski: If you can work with the public, in a manner, no matter what place you're in, that can lead to a lot of open doors.
Mark Townend: Her lack of a degree in that position doesn't really impact her capability to do the job.
Mark Townend is the director of recruiting for the state of Maryland.
Townend: Patty works in our employee benefits division, and she is involved a lot with a job that involves her personality. She just interacts very well with people. She has a soft skill-set that you might not necessarily get from a formal education that makes her exceptional for her job.
Last year, under then-Governor Larry Hogan, the state of Maryland reset its hiring standards and became the first state in the nation to eliminate the four-year degree requirement from thousands of state jobs.
Three years ago, the number of unemployed Americans swelled to more than 23 million. Since then, it's shrunk to about five and a half million, and there are more jobs available than people applying. When degree requirements are dropped from the application process, employers have access to a deeper pool of talent to consider, and there are some 70 million people over the age of 25 in the workforce without a college degree. Google, Delta Airlines, Tesla, and Bank of America among the big name companies slashing degrees from certain positions.
Lisa Fletcher: Is experience a substitute for a degree?
Bruzdzinski: Depending on what the degree is for, because there's some things that you do need a degree in. I don't want a doctor who worked for 10 years somewhere, and now they call themselves "doctor." But in my case, it really did. When you are working, such as I have, you're always going out and looking at classes. Any type of training that pops up, because the more I learn, or pick up, I can apply that to no matter what I do in the future.
Townend: I think what we're addressing is a shortage. There is a current situation in Maryland and I think across the country where we have a lot of people retiring, a lot of vacant positions, and there's just not enough people applying for these jobs. It's more of just taking a look at what's out there.
Bridgette Gray guided the state of Maryland through its degree reset. She works with the Washington, D.C.-based nonprofit Opportunity@Work and is helping at least ten other states follow Maryland's lead.
Lisa Fletcher: How do you convince state employers, public and private-sector employers, that these people are, in many cases, outstanding and can even exceed the qualifications of somebody with a degree?
Bridgette Gray: We gain skills through vocational training. We gain skills through our community college experience. And so the conversation with employers is really thinking about how do you drill down on, "What is the actual skill you need for this role?" versus thinking about, "Does the degree cover that?"
Gray says this movement and the stability that it can bring to millions of families is laying the groundwork to bring back America's middle class.
Gray: I believe it will create a pathway for everyone to move into the middle class. If you have the skills to do a job, you should be able to get that job.
Lisa Fletcher: Does this movement pose any sort of threat to higher education?
Gray: No, you're always going to need degrees. There are people who are different learners. There should be opportunities afforded for them if college is not the pathway in the beginning.
With the prospects of a career ahead of her, Bruzdzinski no longer worries about making a living in a kitchen. Instead, she makes desserts for herself and friends, on her own time, as a hobby.
Bruzdzinski: You make people happy with what you do. I like what I do now, too. It's really the same sort of feeling you get for doing that. And that's one of the reasons why I love my job is taking care of people.
A recipe for success for Patty and maybe the economy, sweetening life for once overlooked workers.
Sharyl (on-camera): We have bachelor's degrees. I think it's a great idea what they're doing, but do you have any clue if other people don't think it's such a good idea?
Lisa: Well some people say it's not fair, but the recruiting director that I talked to stressed two things. One, nobody jumps to the head of the line. And two, we're always going to need people with college degrees. The truth is, these jobs are not specialized enough to require a degree, so the talent pool should be wider. And it gives employers more options, and it gives employees more opportunities.
Sharyl: And that real-life experience often beats out college anytime. Thanks, Lisa.
Watch story here.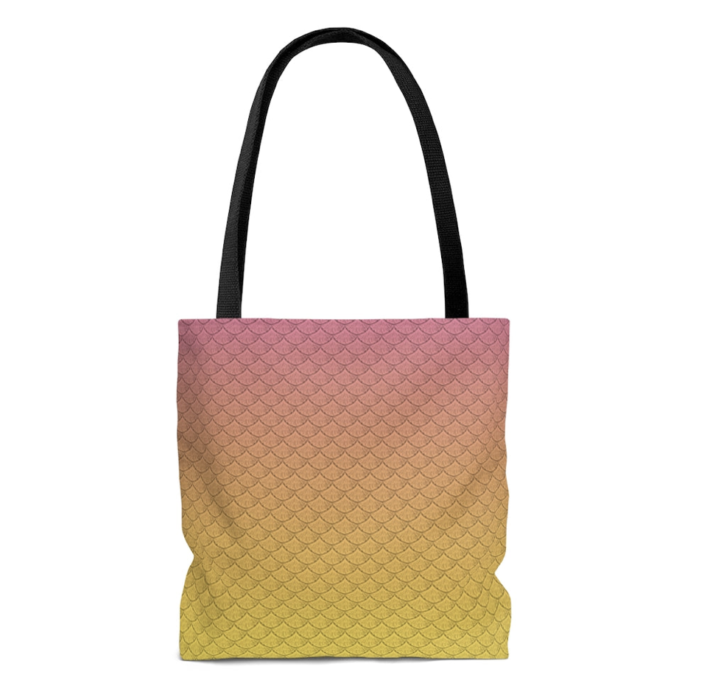 The Lemonade Mermaid Store
Unique gifts for Land or Sea Mermaids, Mer-pets and Little Mermaids!
Left: Our signature Fish Scales design tote bag in Citrus