The following is an excerpt from Gallup News.
STORY HIGHLIGHTS
4% currently own electric vehicle, 12% are seriously considering purchase
39% say electric vehicles help climate change at least a fair amount
Democrats most likely to own EVs and to say they help climate change
WASHINGTON, D.C. -- Americans' adoption of electric vehicles is proving to be slow, as relatively few currently own one (4%) or are seriously considering purchasing one (12%).
Another 43% of U.S. adults say they might consider buying an electric vehicle in the future, while 41% unequivocally say they would not.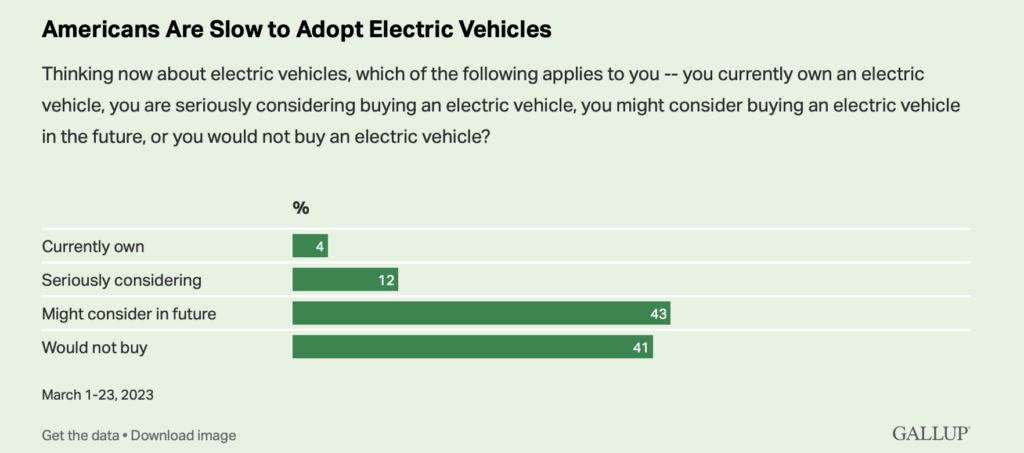 Electric vehicles, or EVs, were first invented in the 19th century, long before gas-powered vehicles came on the scene. They have become increasingly prevalent over the past decade, with the emergence of Tesla's all-electric fleet of vehicles and traditional automobile manufacturers introducing their own electric models.
While EVs are significantly more expensive than conventional vehicles to purchase, proponents say the long-term savings on fuel and less upkeep of electric vehicles make them a better choice financially.
In addition to cost, proponents of EVs say they help with climate change because they do not emit greenhouse gases and pollutants to the same degree that gas vehicles do.
Yet, this idea that electric vehicles help to address climate change is not universally accepted by Americans.
While about four in 10 U.S. adults think using EVs helps address climate change "a great deal" (12%) or "a fair amount" (27%), roughly six in 10 believe it helps "only a little" (35%) or "not at all" (26%).
Party Greatest Differentiator in Americans' EV Use and Perceptions
U.S. adults' party identification is the greatest differentiator in both their openness to owning EVs and their perceptions of the environmental impact that the use of such vehicles would have.
Current ownership of electric vehicles among partisans is 6% for Democrats, 4% for independents and 1% for Republicans.
Democrats (22%) are also far more likely than both Republicans (1%) and independents (12%) to say they are seriously considering purchasing an EV.
The majority of Democrats, 54%, say they may consider it in the future.
Meanwhile, a substantial majority of Republicans, 71%, say they would not consider owning an electric vehicle. (Continued...)
Read full article here.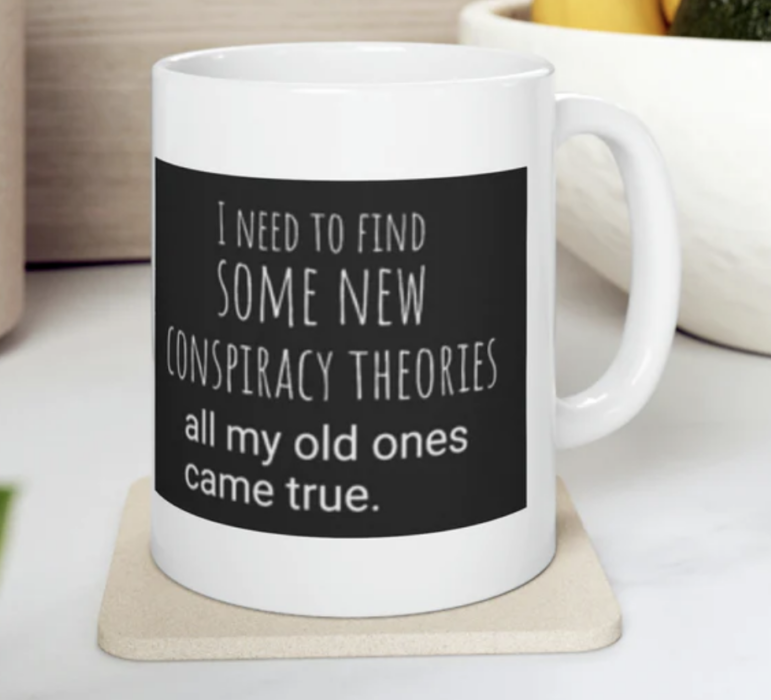 Visit The Sharyl Attkisson Store today
Unique gifts for independent thinkers
Proceeds benefit independent journalism