In Congress, there's a new sheriff in town since Republicans won the majority in the House of Representatives. But among them there are fractures, as the more conservative Freedom Caucus challenges the larger GOP membership on what it means to be Republican.
The following is a transcript of a report from "Full Measure with Sharyl Attkisson." Watch the video by clicking the link at the end of the page.
The most visible face of the Freedom Caucus appeared during January's epic battle over whether Republicans would elect establishment leader Republican Kevin McCarthy as their speaker.
House Clerk (January 6): No member-elect having received a majority of the votes cast, a speaker has not been elected.
Freedom Caucus members held out through 14 votes, winning promises on a number of points to change the way the House operates before ultimately backing McCarthy on vote number 15.
House Clerk (January 7): The honorable Kevin McCarthy of the state of California is duly elected speaker of the House of Representatives.
Kevin McCarthy / Speaker of the House of Representatives (January 7): You know, my father always told me it's not how you start; it's how you finish.
Congressman Scott Perry of Pennsylvania is chairman of the Republican Freedom Caucus.
Sharyl: What role did the Freedom Caucus play in this fuss over who was going to be speaker, and what resulted from all of that?
Scott Perry: So the vast majority of the members that opposed Kevin McCarthy, at least initially during the speaker's vote, were from the Freedom Caucus. And essentially, we just were tired of the status quo. So what does that mean to people? Literally, we were going to start out with the same set of rules running this Congress under Republicans that Nancy Pelosi just left, right? So we fought to make this place more responsive and representative of the American people.
Sharyl: What are some of the priorities you have on the committees you'll be serving on?
Perry: For every dollar we take in in revenue, we're spending $1.29. So our focus, my focus, no matter what committee on, remains in that realm, because that's increasing inflation, that's increasing the cost of living. Well, how about the woke policy that is destroying our military? How about the policy that allows the FBI and the Department of Justice to put threat tags on individuals for simply going to the school board meeting? That can all be tied to funding. So not only can we reduce the cost of the federal government and the overspending — the $1.29 spent for every dollar taken in — but also the policies associated with them. And we do that by saying, "You don't get any money for that policy anymore. You might steal it from somewhere else. Your focus is supposed to be on law enforcement, but if you want to spend it on diversity, equity and, inclusion, you're going to have to get it from somewhere else because we're not going to fund it anymore." That's what we can do.
Republicans have already put the focus on President Biden's son Hunter. He had a controversial sweetheart deal, making more than a million dollars with an allegedly corrupt Ukrainian gas company Burisma. That at the same time his dad was vice president and the lead on Ukraine issues. Joe Biden later admitted he got a Ukrainian prosecutor fired who was investigating Hunter's company.
Joe Biden (Jan. 23, 2018): If the prosecutor's not fired, you are not getting the money. Well son of a bitch, he got fired.
Biden says it was the prosecutor who was corrupt.
Sharyl: If Republicans are going to look into matters of Ukraine and President Biden's son and his connections to Ukraine, it seems to me they're going to need to do a good job explaining why they're doing that other than for political reasons.
Perry: Right. Right.
Sharyl: I think Americans look at this, and it just sounds like one side's going after the other.
Perry: Yeah. And it often does, and I think in some cases it actually is that, but in this case, I think why it's important is, — look, we've got a wide open southern border where it needs the attention of the chief executive. You take that and you say, "Well, how does Ukraine fit into that?" If we're spending money in Ukraine, we don't have it to spend there. And if we're spending money in Ukraine to distract from other things that might have happened in Ukraine. What other things might have happened? When I talk about his son — the president of the United States' son — is the president being extorted for those actions, and are the American taxpayers paying the bill? That's why it's important to know. We're not making any accusations, but it's important to clear the record to make sure that what we're doing in Ukraine is for the right reason and not for some other reason that is unseen to the American people. As a mission statement, the Freedom Caucus stands for the millions upon millions of Americans who feel like Washington, D.C. doesn't hear them, has left them behind, doesn't have their backs, and doesn't advocate for them. So we stand for open, accountable government — the way it was supposed to be run, the way the founders wanted it to be done, so that every representative gets a voice and can represent their people and are unafraid of the influences of Washington, D.C. and the corrupting components of it. We're here to save the Republic.
Sharyl (on-camera): The Freedom Caucus recently called to end Biden's plans to cancel student debt, to take back unspent Covid funds, as well as $80 billion in IRS funding provided in the Inflation Reduction Act. The White House responded by calling the proposal a "five-alarm fire" that would endanger public safety, raises costs for families, undermine workers, weaken national security, and hurt seniors.
Watch story here.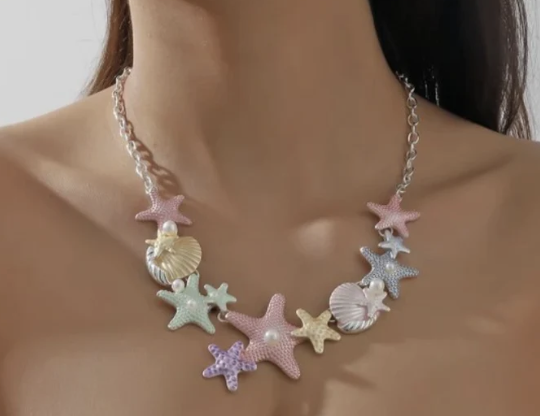 The Lemonade Mermaid Store
Unique gifts for Land or Sea Mermaids, Mer-pets and Little Mermaids!
Left: Pastel Beach Necklace $16