The following is an excerpt from Gallup News.
With the U.S. facing a deadline to increase the nation's debt limit and the threat of an economic recession looming, Americans lack confidence in a variety of key U.S. leaders on economic matters.
Gallup finds between 34% and 38% of U.S. adults expressing a "great deal" or "fair amount" of confidence in President Joe Biden, Federal Reserve Chair Jerome Powell, Treasury Secretary Janet Yellen and congressional leaders in both major parties to do or recommend the right thing for the economy.
While the percentage of Americans with a great deal or fair amount of confidence is similar across the five leaders, there is more variation in the percentage who say they have almost no confidence in them.
Nearly half of Americans say they have almost no confidence in Biden, and 41% say the same about Democratic leaders in Congress.
These results are based on Gallup's annual Economy and Personal Finance survey, conducted April 3-25.
The poll also found that Americans are less optimistic about the state of the U.S. economy than they have been in recent months and that Biden is at a low point in his overall job approval rating.
Declining Confidence in All Economic Leaders
Confidence in all leaders is at least marginally lower than a year ago, including significant declines for Biden and Powell.
These changes follow steep declines between 2021 and 2022 for all but congressional Republicans.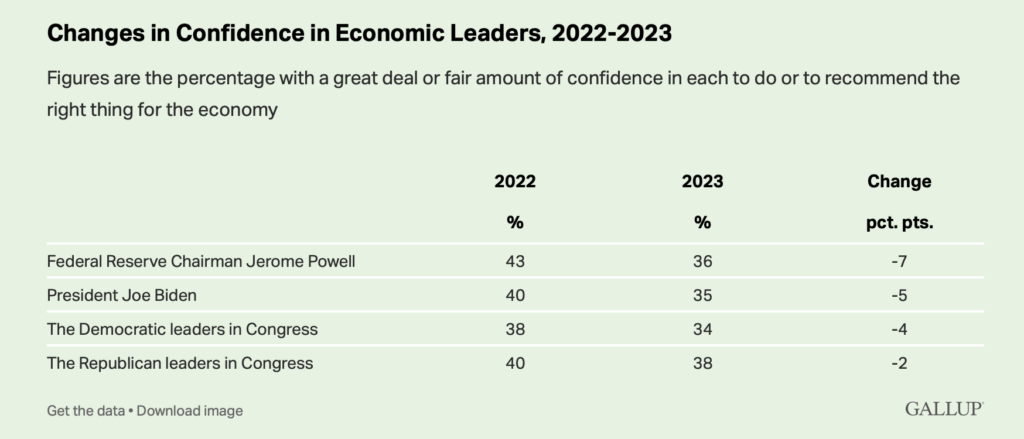 The result of these changes is that all four leaders earn confidence ratings below 40% in the same year, the first time that has occurred in Gallup's polling of this question since 2001.
Gallup did not ask about Yellen in 2022, but her current reading is down substantially from 2021, early in her tenure as treasury secretary for the Biden administration, when 54% were confident in her (and 57% in Biden).
Link to full Gallup analysis here.