The following is from AP News.
For the first time, U.S. regulators on Wednesday approved the sale of chicken made from animal cells, allowing two California companies to offer "lab-grown" meat to the nation's restaurant tables and eventually, supermarket shelves.
The Agriculture Department gave the green light to Upside Foods and Good Meat, firms that had been racing to be the first in the U.S. to sell meat that doesn't come from slaughtered animals — what's now being referred to as "cell-cultivated" or "cultured" meat as it emerges from the laboratory and arrives on dinner plates.
The move launches a new era of meat production aimed at eliminating harm to animals and drastically reducing the environmental impacts of grazing, growing feed for animals and animal waste.
"Instead of all of that land and all of that water that's used to feed all of these animals that are slaughtered, we can do it in a different way," said Josh Tetrick, co-founder and chief executive of Eat Just, which operates Good Meat.
The companies received approvals for federal inspections required to sell meat and poultry in the U.S. The action came months after the U.S. Food and Drug Administration deemed that products from both companies are safe to eat.
Cultivated meat is grown in steel tanks, using cells that come from a living animal, a fertilized egg or a special bank of stored cells.
In Upside's case, it comes out in large sheets that are then formed into shapes like chicken cutlets and sausages. Good Meat, which already sells cultivated meat in Singapore, the first country to allow it, turns masses of chicken cells into cutlets, nuggets, shredded meat and satays.
Company officials are quick to note the products are meat, not substitutes like the Impossible Burger or offerings from Beyond Meat, which are made from plant proteins and other ingredients.
Globally, more than 150 companies are focusing on meat from cells, not only chicken but pork, lamb, fish and beef, which scientists say has the biggest impact on the environment. (Continued...)
Read more here.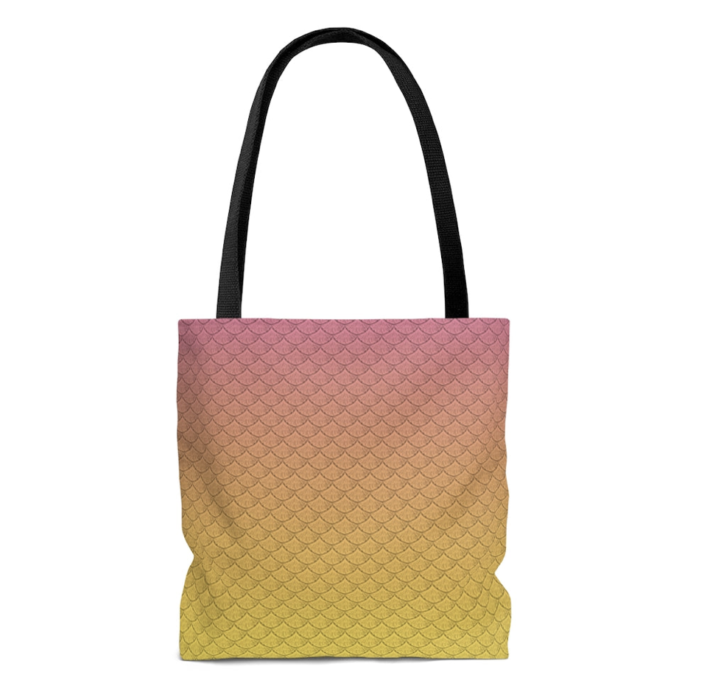 The Lemonade Mermaid Store
Unique gifts for Land or Sea Mermaids, Mer-pets and Little Mermaids!
Left: Our signature Fish Scales design tote bag in Citrus