The following is from Gallup News.
STORY HIGHLIGHTS
62% of adults under age 35 say they drink, down from 72% two decades ago
Conversely, drinking has increased among adults aged 55 and older
Young adults also drinking less frequently, less likely to drink to excess
Young adults in the U.S. have become progressively less likely to use alcohol over the past two decades, with the percentages of 18- to 34-year-olds saying they ever drink, that they drank in the past week and that they sometimes drink more than they should all lower today.
At the same time, drinking on all three metrics has trended up among older Americans while holding fairly steady among middle-aged adults.
These findings come from an analysis of Gallup trends on Americans' self-reports of their alcohol drinking habits.
To allow for reliable analysis of the trends by age, the data are reviewed in three three-year time periods: 2001-2003, 2011-2013 and 2021-2023.
Young Adults Now Vie With Elders for Lowest Drinking Rate
Gallup's long-term measure of alcohol consumption asks U.S. adults whether they "ever have occasion to use alcoholic beverages." While the national average has been steady in the low 60% range for over 40 years, the age trends reviewed for this report show that the rate has declined 10 percentage points over the past two decades among younger adults, aged 18 to 34, falling from 72% to 62%.
Meanwhile, the percentage of drinkers has increased by 10 points among older adults, those 55 and older, going from 49% to 59%.
While these groups on either end of the age spectrum now report similar drinking rates, those in the middle, aged 35 to 54, maintain a higher drinking rate, at 69%, on par with the prior 67% readings for this age group.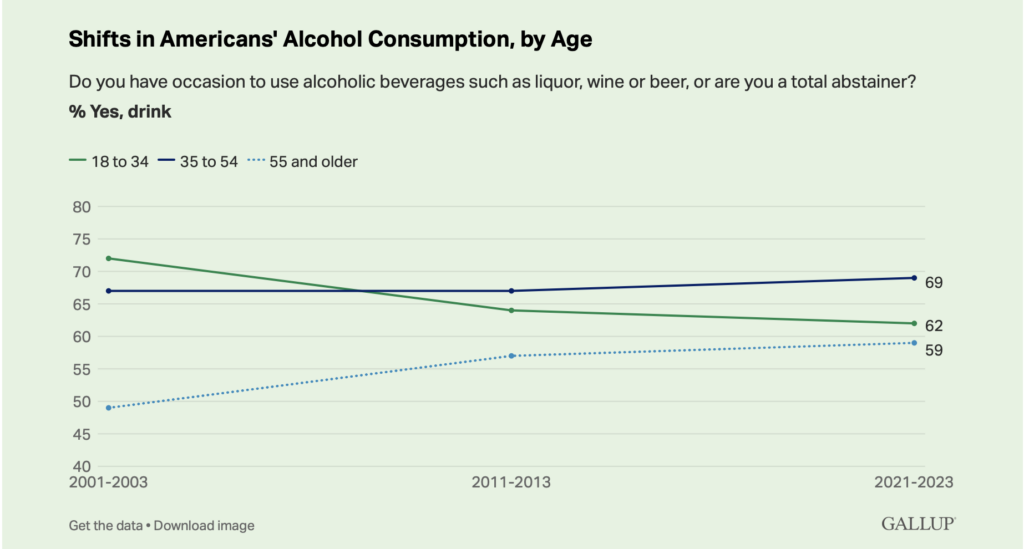 Fewer Younger Drinkers Drink Regularly
Younger adults who drink are also less likely than they were in the past to say they had an alcoholic drink within the past seven days -- an indication of being a regular drinker. The 61% who most recently reported having a drink in the past week is down from 64% in 2011-2013 and 67% in 2001-2003.
Again, older Americans' reports have gone in the other direction, with a six-point increase since 2001-2003 in drinkers aged 55 and older saying they consumed alcohol in the past week, while middle-aged adults' drinking reports have been steady.
The net result is that among all Americans (encompassing drinkers and nondrinkers), fewer than four in 10 young adults (38%) now appear to be regular drinkers, on par with older adults (40%) but trailing middle-aged adults (48%).
This pattern is a change from two decades ago when younger adults were the most likely to be regular drinkers and older adults the least.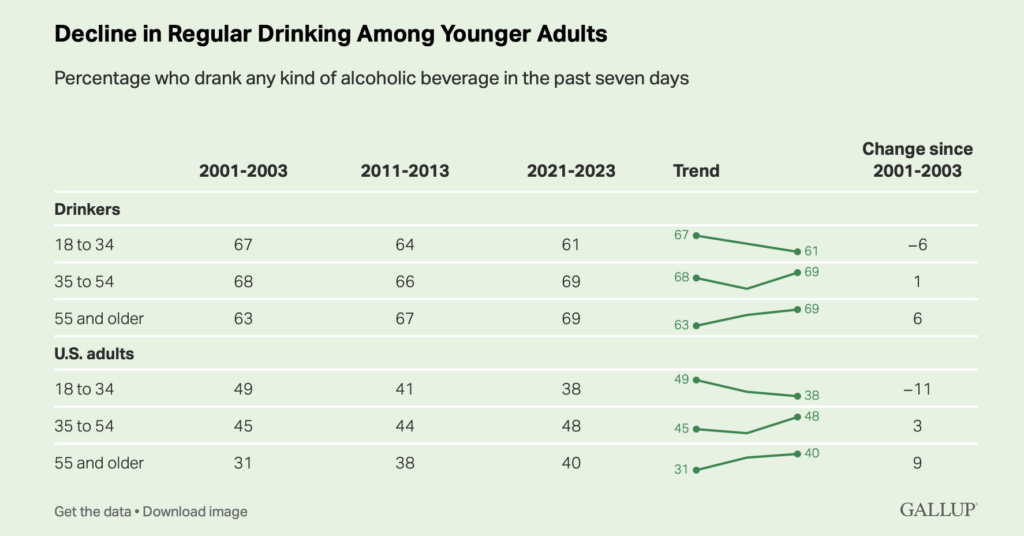 Why Are Fewer Young Adults Choosing Alcohol?
There could be several reasons why today's young adults are less likely to drink than the same age group a decade or two ago.
Demographics: The main reason for the decline in drinking among young adults may be the much greater diversification of their racial/ethnic makeup than has occurred among middle-aged and older adults.
The percentage of 18- to 34-year-olds who are Black, Hispanic, Asian or another racial minority has nearly doubled over the past two decades, making up just under a third of the age group in Gallup's 2001-2003 data to about half of it today.
Non-White Americans have persistently been less likely than White Americans to use alcohol, and this is seen across all age groups. In 2021-2023, there is a nine-point difference among the youngest group: 57% of non-White 18- to 34-year-olds drink, compared with 66% of White young adults.
Given this, the overall drinking rate among 18- to 34-year-olds has naturally fallen as the proportion who are non-White has increased. (Continued...)
Link to article and complete polling results here.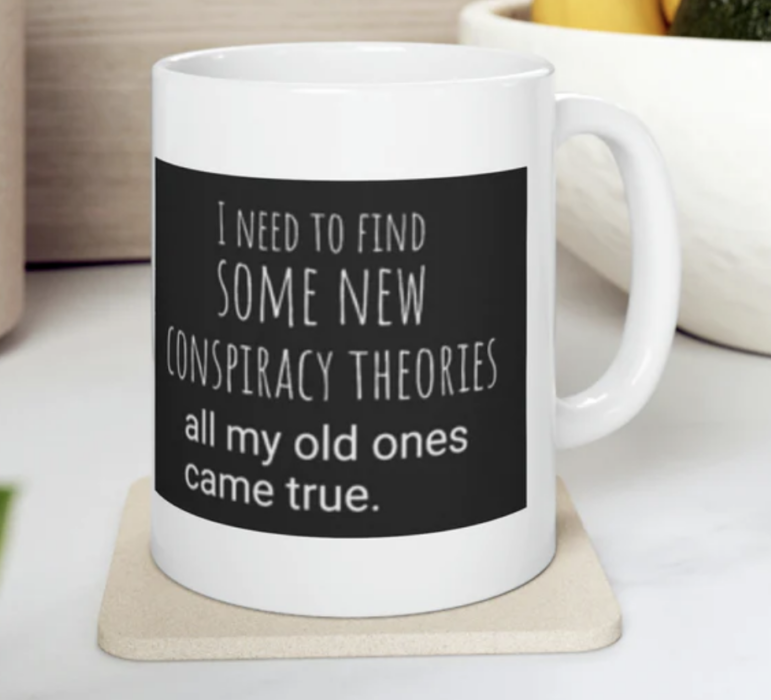 Visit The Sharyl Attkisson Store today
Unique gifts for independent thinkers
Proceeds benefit independent journalism