The following is a news analysis
This article was first published Sept. 22, 2022.
Most of us probably used to think that dictionaries or definitions existed to explain the meanings of words.
Today, these resources are instead often used as tools to redefine and manipulate words to the liking of governments, corporations or other propagandists who want to influence people or make them think a certain way.
As I have long discussed, for most any source of information, special interests and propagandists have found a way to co-opt and pervert it. This includes sources of information such as social media, Wikipedia (which is one reason why co-founder Larry Sanger says he ultimately left the project), Snopes, medical journals and studies, news media, dictionaries, blogs (DailyKos, MediaMatters, Scienceblogs, Salon, Vox, Slate, GQ, Rolling Stone), and much more.
Watch Sharyl Attkisson's TedX talk on Astroturf and Media Manipulation
In some instances, information manipulators popularize new terms they create out of whole cloth, or ones they define in a way that's useful to their goals. These terms include "conspiracy theory," "anti-vaccine," "without evidence," "food desert," "transphobic," "died by suicide," and much more.
Read Sharyl Attkisson's Top 10 List of Astroturfers
These same people also redefine commonly-used terms to achieve propaganda goals. One recent example can be found in efforts to redefine the term: "migrant."
For decades in the US, the word "migrant" commonly referred to people from another country coming to the US and moving around from place to place, usually for work. This word does not accurately describe most illegal border crossers, who either intend to permanently relocate in the US ("immigrants"); or who are criminals, drug dealers, or human traffickers moving back and forth between the US and Mexico to facilitate crime.
But you might have noticed in the last couple of years, those in the public forum, including news outlets, have switched to using the term "migrant" to describe illegal "immigrants," asylum seekers, and even unknown criminals.
Nobody has announced who first instigated this change, but the news media quickly adopted the inaccurate, new usage of the term.
One can see the evolution of the efforts to redefine "migrant" in definitions online. Remember: definitions are traditionally used to explain the meaning of a term, not to convince or brainwash people into using terms in a new way to fulfill the goal of propagandists.
Using "The Wayback Machine" at archive.org, we can see that Dictionary.com listed the correct, common definitions of "migrant" as late as December 2016: "Migrant...also called a migrant worker: A person who moves from place to place to get work, especially a farm laborer who harvests crops seasonally."
However, by May of 2017, with President Donald Trump in the White House, and massive efforts already underway to unseat him and undermine his border security policies, Dictionary.com suddenly listed an entirely new, made-up definition. The new definition reads, "A person who attempts to permanently relocate to a new country, but who may be subject to removal by the government of that country: undocumented migrants; unaccompanied child migrants."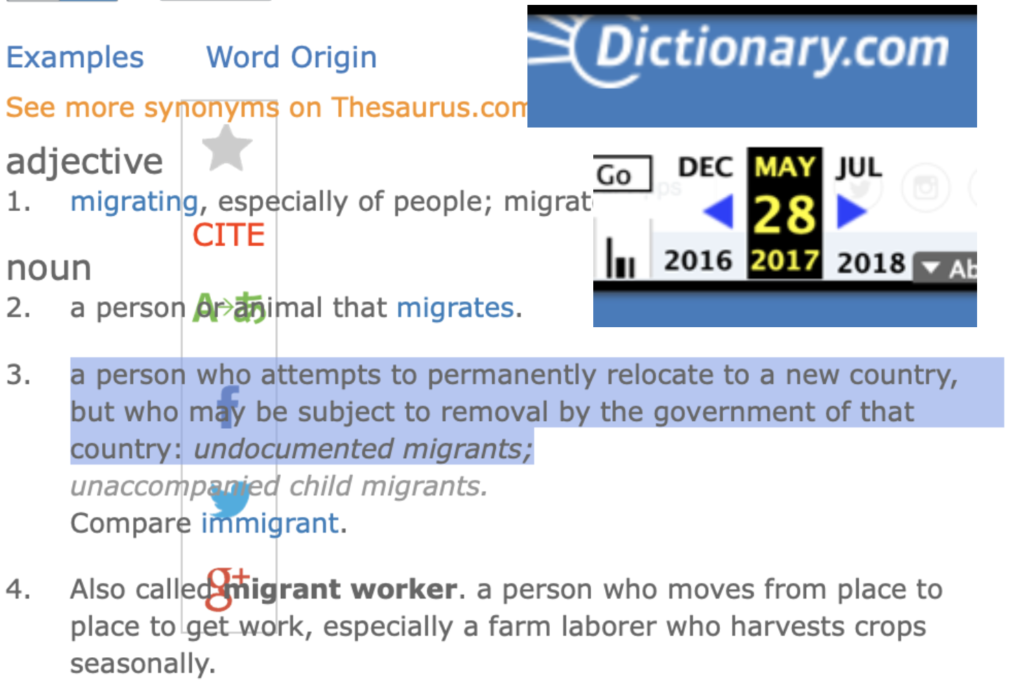 Significantly, the new definition was given a place of prominence above the accurate, longstanding definition of "migrant."
Those behind the effort to change the definition know the reasons why they are doing it and the impact they hope it will have. To date, the reasoning and sources haven't been shared with the public.
However, it is a fascinating and disturbing lesson in propaganda, psychology, and human behavior to see so many people have unthinkingly adopted the new definition and usage of "migrant," despite its inaccuracy. And then, they appear perfectly satisfied as long as someone published the inaccurate definition in a reference they can point to.
For comparison, think of this example. We all know that a bicycle is typically a two-wheeled vehicle on a frame propelled by pedals and steered by handlebars. But what if one day someone started pointing to a pogo-stick and calling it a bicycle. And what if, instead of saying, "that's not correct," the news media and others began calling pogo-sticks "bicycles." And then, what if Dictionary.com changed its definition of bicycles to read, "a spring-loaded pole toy for jumping around on"... and what if those who were asked why they were calling a pogo stick a "bicycle" pointed to Dictionary.com for proof and said, "Look! You can see a pogo stick is a bicycle! It's in Dictionary.com!"
With that kind of logic, you could almost be convinced a man is a woman, a frog is a person, or up is down.
Radical activist Saul Alinsky wrote, "He who controls the language controls the masses".