The following is an excerpt from Missouri Independent.
An Iowa physician who has been critical of mask mandates and the Covid-19 vaccine is now suing a Missouri hospital over its staff-vaccination requirements.
Dr. Mollie James of Chariton is suing Mercy ACO Clinical Services, Mercy Health and Mercy Health East Communities in the Circuit Court of St. Louis County. Her lawsuit seeks unspecified damages for religious discrimination and retaliation.
Since the outbreak of Covid-19, James has gained national attention in some conservative circles for her promotion of ivermectin and hydroxychloroquine in treating the virus, and for her public condemnations of Dr. Anthony Fauci, the Biden administration and much of the medical establishment in general.
In an August 2023 posting to X, James announced she was suing the Missouri hospital where she worked in 2021 before the facility began requiring Covid-19 vaccinations of the staff, writing, "Guess who's getting sued?!? My former employer — Mercy St. Louis fired me after 5 years of employment from my virtual ICU job (rounding from home!) — because they refused to acknowledge my religious exemption. It's time for Christians to fight for our religious beliefs."
The lawsuit alleges that in July 2021, Mercy St. Louis mandated that all employees receive a Covid-19 vaccination, although exceptions were made based on medical and religious reasons.
According to the lawsuit, James applied for a religious exemption and wrote on the application that "healing power is from God alone" and she "takes direction and guidance treatments from Him and Him alone." She also indicated she was "guided by God" to decline the vaccine.
James' application for an exemption was denied and in August 2021, rather than be fired, she opted to resign, the lawsuit states.
James then sought a right-to-sue letter from the Missouri Commission on Human Rights. Such letters are typically a precursor to a civil lawsuits that allege discrimination, but the commission denied James' request.
With the two-year statute of limitations set to expire, and with James still challenging the commission's decision, lawyers for James filed the civil lawsuit against Mercy claiming retaliation and religious discrimination.
The lawsuit alleges James has suffered "non-diagnosed emotional pain, suffering, humiliation, inconvenience, mental anguish, and loss of enjoyment of life."
The lawsuit also claims Mercy intentionally discriminated against James for associating with Christians "who opposed Covid-19 vaccination as a matter of their religious faith."
Mercy ACO Clinical Services and its affiliates have yet to file a response to the lawsuit. ...(Continued)
Link to read full article here.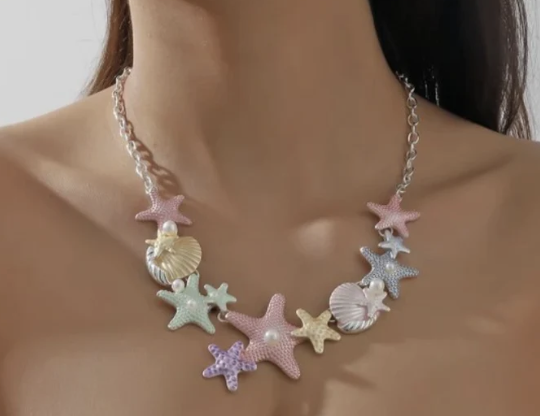 The Lemonade Mermaid Store
Unique gifts for Land or Sea Mermaids, Mer-pets and Little Mermaids!
Left: Pastel Beach Necklace $16