The following is an excerpt from The Washington Post.
---
On March 20, 2020 — soon after the coronavirus began spreading across the U.S. — [Waylon] Bailey said he was trying to find a moment of levity amid the national emergency. He compared the pandemic to the zombie apocalypse from "World War Z," a 2013 movie starring Brad Pitt.
"SHARE SHARE SHARE ! ! ! !" Bailey wrote in an emoji-filled post. "JUST IN: RAPIDES PARISH SHERIFFS OFFICE HAVE ISSUED THE ORDER, IF DEPUTIES COME INTO CONTACT WITH 'THE INFECTED' SHOOT ON SIGHT….Lord have mercy on us all. #Covid9teen #weneedyoubradpitt."
A few hours later, Bailey said he was confused when about a dozen SWAT team members from the Rapides Parish Sheriff's Office arrived at his Alexandria, La., home with weapons and bulletproof vests.
Officials arrested Bailey without a warrant, according to court documents. They later argued that Bailey's post was a terroristic threat.
Bailey was released on a $1,200 bond later that day, and the district attorney decided not to prosecute him.
Still, Bailey said he lost lifelong friends when local news stations reported on his arrest. He said he deleted his social media accounts and barely left his house for months.
In September 2020, Bailey filed a lawsuit alleging Detective Randell Iles and Sheriff Mark Wood violated his First and Fourth amendment rights.
But David Joseph, a U.S. district judge for the Western District of Louisiana, dismissed Bailey's claims in July 2022.
He ruled the defendants were protected by qualified immunity, a doctrine that shields government officials from liability in civil lawsuits unless it's proved they violated a constitutional right. He wrote that Bailey's arrest was warranted because his post "may very well have been intended to incite lawless action."
Bailey appealed Joseph's decision the next month.
In Friday's ruling, the appellate judges declared that Bailey's Facebook post was not a threat and did not incite violence. The reference to Pitt's fictional character was a giveaway that it was not serious, the court said.
"The post did not direct any person or group to take any unlawful action immediately or in the near future," the judges wrote. " … at worst, his post was a joke in poor taste, but it cannot be read as intentionally directed to incitement."
Iles violated Bailey's First Amendment right and had no probable cause to arrest Bailey, the court said in its ruling, meaning he is not entitled to qualified immunity.
The case will be tried again in district court.
Ben Field, Bailey's attorney, said the appeals court decision "makes it very clear" that Bailey will win the case.
"It's a great victory for Waylon and for the Constitution," Field said. "It clearly lays out that police have to respect First Amendment rights online, and that they can't wantonly arrest people who make jokes about them."
A spokesman for the Rapides Parish Sheriff's Office declined to comment.
Read complete article here.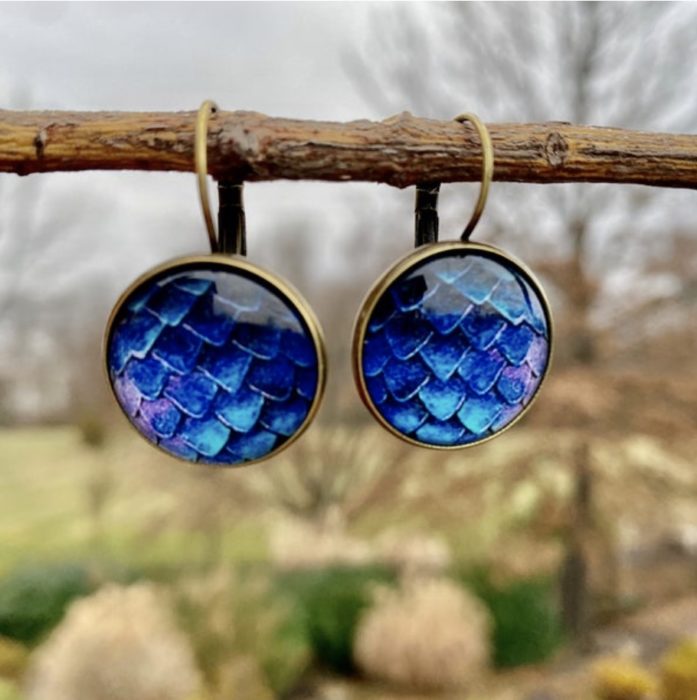 The Lemonade Mermaid Store
Unique gifts for Land or Sea Mermaids, Mer-pets and Little Mermaids!
Left: Our signature Blue Fins Earrings