You may have seen TV commercials warning that certain pet medications can cause seizures and other problems in your animals. It turns out that our pets are suffering some of the same chronic health problems that have spiked among American humans in the past two decades, from allergies and other immune disorders to seizures.
The following is an excerpt from The Vaccine Reaction.
The novel messenger RNA (mRNA) Covid-19 shots, notably Pfizer/BioNTech's Comirnaty and Moderna/NIAID's Spikevax biologics, were not he only shots causing millions of Americans to worry and be skeptical about their safety and efficacy over the past three years.
A new study published last month in the journal Vaccine found that more than half of dog owners in the United States have concerns about vaccinating their dogs, including for rabies.
"A large minority of dog owners consider vaccines administered to dogs to be unsafe (37 percent), ineffective (22 percent) and/or unnecessary (30 percent)," according to the research.
This is not the first time researchers have taken a closer look at growing vaccine hesitancy among pet owners.
In 2021, a study published in the Canadian Veterinary Journal found a link between parents who oppose mandatory childhood vaccinations and vaccine-hesitant pet owners.
Medical Exemptions for Pet Vaccines Limited to Only 16 States
Rabies vaccinations for dogs are required by law in most states in the U.S., but in a small number of states, rabies vaccination is only required for imported animals above a certain age.
Unlike human vaccine laws which vary by state and include provisions for medical, religious, and/or philosophical or conscientious belief exemptions, only medical exemptions exist—and only in 16 states—for the rabies shot for pets.
Annual Rabies Booster May Be Overkill
Texas dog owner Michael Hays shared concerns with a media outlet in 2020 after his dog developed a serious illness shortly after routine vaccinations.
"Charlie" had just received his rabies shot along with other core boosters. "The day after those vaccines, he just started acting a little weird, and then two days later, he couldn't go up and down the stairs," Hays said.
Hays never received a conclusive answer from the vet after several follow-up visits as to the reason for the sharp decline of his dog's health so quickly after routine vaccinations. Charlie died soon afterward.
Hays said he wished he would have checked his dog's titers—a blood test that determines whether or not antibodies to protect against disease are still present from previous shots or from natural infection—before moving forward with more boosters, especially after a growing body of research suggests dogs can be protected for 5-7 years or even longer.
Charlie had been receiving core vaccines annually, according to media reports, but the American Animal Hospital Association guidelines only recommend core vaccines and boosters "at intervals of every three years or longer."
"Canine vaccine hesitancy is pervasive," said Matt Motta, the study's co-author and political scientist at Boston University's School of Public Health who studies hesitancy. "What this demonstrates is that Covid fundamentally changed how Americans look at vaccines."
Some public health officials suggest the pandemic ushered in an unprecedented level of vaccine skepticism.
According to an April analysis conducted by UNICEF, the number of Americans who believe vaccines are important dropped below 80 percent, compared to 93 percent prior to the pandemic.
Further, vaccination rates for some diseases have continued to decline during the past two years, according to the CDC.
Link to article here.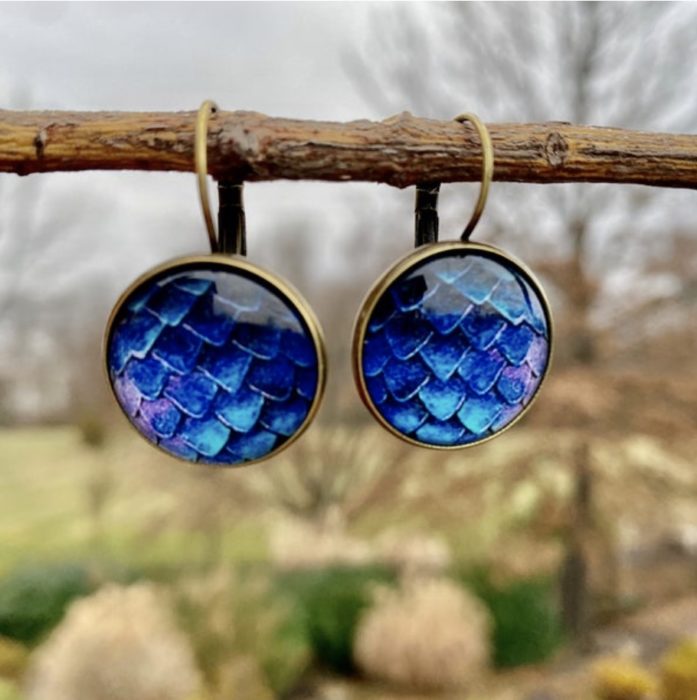 The Lemonade Mermaid Store
Unique gifts for Land or Sea Mermaids, Mer-pets and Little Mermaids!
Left: Our signature Blue Fins Earrings