We're back now with former President Donald Trump.
Sharyl: On the border, millions of people have come in since you left office, illegally.
Trump: Yeah. It's very sad.
Sharyl: I did a report in 2018 based on general accountability office and FBI figures that said the illegal immigrant population was about one in 30 Americans or people in the United States at the time, but accounted for at least one in five prison inmates at great expense. I understand moving forward, you had planned to reinstall some of the border controls that you had if you were elected again.
Trump: All of them.
Sharyl: But how do we deal with, or do we deal with the millions that have come in since? Do we just let that go? Or is there a practical way to deal with it?
Trump: No country can sustain what we're sustaining right now. No country's rich enough.
Sharyl: So how do you deal with those? Or do you deal with those who are already here?
Trump: You have to deport.
Sharyl: How?
Trump: You have to deport.
Sharyl: How do you identify — do you have a mass program to identify
Trump: You have to have a mass deportation program. That's right. And you know what? When you say that everyone's gonna stop coming. You know, one of the reasons I was successful is they knew it was gonna be very, very hard to come in. We moved out, as you know, thousands of people, thousands of gang members, thousands and thousands. I mean, these are rough people. These are people that are as rough as you get. These are real, serious criminals. We took them out by the thousands, and we're gonna have to do that again.
Sharyl: On Covid, with the benefit of hindsight, what would you do differently?
Trump: So what happened is that we got hit with something that got everybody by surprise all over the world, including China. And they said thousands of people are dying in China. People don't realize, you know, they don't talk about it in China. They don't tell you. And you know where it was? It was right around the Wuhan lab. That's why I've always said it was the Wuhan lab that caused it. Not some, not some bat cave 2,000 miles away. Thousands of people are dying. And I immediately, almost immediately, closed off all people coming from China into our country. We saved tens of thousands of lives—
Sharyl: You were criticized for that at the time.
Trump: Oh, I was criticized, yeah. I was criticized by Nancy Pelosi. Crazy Nancy. I was criticized by a lot of Democrats. But I felt it was the right thing to do. We did a great job. I never was given the credit for having done a great job, but all of the governors that did a good job, and most of them will say that we made it possible for them to succeed. With that being said, it was a horror show because this thing was so, so bad. And your next question's going to be, do you think they did it on purpose? I actually think it was just gross incompetence. It escaped the lab. It escaped the lab. But the Covid or China virus, or whatever you want to call it, what a horrible thing. I think it was $50 trillion of damage and millions and millions of lives all over the world. There's rarely been anything like it.
Sharyl: Would Dr. Fauci be your top White House advisor if you could do it again?
Trump: No, but I didn't rely on him that much. Don't forget, he was a person that didn't believe in masks, all of a sudden became a radical masker.
Sharyl: I would say the country was listening to him. Maybe, I'm not sure what your relationship was, but the rest of the country was really relying on him.
Trump: Yeah, it could be. You know who was listening to him is Ron DeSantis. Ron DeSantis is, if you go back to those times, he said, oh, Dr. Fauci, he's the greatest guy alive. We take all of our advice from Dr. Fauci. So he was there for many years. He was respected when he was, you know, he did a job. And he was respected, and it would be normal that you'd listen to him for a period of time. But I never really put him in that position. Who did is Biden. When I left, Biden gave him everything. And we left a very clean slate, a very beautiful slate for Biden. And they didn't — they weren't really able to take advantage of it. We're gonna see what happens now, but they weren't able to take advantage of it.
Sharyl: How many shots and boosters have you had? Covid shots.
Trump: I've had a shot and I've had a booster. Yeah.
Sharyl: So the original two series.
Trump: The original series, yeah, I guess it was two, and then a booster.
Sharyl: Shortly thereafter?
Trump: No, I had a booster probably a year after.
Sharyl: Are you gonna get the new booster?
Trump: I don't know, but I can tell you, it had no impact on me other than I didn't get — I had Covid, but I felt I wasn't particularly sick. Some people said, oh, you know, maybe —
Sharyl: At the time, it was reported you were about to die.
Trump: It wasn't, well, I didn't feel that way. No.
Sharyl: And also, have you had Covid just the once that you know of?
Trump: Once. Yeah. The one time.
Sharyl: Some Republican candidates have said they would pardon you if they're elected. Would you pardon Hunter if need be, if he's convicted.
Trump: I'd rather not say that. I'd rather not talk about it because it's, you know, it's a very negative subject for the family. You know, you talk about two tiers of justice, but it's just something I don't think it's appropriate to talk about. I can say this, and I said it the other day, people didn't realize I said that there were people that told me — we're dealing with fascists, we're dealing with horrible people, horrible people. Look, the Russia thing was a hoax. Then they had the Ukraine, Ukraine, Ukraine. It was all a hoax. They had the, a phone call, which turned out to be absolutely perfect. What I said turned out to be true actually, I mean, beyond perfect. It turned out everything I said on that phone call, which was mostly to congratulate Zelensky for winning, turned out to be true. But I was told because of the horrible people that we're dealing with — Nancy Pelosi, Adam Shifty Schiff — these are horrible people. These are horrible human beings. I would say, I was told, give myself a pardon, because they'll come at you for something. And they were right. And I thought they might do that, especially if I ran, if I ran. I think if I didn't run that, you know, they're thinking about somebody else. But if I ran, and I intended to see what was going to happen and run, I was, it was not a thought that, you know, passed my mind. What happens is, I was told by some smart people, give yourself a pardon. You'll save yourself a lot of problems. I can't do that. I said, I can't do that. Psychologically I did nothing wrong. I have, I think it'll go down as a a great administration because of all of the things we did. Even Space Force is turning out to be so successful now. Space Force is a very big thing. Russia and China were taking over space, and we had nothing. We just started, and it's become very successful. I said, I don't want to do that, because that implies that I did something wrong. I did nothing wrong.
Sharyl: Do you worry that you might go to prison?
Trump: No, I don't really worry about that.
Sharyl: You don't think that'll happen?
Trump: I don't think so. No. I did nothing wrong. I mean, I did nothing wrong.
Sharyl: Mr. President, thank you.
Trump: Thank you very much.
Watch story here.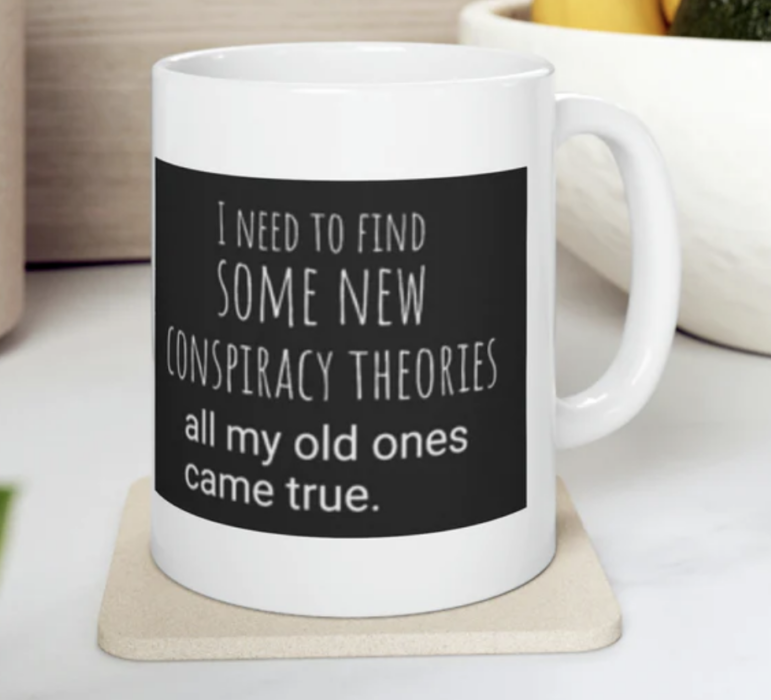 Visit The Sharyl Attkisson Store today
Unique gifts for independent thinkers
Proceeds benefit independent journalism