Click here to support independent journalism at SharylAttkisson.com
158. Oct. 5, 2023
Citing anonymous sources, ABC, The New York Times, CBS,  and other media report Trump allegedly discussed US nuclear subs with a foreigner from Australia after Trump was president. Trump called the story "false and ridiculous and "almost all of Australia's living former prime ministers have denied receiving top-secret information." CBS later reported, "Sources tell CBS News there is no indication former President Trump shared sensitive records with an Australian billionaire + no charges have been filed by the Special Counsel through their alleged discussion about US Nuclear subs was investigated."
157.  March 17, 2022
The New York Times, CNN, MSNBC and many others falsely reported that the Hunter Biden laptop scandal story was "unsubstantiated" and/or "Russian disinformation." In September, 2021, the New York Times quietly deleted its false "unsubstantiated" claim. In March 2022, the newspaper acknowledged that the FBI did have a laptop belonging to Hunter Biden, which contained scandalous material and possible alleged evidence of criminal activity.
Along with the false reporting by the Times and others, social media giants censored the story, incorrectly calling it "false" and "disinformation." Polling later revealed that a large number of Biden voters would not have voted for Biden in 2020 if they had known about the censored Hunter Biden laptop story.
156. June 9, 2021
The Inspector General found that, contrary to false media reports by NPR and others, and implications by NBC and others, the Secret Service did not clear Lafayette Park in May of 2020 for the purposes of allowing Trump to have a photo op posing with a Bible. The crowd was cleared for a contractor to install a fence and because protesters were breaking the law.
155. June 2, 2021
The Washington Post joins a cacophony of other media in finally correcting their reporting that falsely claimed, early and often, that the Covid-19 "lab theory" was a "debunked" "conspiracy theory."
154.  April 27, 2021
A New York Times report one year ago this week was wildly incorrect in projecting the first Covid-19 vaccine would not be ready until November of 2033. 
They were only off a little bit: instead of taking more than 13 years, it took about seven months. The Times also said if a SARS vaccine were able to be "repurposed" that could be ready as early as "late 2021."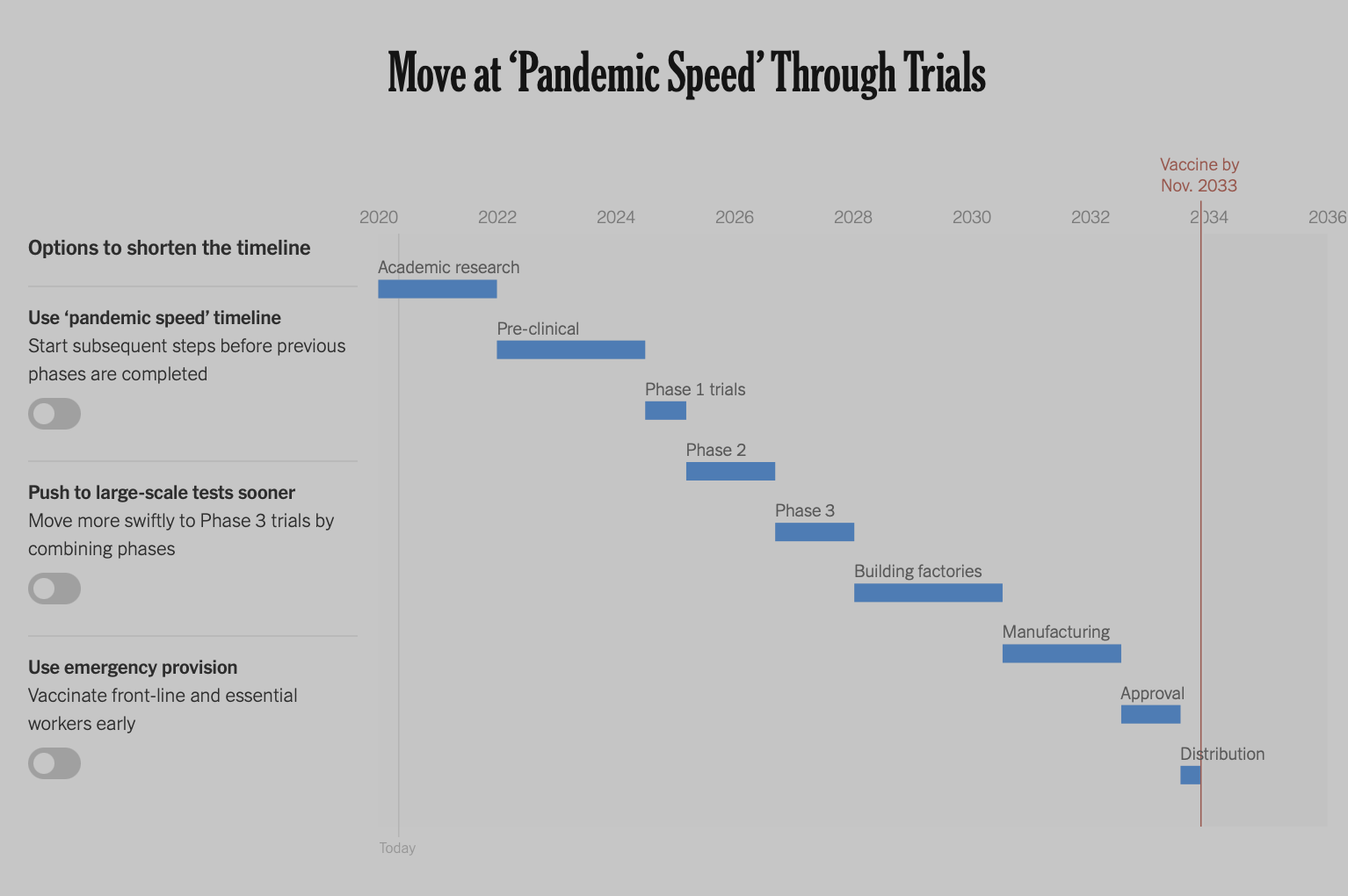 Also, nearly every expert quoted in the Times article was also far off the mark, including vaccine industry propagandist Peter Hotez, who discussed a fast-tracked 18-month time frame.
The original story post and list follow. Additional items are now added at the top of this post.
Notable Mistakes and Missteps in Major Media Reporting on Donald Trump
1. Aug. 2016-Nov. 2016:
2. Oct. 1, 2016:
3. Oct. 18, 2016:
4. Nov. 4, 2016:
USA Today misstated Melania Trump's "arrival date from Slovenia" amid a flurry of reporting that questioned her immigration status from the mid-1990s.
5. Nov. 9, 2016: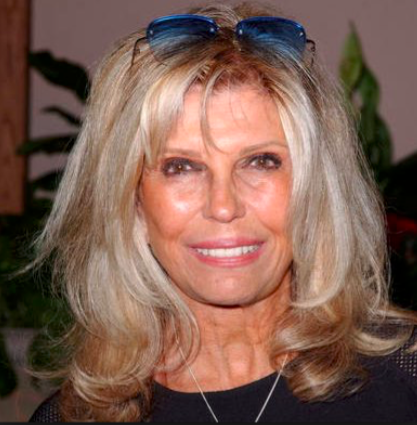 6. Jan. 20, 2017:
7. Jan. 20, 2017:
8. Jan. 26, 2017: 
9. Jan. 28, 2017
10. Jan. 31, 2017:
11. Feb. 2, 2017:
12. Feb. 2, 2017:
13. Feb. 4, 2017: 

14. Feb. 14, 2017:
15. Feb. 22, 2017:
16. April 5, 2017:
17. May 10, 2017:
18. May 27, 2017:
19. June 4, 2017:
20. June 6, 2017:
21. June 7, 2017:
22. June 8, 2017:
23. June 22, 2017:
24. December 2, 2017: 
25. July 6, 2017:
26. July 6, 2017:
27. Aug. 31, 2017:
28. Sept. 5, 2017:
29. Sept. 7, 2017:
30. Nov. 6, 2017:
31. Nov. 6, 2017:
32. Nov. 29, 2017:
33. Dec. 4, 2017:

34. Dec. 4, 2017:
35. Dec. 5, 2017:
36. Dec. 8, 2017:
37. Jan. 3, 2018:
38. Jan. 12, 2018:
39. Jan. 15, 2018:
40. Feb. 2, 2018:
41. March 8, 2018:
42. March 13, 2018:
43. March 15, 2018:
44. April 1, 2018:
45. April 30, 2018:
46. May 3, 2018:
47. May 7, 2018:
48. May 16, 2018:
49. May 28, 2018
50. May 29, 2018
51. June 1, 2018
52. June 21, 2018
53. June 22, 2018
MSNBC personality Joe Scarborough mistakenly stated that Trump had "banned" the Red Cross from visiting children separated from illegal immigrant parents. 
54. June 28, 2018
55. July 10, 2018
NBC reporter Leigh Ann Caldwell reported that outgoing Supreme Court Justice Kennedy only retired after months of negotiations with Trump that concluded with Trump agreeing to replace Kennedy with Judge Kavanaugh.
Support Sharyl Attkisson's fight against government overreach in Attkisson v. DOJ and FBI for the government computer intrusions. For more info visit: https://www.gofundme.com/sharyl-attkisson-4th-am-litigation
56. July 16, 2018
Washington Post reporter implied Trump doesn't understand NATO countries. In fact, Trump met with the Finnish President at the NATO summit. Further, Finland is a NATO partner, just not a member.
57. Sept. 14, 2018
The New York Times issues a major correction (below) to an original "unfair" article about U.S. Ambassador to the United Nations Nikki Haley.
58. Tues. Sept. 18, 2018
The New York Times falsely reported that a man, Mark Judge, testified he remembered an incident more than 30 year ago in which Supreme Court nominee Brett Kavanaugh is accused of assault. Judge actually said the opposite: he does not remember such an incident, and that the allegations are "absolutely nuts." The Times corrected its article in an editors' note.
59. Sept. 23, 2018
Multiple news outlets report that Deputy Attorney General Rod Rosentein has resigned or been fired. Neither turns out to be true. Axios and others eventually "update" and "clarify" their erroneous reports.
60. Oct. 14, 2018
NBC News falsely reports that President Trump praised Confederate General Robert E. Lee. Actually, Trump had praised the Union General Ulysses S. Grant.
61. Nov. 14, 2018
CNN's Jeff Zeleny reports that President Trump has decided to fire a deputy national security adviser upon the First Lady's demand. The Wall Street Journal reports the adviser has been "escorted out" of the White House. Later, it's reported that neither case was true. "This did not happen. She is still here at the WH," a senior official told the press. The adviser was reassigned to another job.
62. Dec. 24, 2018
It's discovered that nearly everything written by a Der Spiegel reporter, who had been honored by CNN, about a supposedly racist Trump stronghold town was fabricated--like much of his other work.
63. Dec. 26, 2018
NBC reports that Trump was the first President since 2002 not to visit the troops at Christmastime. But he (and First Lady Melania) did. NBC added a note to its story but left the false headline in place.
64. Jan. 1, 2019
CBS News claimed, in June of 2018, that Trump spokesman Sarah Huckabee Sanders would retire by the end of the year. She didn't. As of May 2019, she was still on the job and there had been no correction or editor's note. The same CBS story also quoted sources as saying the departure of White House assistant Raj Shah was also imminent. It wasn't. Shah continued to serve seven more months.
65. Jan. 9, 2019
The New York Times issues a correction to a report that falsely stated former Trump campaign chairman Paul Manafort asked for campaign polling to be given to a Russian oligarch, Oleg Deripaska, who has ties to Russia President Putin. Instead, the Times now claims, Manafort actually asked his associate Rick Gates to give polling data to Ukrainian oligarchs --not Deripaska.
While working at Politico, one of the New York Times reporters, Ken Vogel, got caught sending drafts of stories to democratic officials. Another co-author, Maggie Haberman, was considered a "friendly" by Clinton campaign officials who turned to her when she worked at Politico.
"We have had her tee up stories for us before and have never been disappointed. We can do the most shaping by going to Maggie," wrote Clinton officials in emails.
66. Jan. 11, 2019
Fox TV affiliate in Seattle, Washington airs fake, doctored video of President Trump that altered his face and made it appear as though he had stuck his tongue in and out while giving an Oval Office address.
67. Jan. 18, 2019
The Buzzfeed exclusive with anonymous sources implicating Trump in potentially criminal behavior (that Democrats and pundits said would be the nail in Trump's impeachment coffin) is refuted in a rare rebuke from Special Counsel Mueller's office. Buzzfeed stands by its reporting.
68. Jan. 22, 2019
The New York Times and Washington Post are among the publications that issue corrections after falsely reporting that an anti-Trump activist had served in the Vietnam War.

Additionally, multiple news employees, including a CNN employee, apologize for mischaracterizing, as the aggressors, Trump-supporting teenagers at a pro-life rally.
69. Jan. 26, 2019
The UK Telegraph apologizes for all the facts it got wrong in a Jan. 19 article criticizing the First Lady.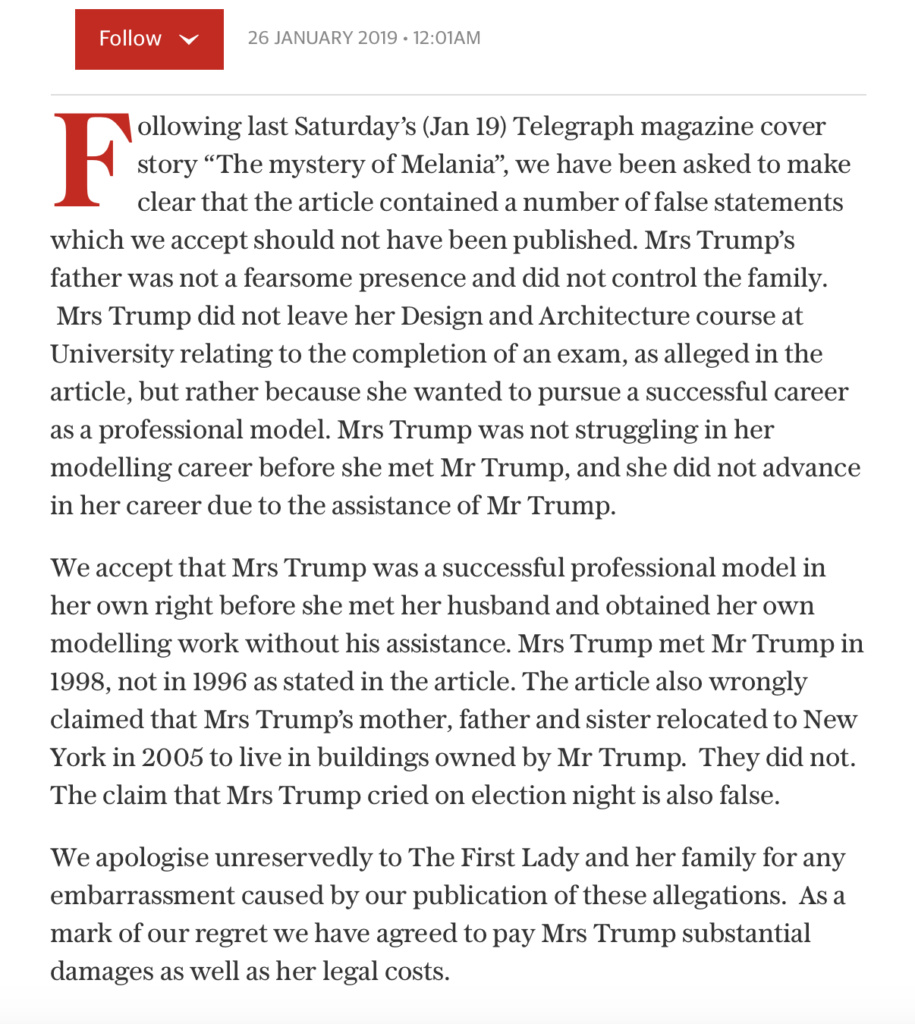 70. Feb. 18, 2019
While some media outlets responsibly reported and properly attributed allegations in the racist attack alleged by actor Jussie Smollett, others did not. Some unskeptically furthered the narrative that Smollett, who is black, was attacked by Trump-supporting racists who put a noose around Smollett's neck, shouted racial slurs, told him it's "MAGA" (Make America Great Again) country, and poured bleach on him. While details are still emerging as of this date, Chicago police have stated that Smollett is no longer considered a victim of the crimes he alleged. The New York Times receives special mention here for adding a biased non sequitur in its early reporting that treated skepticism of Smollett's story as if it were unfounded, and fit in a dig at President Trump's son.

But the lack of progress in the investigation has fueled speculation about whether the report was exaggerated. The president?s son Donald Trump Jr., who is known to disseminate conspiracy theories on his Twitter feed, retweeted an article this week about Smollett declining to turn over his cellphone to the police.


Sopan Deb, New York Times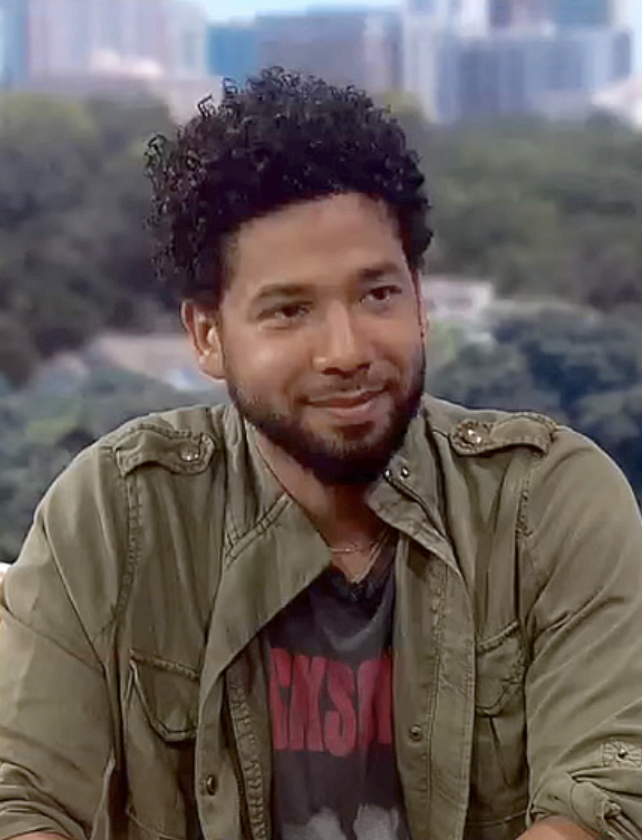 71. Various dates: Other faked attacks reported by the news as if confirmed
A week before Trump was elected, Hopewell Missionary Baptist Church in Mississippi was torched and the words "Vote Trump" found painted on the outside. The mayor condemned the incident as a hate crime and stated it was "an attack on the black church and the black community." However, police later arrested a black church member for the arson. They say the man staged the fire to look like an attack by Trump supporters. Even today, some of the corrected news reports retain headlines seeming to blame Trump.
The day after Trump was elected, an incident at Elon University in North Carolina made national news. Hispanic students found a "hateful note" written on a classroom whiteboard reading, "Bye Bye Latinos." After the story made news, it was learned that the message was written by "a Latino student who was upset about the results of the election."
Also the day after Trump was elected, a gay man, reportedly a filmmaker ? claimed that homophobic Trump supporters smashed his face with a bottle outside a bar in Santa Monica, Calif. A bloody photo was posted on Twitter, and he was said to have been treated at a local hospital. Police investigated the media reports. They said no complaint was ever filed, there was no evidence of a crime, and a check of local hospitals showed no victim in such an incident.
The week after Trump's election, a Muslim student at the University of Louisiana, Lafayette, claimed Trump supporters pulled off her head covering, and assaulted and robbed her. She later admitted fabricatingthe story.
A month after Trump?s election, a Muslim-American woman claimed Trump supporters tried to steal her headwear and harassed her on the New York City subway. She ultimately was arrested after confessing she made up the whole story.
72. Feb. 26, 2019
It's as good a day as any to point out that The Washington Post and others reported last November that Trump was imminently about to fire DHS Secretary Kirstjen Nielsen. The Post confirmed this with five anonymous sources. The firing was said to be likely to happen the following week.
Nielsen remained on the job for five more months before resigning.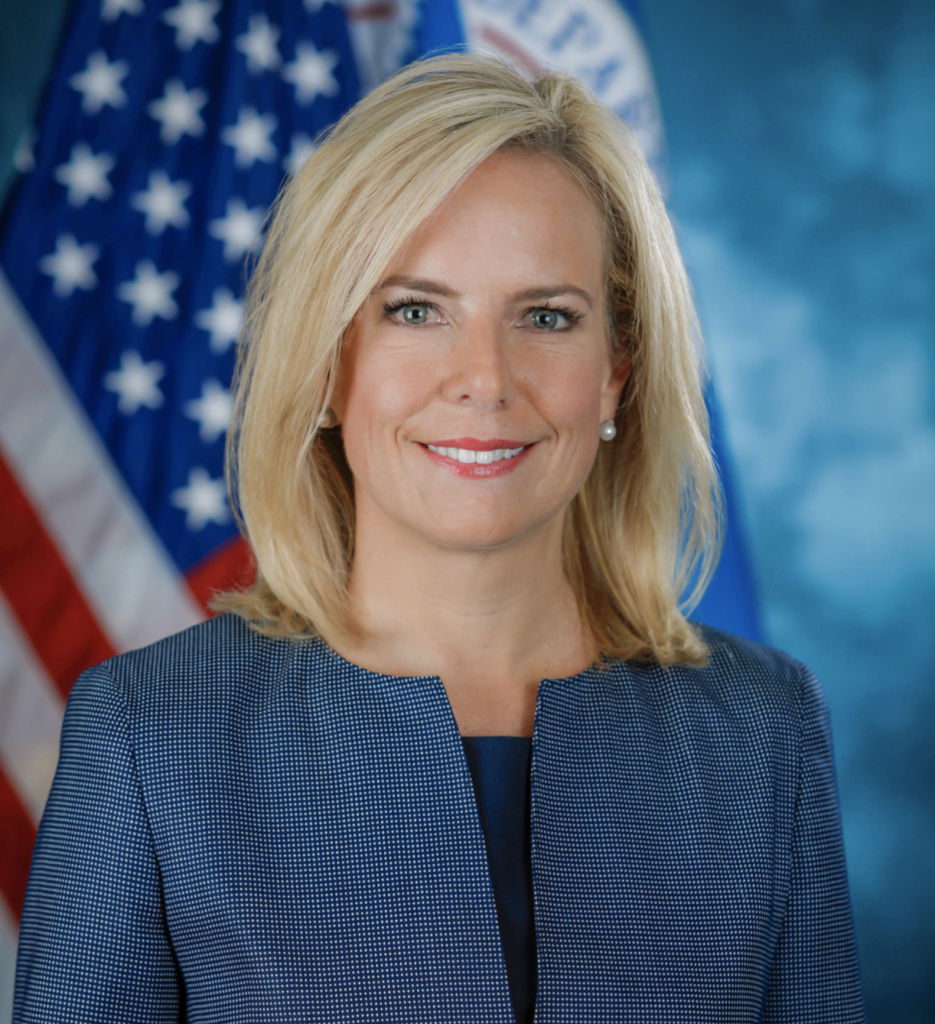 73. Feb. 27, 2019
Testimony by former Trump lawyer Michael Cohen seemed to put the final nail in the coffin of the "dossier" claim reported by many-- that Cohen had visited Prague to meet with Russians to help collude on Trump's behalf. Cohen told Congress he's never been to Prague or the Czech Republic, for that matter. McClatchy even reported that Cohen's cell phone had pinged off Prague towers. Where did this apparently false information come from? "Four people spoke with McClatchy on condition of anonymity due to the sensitivity of information shared by their foreign intelligence connections. Each obtained their information independently from foreign intelligence connections," reported McClatchy.
74. March 1, 2019
The Washington Post deleted a tweet containing false reporting about a January 19 incident regarding a standoff between Trump-supporting pro-life Catholic high school students and a pro-choice Native American activist. The Post wrongly stated, without attribution, that the activist had fought in the Vietnam War. The activist also falsely stated that a high school student had blocked him and "wouldn't allow him to retreat." These events were later called into question, and the Washington Post is being sued in a multi-million dollar libel suit over its allegedly false reporting and misrepresentations. The Post also posted an "editor's note" on this date stating that "a more complete assessment" of the incident contradicted or failed to confirm accounts as originally reported, including that a particular student was trying to instigate a conflict.
75. Various dates
Multiple reporters and media outlets have provided false information and/or quoted incorrect anonymous sources as to the timing of the release of Special Counsel Mueller's report on Trump-Russia collusion. The Washington Post said it would be out in summer of 2018. Bloomberg said it would be shortly after the 2018 Midterm elections. In February 2019, CNN, The Washington Post and NBC reported the report was coming the last week of February. However, it was not announced at that time.
The release of the Mueller report in April 2019 belies countless news stories over more than two years. The report does not find collusion between Trump and Russia President Putin and also concludes there's no evidence that any American conspired or coordinated with any Russian. The many who claimed there was hard evidence of collusion in hand proved to be wrong, yet there is no record of media apologies and corrections on these points.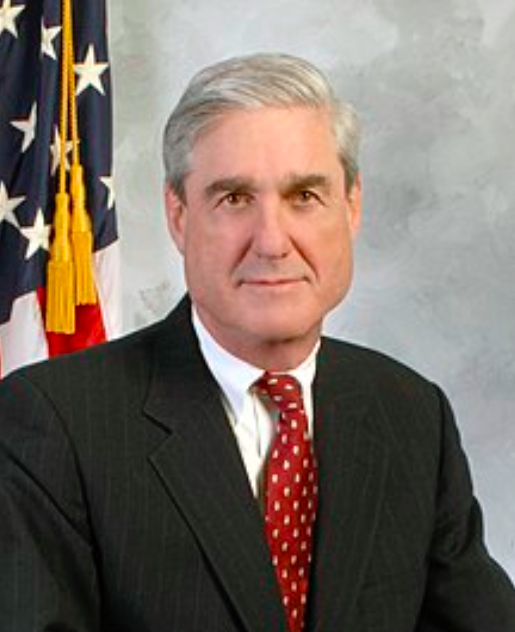 76. May 29, 2019
The Wall Street Journal reports the Navy used a "tarp" to cover the name of the U.S.S. John S. McCain so that President Trump wouldn't see it on his recent visit to Yokosuka, Japan. (The late Sen. John McCain frequently attacked Trump and cast a deciding vote contrary to McCain's campaign promise to repeal Obamacare. Trump also attacked McCain and derided McCain's performance as a soldier in Vietnam where McCain was held as a Prisoner of War.)
After the tarp news is reported, reporters quote McCain's daughter attacking Trump as if he had given the orders to cover the name.
It is further reported that the U.S.S. John McCain was kept out of Trump's view, and that sailors wearing hats with the ship's name on it were turned away and/or given the day off so that Trump would not see the McCain name.
However, shortly after these news reports, key parts of the storyline began to fall apart.
The one grain of truth appeared to be that, in advance of Trump's trip, a military official sent an email directing that the U.S.S. McCain be kept from Trump's view. However, importantly, that direction was not followed. Further, Trump and White House aides indicated Trump played no role and was unaware of the direction.
Significantly, military officials stated that it was untrue that a tarp was placed over the ship's name to block it from Trump's view. They say it was the other way around: a tarp on the ship for maintenance was removed for Trump's visit.
Further, U.S. officials said a paint barge in front of the U.S.S. John S. McCain was ordered to be moved for Trump's visit and was gone by the time he arrived.
The tarpaulin was used as part of hull preservation work on the McCain and was removed on Saturday, two days before Trump delivered a Memorial Day address at U.S. Naval Base Yokosuka, where the McCain was stationed. All ships remained in normal configuration during [the President's visit.

Cmdr. Nate Christensen, spokesman for U.S. Pacific Fleet, to NBC News
Though the main components of the Wall Street Journal story appeared to have been debunked, the New York Times' Maggie Haberman oddly tweeted out a statement that the Times had confirmed the Wall Street Journal's "excellent scoop."
The main part of the story that the Times seemed to have confirmed was that unnamed White House officials were concerned about Trump seeing the McCain name and that sailors wearing ball caps that sported the ship's insignia were turned away.
However, CBS News pointed out that "it is possible the reason they were turned away is that ball caps were not part of the dress code for the event."
U.S. officials said about 800 sailors from more than 20 ships and Navy commands were present for the president's visit and "all wore the same Navy hat that has no logo, rather than wearing individual ship or command hats."
77. July 4, 2019
Several news outlets seemed to be victimized by a bad case of wishful thinking when they reported that President Trump's Fourth of July celebration did not draw crowds. One analysis incorrectly claimed there were "small crowds."
The Guardian featured a photo of an empty podium in Washington D.C. prior to the celebration and claimed the White House was "struggling" to draw crowds.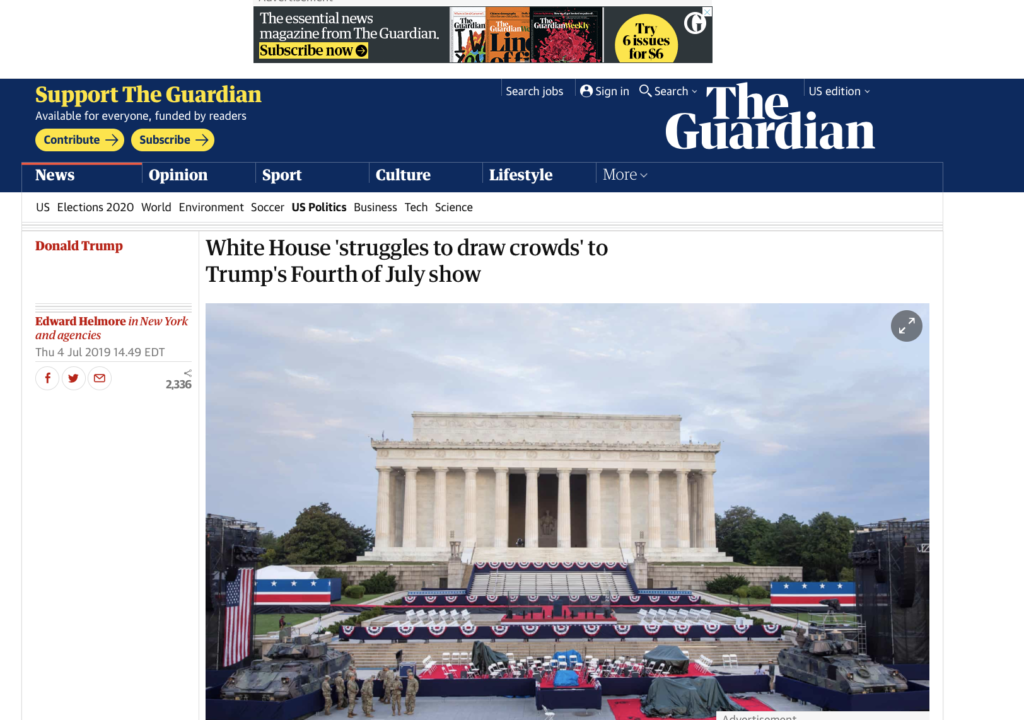 However, by any factual assessment, the crowds were, in fact, huge. That's in spite of the bad weather.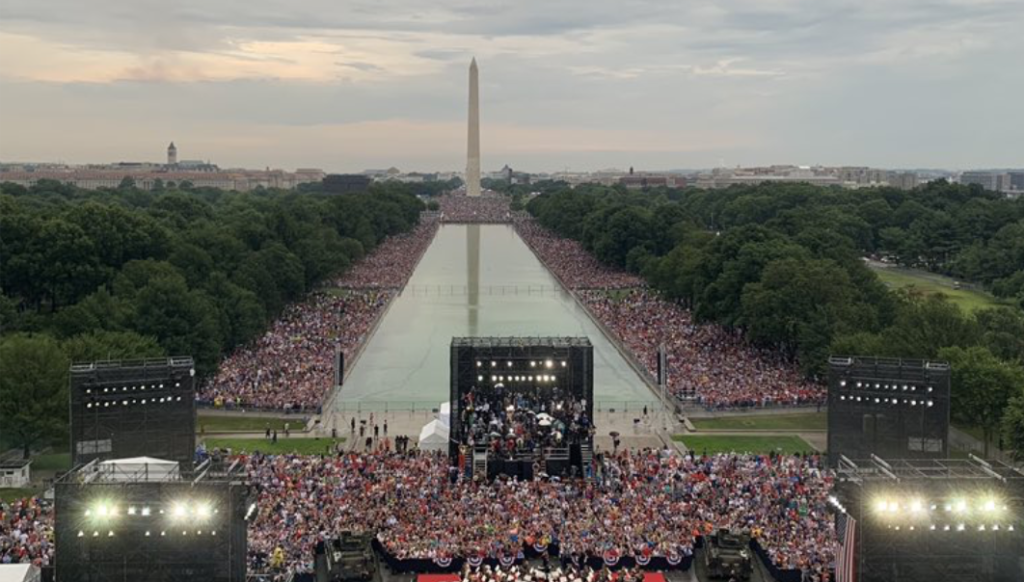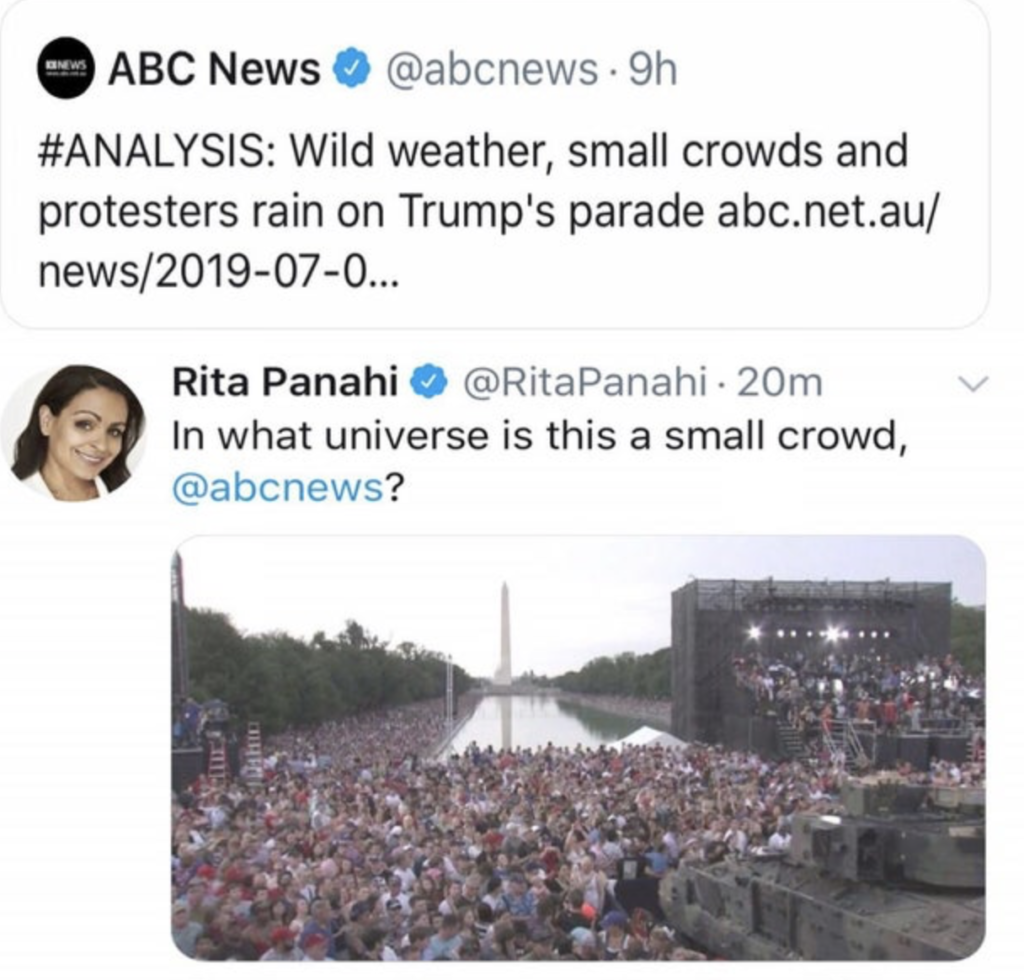 78. January 2019
In January, New York Times, Vice and others reported on the "lost" immigrant children of the Trump administration. However, AP and other fact checks stated this was a misleading term. According to AP, the "lost" children were a matter of the government not being able to track them once placed with sponsors. In some cases this was because the sponsors-- many in the U.S. illegally-- would not respond to the government's follow up phone calls.
It's not highly unusual to fail to keep track of many minors who came unaccompanied to the border. During the last year of the Obama administration, HHS was able to locate 85 percent of the minors or their sponsors, according to an inspector general's report. The Trump administration slightly exceeded that success rate in the last three months of 2017, even as it is accused of losing children.

Associated Press fact check
79. July 13, 2019
In a story about a lawsuit alleging that candidate Trump forcibly kissed a campaign worker, CNN failed to mention that that lawsuit had been dismissed. It later corrected its story to include the information.
80. July 21, 2019
Many in the media uncritically report a Georgia State legislator's racist and false claim that a "white" man at a grocery store told her to "go back where you came from."
Media reports link the supposed hateful comment to President Trump because Trump recently said several Democrats in Congress should "go back and help fix the totally broken and crime infested places from which they came."
However, the following day, the legislator acknowledges the man did not say she should "go back to your country" or "go back to where you came from," as she originally claimed. She goes on to say she told him to "go back." The man adds he is not white, but a Cuban and a Democrat.
I know I told him to 'go back.'

Rep. Erica Thomas, Georgia, a day after her original accusations
After the legislator changes her story, the local news plays up the headline that the man "admits he swore," rather than the far more important acknowledgement that her major claim was false. (See around 2:05 in the video near the end of the story.)
Even after the legislator retracted her original accusation, it remained widely published in national headlines and news reports.

81. July 21, 2019
An MSNBC contributor and law professor falsely tweets that Fox is not going to show upcoming Congressional testimony by former Special Counsel Robert Mueller on the Trump-Russia investigation. When the error is pointed out, the contributor says she was just kidding and deletes her tweet--but not before it has been "liked" and "retweeted" thousands of times.

82. Aug. 2019
Multiple news outlets including CNN and MSNBC falsely reported that an illegal immigrant had her nursing baby ripped from her arms. The mother was not lactating, CNN later acknowledged.
83. Aug. 28, 2019
MSNBC's Lawrence O'Donnell apologizes for and retracts anonymous, unverified claims stating that Trump had loans with Russian co-signers. At last view, it appeared that far more people had seen or remarked on the initial information than the apology.
The now-deleted original tweet by O'Donnell stated: "A source close to Deutsche Bank says Trump's tax returns show he pays very little income tax and, more importantly, that his loans have Russian co-signers. If true, that explains every kind word Trump has ever said about Russia and Putin."
84. Aug. 28, 2019
Ken Dilinian of NBC News corrects a false report he and others disseminated claiming that starting October 29, "children born to U.S. service members outside of the U.S. will no longer be automatically considered citizens. Parents will have to apply for citizenship for their the [sic] children in those situations."
85. Sept. 7, 2019
CNN and nearly every major media outlet criticized President Trump for tweeting that Alabama would likely be impacted by Hurricane Dorian. They claimed that was never the case. However, Trump was correct that multiple official hurricane advisories had put Alabama in a projected impacted area.
There is no record of any corrections to these incorrect news stories. In fact, there are multiple follow ups repeating the false claims that Alabama was never in a projected path, and doubling down on the claim that Trump was inaccurate.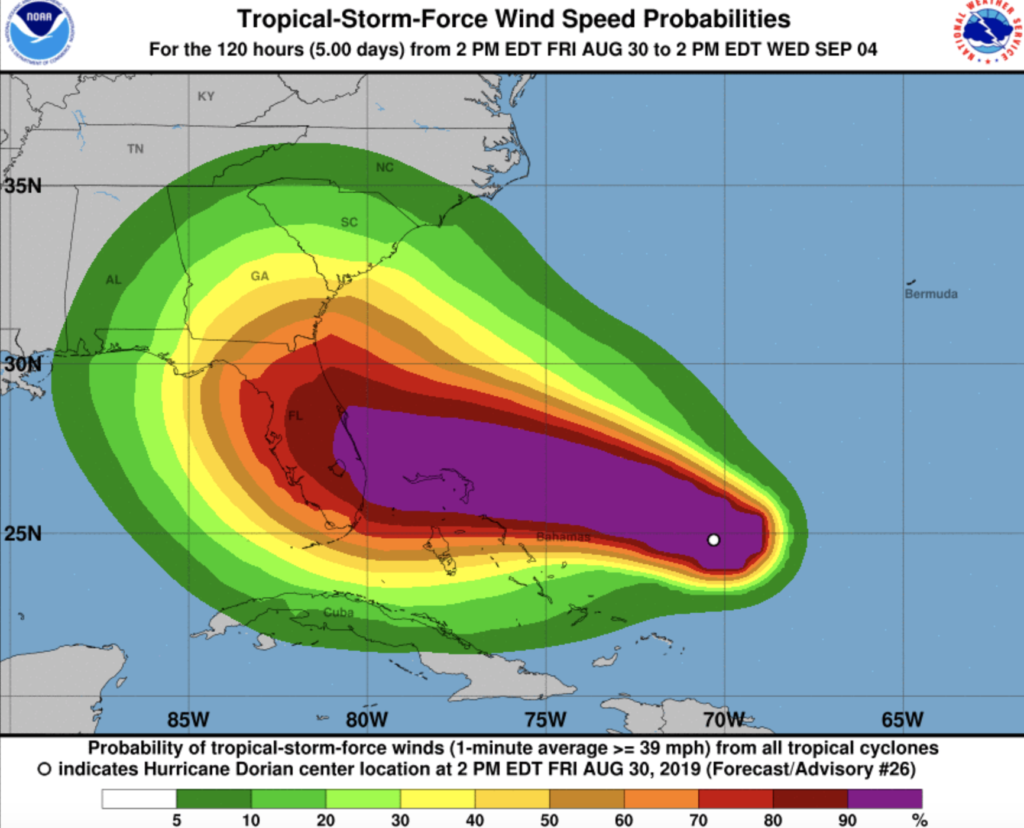 Rather than admit an error, some news outlets skirted the issue, parsing probabilities, "would" vs. "could," the National Weather Service vs. the National Hurricane Center, and whether tropical storm force winds really qualify as hurricane effects.


86. Sept. 10, 2019
Citing anonymous sources, CNN and the New York Times reported-- and other media repeated-- claims that the CIA had to remove a top U.S. spy from Russia in 2017 because of concern over President Trump's handling of classified information.
The CIA, Secretary of State Mike Pompeo, and the White House strongly refuted the story. Other media, including The New York Times and Washington Post, also contradicted CNN and reported the decision to remove the spy happened before CNN said it did and for different reasons.
[CNN's] reporting is not only incorrect, it has the potential to put lives in danger.

Stephanie Grisham, White House press secretary
CNN's narrative that the Central Intelligence Agency makes life-or-death decisions based on anything other than objective analysis and sound collection is simply false...Misguided speculation that the President's handling of our nation's most sensitive intelligence ? which he has access to each and every day ? drove an alleged exfiltration operation is inaccurate.

Brittany Bramell, CIA Director for Public Affairs

The reporting is materially inaccurate... as a former CIA director, I don?t talk about things like this very often ? it is only the occasions that I think put people at risk, when the reporting is so egregious as to create enormous risks to the United States of America, that I even comment the way I just did.

Mike Pompeo, Secretary of State
At least some of the original stories remained posted a day later without correction, clarification or updating to include CIA's refutation.
87. Sept. 16, 2019
The New York Times publishes an editor's note about its recent story recounting a newly-reported accusation about an incident decades ago involving Trump-nominated Supreme Court Justice Brett Kavanaugh.
The editor's note discloses for the first time that the Times never spoke to the alleged victim, and that the alleged victim had told friends she had no recollection of any such event. The Times reporters explained that that information had mistakenly been edited out of the story.
88. July 24, 2019
In testimony to Congress, special counsel Robert Mueller puts to final rest the widespread reporting in 2016 originating with Slate.com that claimed a Russian bank server had been illicitly communicating with Trump Tower. When asked about it by a member of Congress, Mueller replied that "my belief at this point is...not true."
89. July 29, 2019
Vox.com's Aaron Rupar tweeted that Trump suggested he was a "9/11 First Responder." In fact, Trump stated the opposite: "I'm not considering myself a first responder."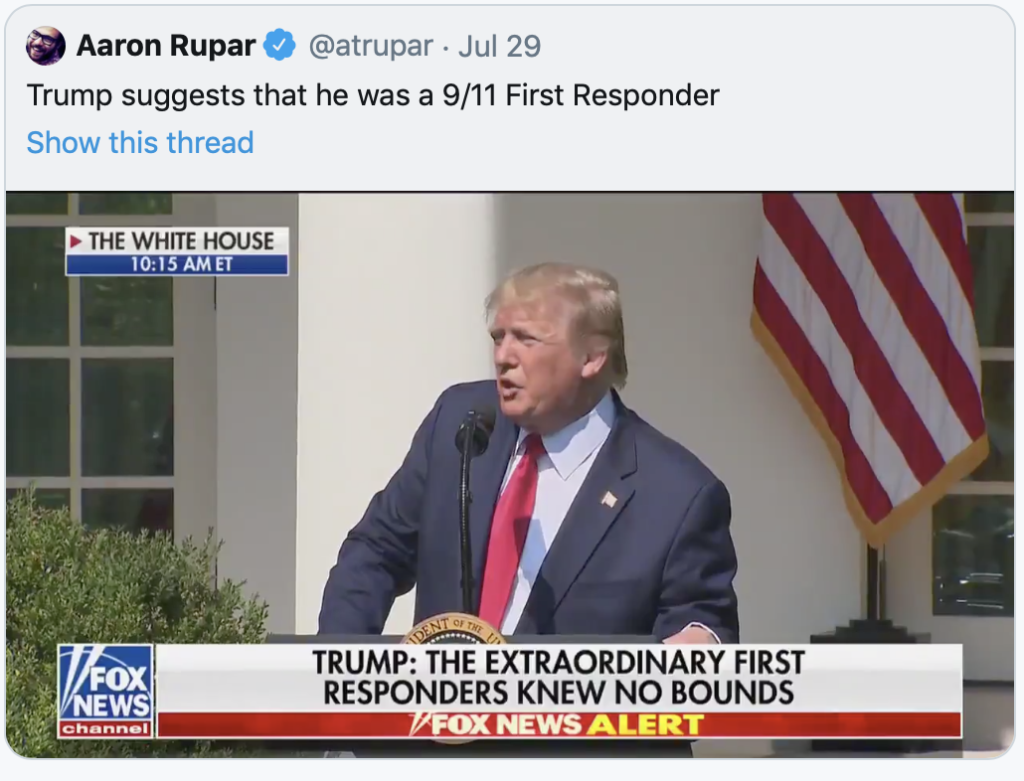 90. Sept. 25, 2019
The Washington Post, quoting anonymous sources, reported that President Trump's Director of National Intelligence threatened to quit over an alleged whistleblower issue.

However, DNI Joseph Maguire issues a statement indicating the Post article was entirely false. "At no time have I considered resigning my position since assuming this role," wrote Maguire in a statement.
91. Sept. 25, 2019
The Daily Beast and other media outlets reported that President Trump asked the President of Ukraine to investigate former Vice President Joe Biden's son, Hunter, eight times in one phone call.

However, the released transcript notes reveal Trump mentioned Biden's son (not by name) one time. However, many in the media claimed the "eight times" allegation was really true because they counted each phrase in which Trump referred to possible corruption or the need for some sort of investigation.
(There are other areas of possible mistaken reporting regarding the same phone call, but they are generally subject to interpretation.)
92. Sept. 29, 2019
CBS News's 60 Minutes reports "the government whistleblower who set off the impeachment inquiry of President Trump is under federal protection because they fear for their safety."
Shortly after that report, the attorney for the unnamed "whistleblower," Mark Zaid, tweeted out a statement that read: "NEWS ALERT: 60 Minutes completely misinterpreted contents of our letter." (Sixty Minutes says it stands by the Scott Pelley report.)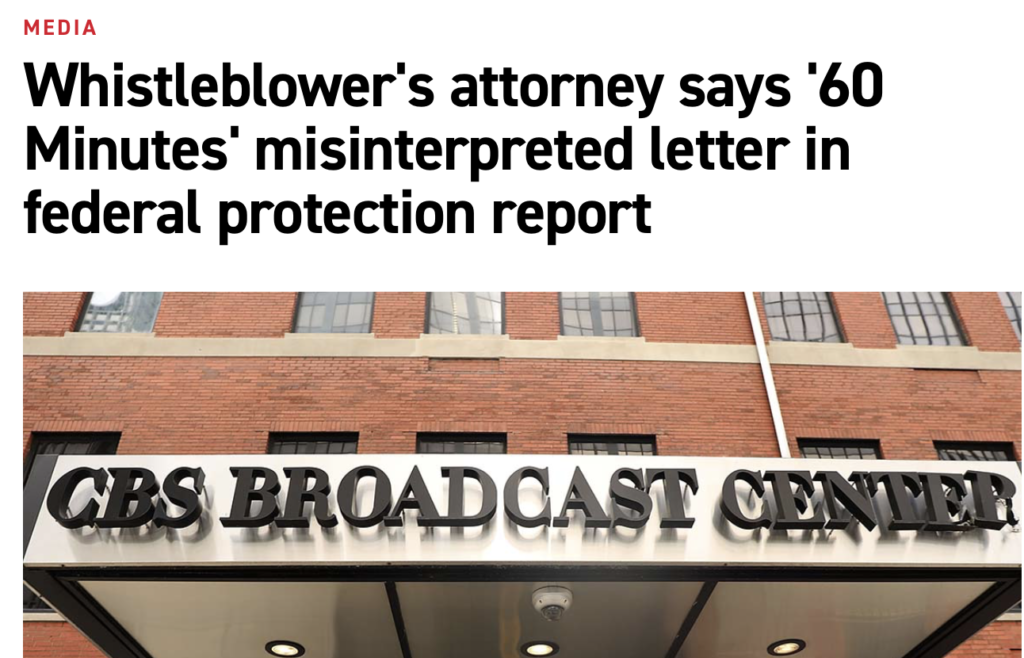 93. Sept. 30, 2019
When a black girl claims white boys at school held her down, cut off her hair and called her "nappy" and "ugly," the story makes national news. Multiple news outlets improperly report some details as if they are established as true, without proper attribution. For example, NBC writes, "The attack happened Monday..." and "The second boy grabbed her arms, while the third cut off some of her dreadlocks." A local NBC affiliate writes: "...she was at recess and about to go down a slide when one of the boys grabbed her and put a hand over her mouth. Another boy grabbed her arms. A third boy cut off some of her hair." CBS writes, "The incident took place..." (as if an incident had been factually established rather than was an allegation).
Many news reports also connect the attack to President Trump's Vice President, Mike Pence, by stating that the "attack" happened at "a Christian school in Virginia where Vice President Mike Pence's wife works."
However, it turns out there was no attack or "incident." Three days after the initial reports, the child's family reported the whole story was made up, and they apologized.
94. Oct. 13, 2019
ABC airs video purportedly showing a "slaughter" and "horrific report of atrocities" against Kurds by Turkey after President Trump withdrew U.S. troops. (The video is not combat video at all. It is file tape of a training show in the U.S.)
ABC tweets out the following:
CORRECTION: We've taken down video that aired on "World News Tonight" Sunday and "Good Morning America" this morning that appeared to be from the Syrian border immediately after questions were raised about its accuracy. ABC News regrets the error.
95. Oct. 16, 2019
Many major news outlets including Yahoo, USA Today, Roll Call, NBC, ABC and Fox quotes President Trump as saying Turkey's invasion of Syria "is not our problem." In a subsequent correction, NBC and others said, Trump actually said "it's not our border." However, hours after NBC's correction, the initial allegedly false quote remains on Yahoo, USA Today, Fox, Roll Call, the Washington Times and other news sites.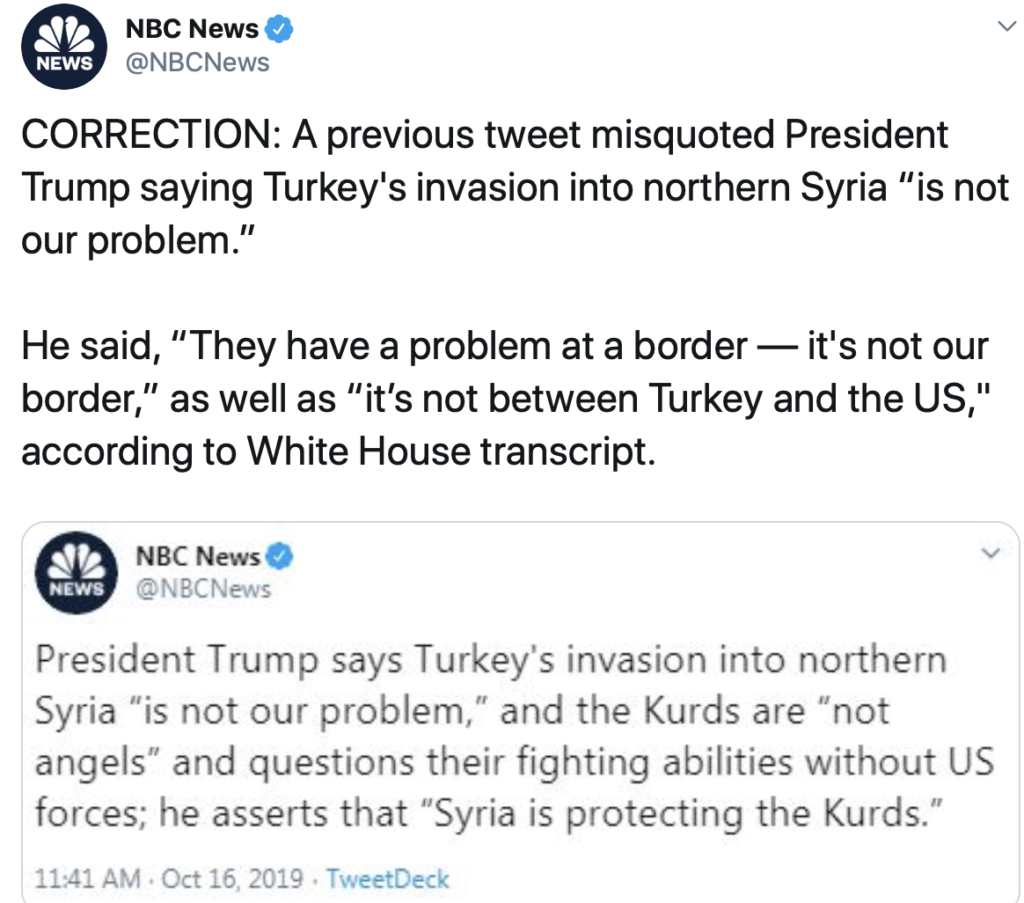 96. Sun. Oct. 27, 2019
Multiple media claims state that President Trump was golfing during the U.S. raid in Syria that captured the head of the Islamic terrorist group ISIS, al-Baghdadi; and that a White House situation room photo had been "staged." It turns out, according to later reports, that Trump had finished golfing and was at the White House during the operation. (Obama White House photographer Pete Souza had apparently originally tweeted out incorrect information on timing.)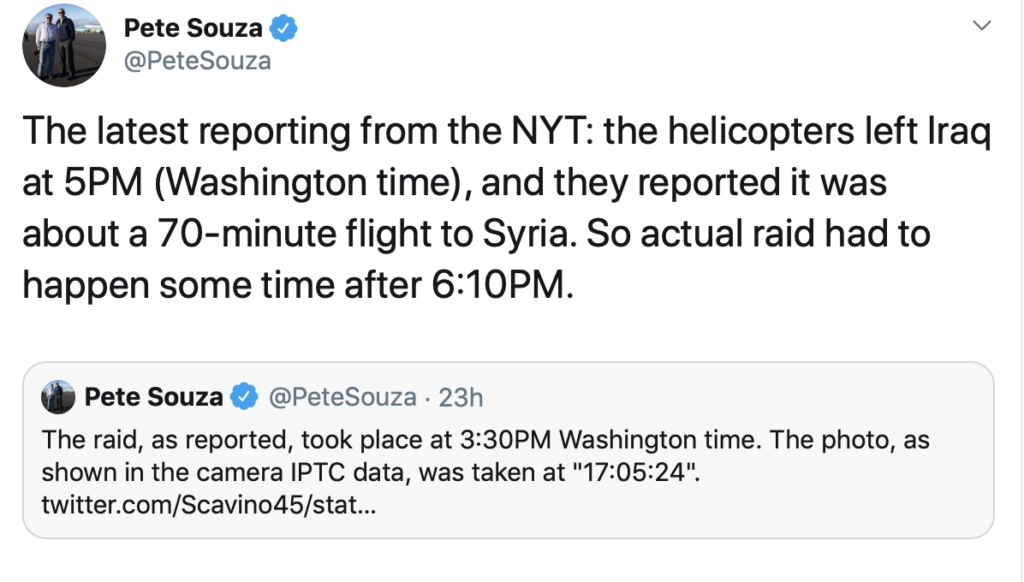 97. Nov. 16, 2019
Rampant speculation ensues after a contributor to The Hill claims President Trump visited Walter Reed National Medical Center due to chest discomfort. A White House statement from Trump's physician issued two days later stated that was not the case.
"Despite some of the speculation, the President has not had any chest pain, nor was he evaluated or treated or any urgent or acute issues. Specifically, he did not undergo any specialized cardiac or neurologic evaluations," the president's physician stated.
98. Nov. 19, 2019
London's Daily Mail posts a sensational headline during the impeachment hearings against President Trump. It claims that a key witness, Ambassador Kurt Volker, had "walked back" his testimony in a way that was detrimental to Trump. When Volker was asked, in real time at the hearing, if the Daily Mail headline was correct and he had, indeed, changed his testimony, Volker stated that no. The headline was wrong.
99. Nov. 19, 2019
Agence France Press publishes a sensational story saying that more than 100,000 children are being held in migration-related detention in the U.S. under President Trump. It turns out that was the number in 2015 under President Obama.
100. Nov. 28, 2019
Newsweek falsely reports that President Trump is spending Thanksgiving golfing in Florida at his Mar-a-Lago Resort. He was actually in Afghanistan serving dinner to U.S. troops. It's the second year in a row that national media makes the same mistake. (The reporter, Jessica Kwong, was reportedly later fired.)
101. Nov. 24, 2019
It turns out the same Newsweek reporter, Kwong, reported an allegedly misleading story the week before about President Trump's tipping implying he'd been cheap.
Newsweek later updated the story to remove the headline reference to a "thin stack of cash" and include that it was 100 dollar bills, and above and beyond what Trump had already tipped the servers.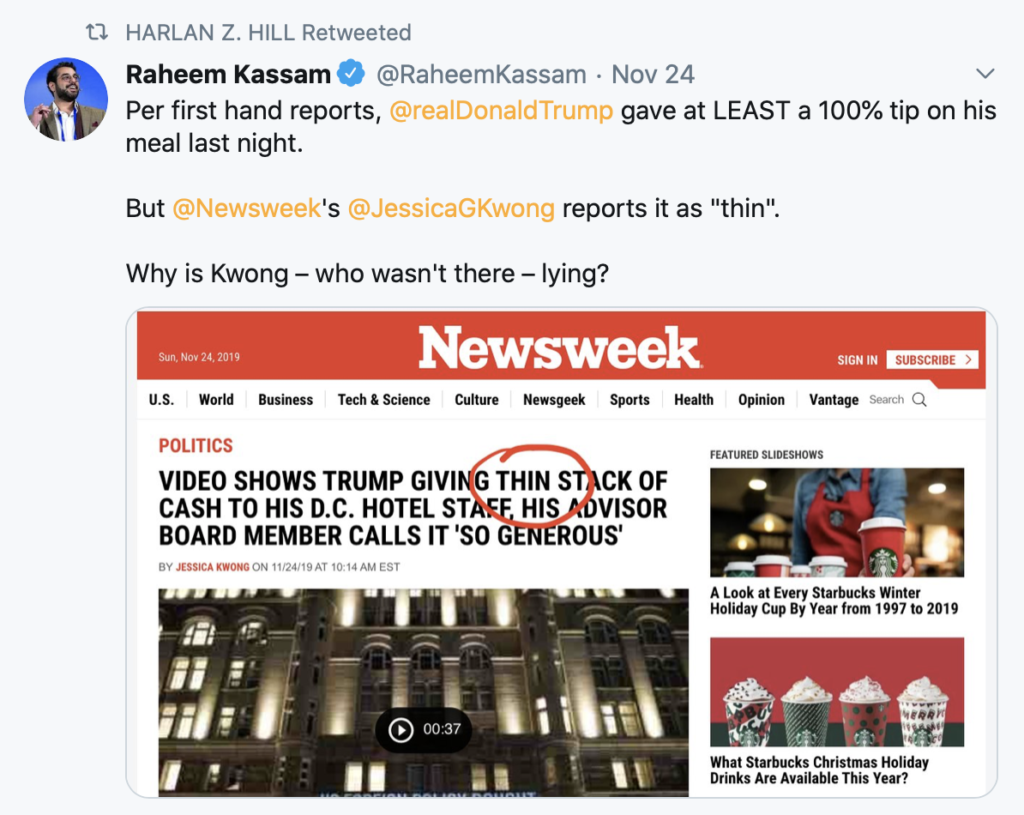 102. Dec. 3, 2019
(Allegation) Rep. Devin Nunes (R-Calif.) files a $435 million defamation lawsuit against CNN over a Nov. 23 CNN story that claimed Nunes had flown to Vienna, Austria in December 2018 to meet with a former Ukrainian prosecutor in to dig up dirt on Joe Biden and his son, Hunter.
Nunes says at the time CNN claimed he was in Vienna, he was actually in Benghazi, Libya and Malta for meetings; and Nunes produced photographs he says proves that. Additionally, he says he has never met with the named former Ukrainian prosecutor in Vienna or anywhere else.
(If evidence ultimately shows CNN was correct and Nunes is incorrect, this post will be updated and removed from the count.)
103. Dec. 9, 2019
It would be difficult if not impossible from a practical standpoint to list the thousands of the media reports, from the New York Times to CNN, that have now been proven false by information documented in Justice Department Inspector General Michael Horowitz's report on the FBI's misbehavior in investigating the Trump campaign.
Here, they will all be grouped together as one media mistake, but include nearly every major national media outlet that falsely reported, as if fact, that the discredited Democrat-funded "dossier" -- submitted by the FBI to get a wiretap to spy on Trump associate Carter Page -- was only a "small part" of the wiretap application. Also, the reports that Page was a Russian spy and the conduit between Trump and Putin. Also, the many insistences that Trump was a "Putin stooge" and coordinating with Putin or Russia, when the FBI's own evidence now shows they never found anything remotely close to that. In fact, they appeared to disprove it.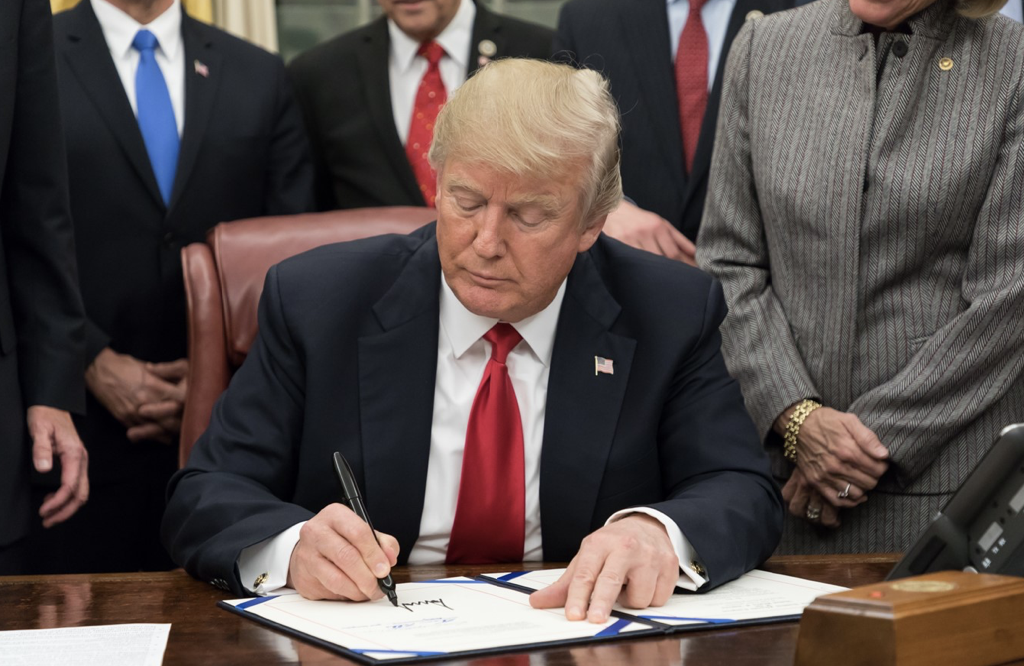 104. Jan. 31, 2018
(Out of chronological order because it just came to my attention.)
Media reports in Dec. 2017 claimed the Trump administration banned officials at the US Centers for Disease Control and Prevention from using seven words.
In response, doctors posted photos of themselves with tape over their mouths.
It turns out documents showed there was "not a ban or prohibition on words but rather suggestions on how to improve the chances of getting funding."
105. Dec. 25, 2019
(Allegation) An unusually unequivocal denial of a Wall Street Journal report come from the Trump administration. Trump officials say the anonymously-sourced report is "total false, untrue and baseless. It did not happen."
If information comes to light that proves the Wall Street Journal source was accurate at the time, this post will be updated to reflect that.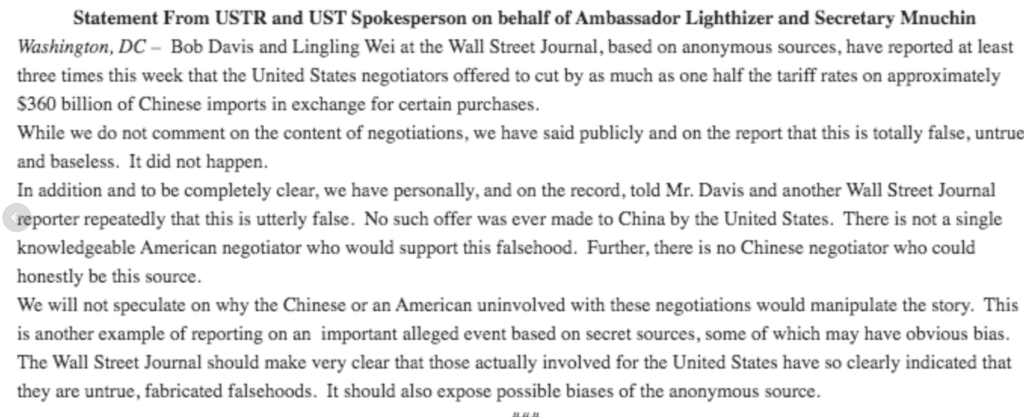 106. Dec. 16, 2019
The news media widely misreport that the report by Dept. of Justice Inspector General Horowitz found "no political bias" in the Russia probe. As Horowitz made clear in his Congressional testimony, that is false.
Instead, Horowitz gave a limited, qualified opinion about a narrow part of the opening of the investigation, stating he could not find documentary or testimonial evidence that the serious political bias of various FBI officials impacted the original decision to open the probe into Trump campaign-related Americans.
Horowitz explicitly acknowledged that various FBI officials involved in the probe, including Peter Strzok and Lisa Page had political bias against Trump.
He also stated, in Congressional testimony, that Christopher Steele, the political opposition researcher hired by the Clinton campaign to provide the anti-Trump "dossier" to the FBI, had political bias.
And he stated that it's possible political bias was behind other inexplicable and egregious errors the FBI made during the probe, which he did not say was free of bias. Those matters, Horowitz testified, have been referred to the criminal probe and to the FBI to handle.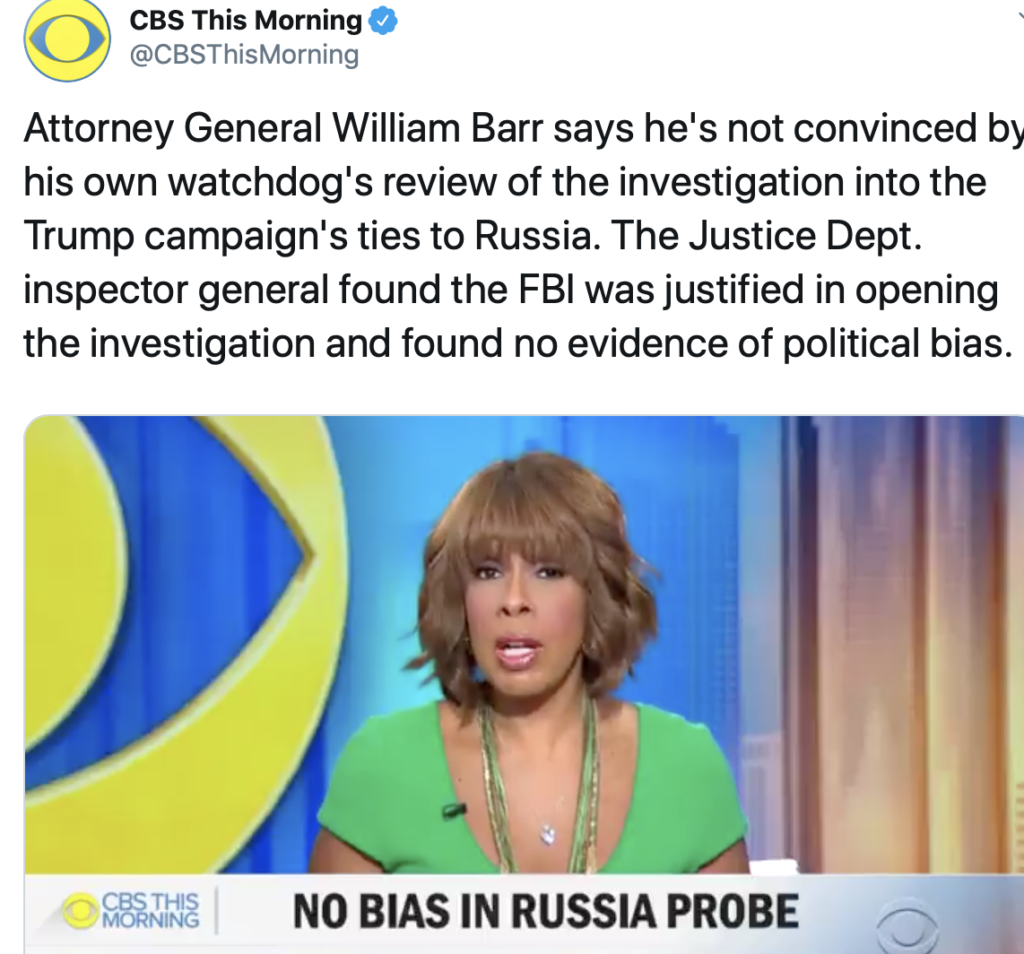 107. Aug. 5, 2019
(Out of chronological order because it just came to my attention.)
MSNBC's Nicole Wallace falsely claims that President Trump had talked about "exterminating Latinos." She apologized the next day stating, on Twitter, "I misspoke about Trump calling's for an extermination of Latinos. My mistake was unintentional and I'm sorry."
108. Jan. 9, 2019
(Out of chronological order because it just came to my attention.)
Ken Vogel of the New York Times corrects a story that falsely claimed Trump adviser Paul Manafort had wanted to share polling data with a Russian oligarch close to President Putin.
109. Dec. 27, 2019
The New York Times corrects a report it published to demonstrate how people who voted for Donald Trump no longer support him. Their featured example was a man who-- it turns out-- never voted for Trump in the first place.
110. Jan. 7, 2020
MSNBC wrongly reports up to 30 U.S. deaths after an Iranian rocket attack. In fact, no Americans were killed. The number was a fabricated number reported by the Iranians.
111. Jan. 16, 2020
MSNBC's John Brennan, former CIA Director, falsely reports that Trump personally wrote a note regarding wanting Ukraine's president to announce an investigation into possible corruption related to the former vice president and his son.
112. Feb. 21, 2020
The New York Times and multiple other news outlets report on a secret briefing to Congress that supposedly told lawmakers that Russia is interfering to try to get Trump reelected in 2020. The report is later followed up by stories indicating that the warnings may have been "overstated." In fact, officials told CNN the US "does not have evidence that Russia's interference this cycle is aimed at reelecting Trump."
113. Feb. 26, 2020
Amid the coronavirus outbreak, multiple media outlets imply or state that President Trump slashed, cut or gutted the budget for the Centers for Disease Control. In fact, the CDC budget has increased each year.
114. Feb. 28, 2020
Numerous media outlets falsely report that President Trump called the coronavirus a "hoax." In fact, the president called the Democrat's politicization of the outbreak a hoax.
115. March 1, 2020
(Allegation) Rep. Devin Nunes (R-Calif.) announces plans to sue The Washington Post over what he says was false reporting about him. The Post claimed Nunes went to the White House and talked to President Trump about a Congressional briefing by then-Acting Director of National Intelligence Joseph Maguire about prospects of Russia interference in the current 2020 campaign. The Post report then claimed that Trump "erupted" at Maguire before replacing him.
Nunes says he never talked to the president about Maguire and did not go to the White House when The Post claimed he did.
If information comes to light showing that The Post was correct, this post will be updated.
116. March 5, 2020
The Washington Post editorial team refers to many of America's "hundred of millions" of voters in the U.S. supporting Joe Biden. But there are not that many voters in the U.S. (There were 153,000,000 people registered to vote in 2018. Tens of millions of them do not vote.).
117. March 15, 2020
An anonymously-sourced news report alleges President Trump attempted to bribe a German coronavirus vaccine maker and wants to hoard the vaccine so only Americans will have it.
Reuters reported that the German Health Ministry confirmed the report.
However, the German Health Ministry clarified it had not verified the report, just a quote attributed to one of its spokespersons. The Trump administration denied the report altogether.
(If the original report is verified and turns out to be true, after all, this entry will be removed from the list.)
118. March 18, 2020
The New York Times and Jeremy Peters publish an article with multiple false claims about Sharyl Attkisson and Rob Schneider, claiming they and others have "minimized" coronavirus risks and "insisted" it it is overplayed. In fact, Peters altered an Attkisson quote and made at least nine false claims about her work. Peters also manipulated a Schneider quote and quoted him out of context in order to make him appear as though he had violated recommendations not to eat at restaurants, when he had not. More details here.
April 1, The New York Times lawyers issue multiple Corrections to the false article. They:
Partially fix a deceptively-altered quote
Remove a section
Amend three parts
Publish a "correction"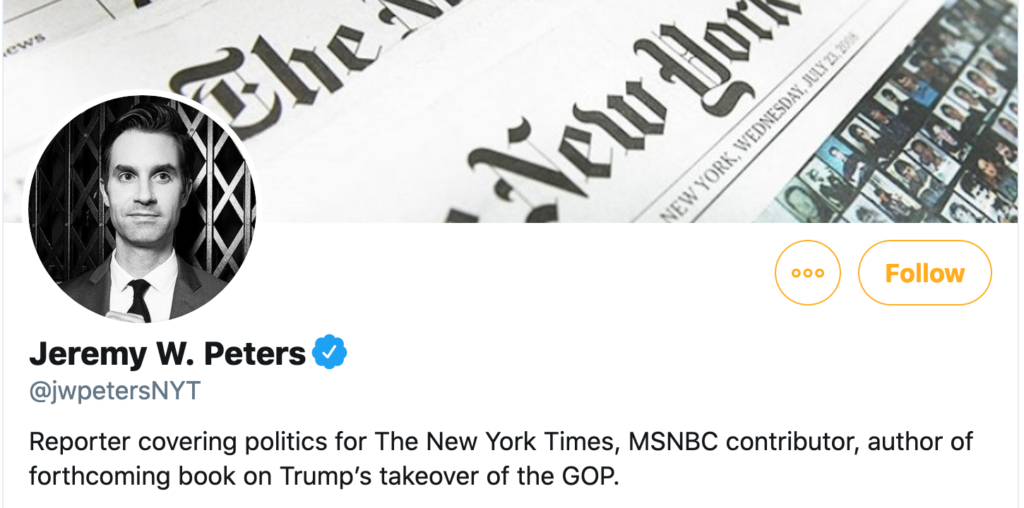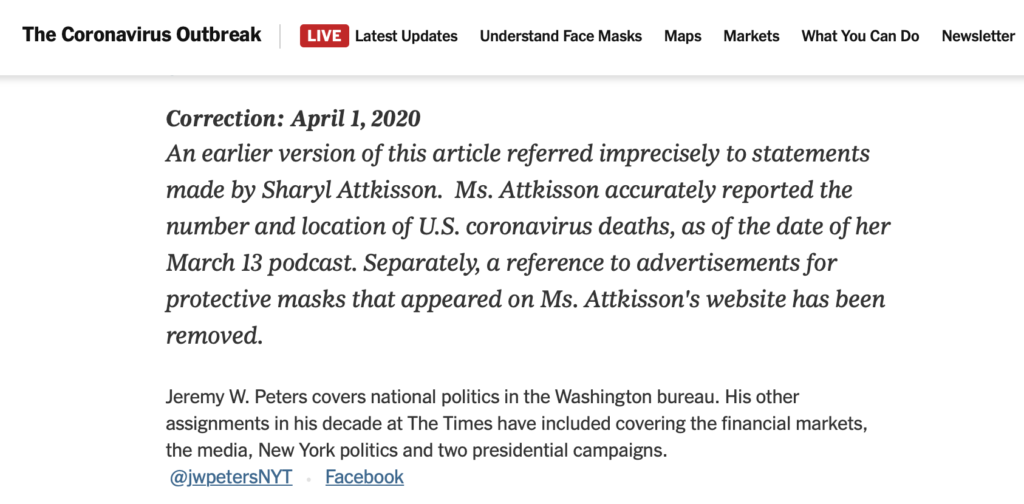 119. March 19, 2020
Jennifer Rubin of The Washington Post wrongly blames Republican leader Senator Mitch McConnell for delaying a coronavirus package vote. The Post later issued a correction, stating: "An earlier version of this article incorrectly said that Senate Majority Leader Mitch McConnell (R-Ky.) delayed a vote on the House's coronavirus relief package. In fact, McConnell vowed to move at "warp speed" on the bill and it was only delayed due to a demand from Sen. Rand Paul (R-Ky.) for an amendment on the bill. This version has been updated."
120. March 27, 2020
The New York Times issues a correction after falsely reporting that the U.S. was short at least 800 thousand ventilators in the coronavirus crisis because a million would be needed and there were only 200k on hand. In fact, a study actually projected a million people may need a ventilator over the course of the pandemic, not at one time.
121. March 28, 2020
A New York Times timeline about the slow implementation of coronavirus testing in the U.S. is corrected. The date of the country's first confirmed case of coronavirus through travel was almost two weeks later than stated in the original timeline.
122. March 30, 2020
CBS This Morning airs a story supposedly showing video of a New York hospital crowded coronavirus patients. Some viewers recognized it as the same video shown to represent a hospital in Italy.
CBS News issues a correction saying the network mistakenly used the Italy video in the U.S. story. "It was an editing mistake. We took immediate steps to remove it from all platforms and shows," a CBS News spokesperson said.
123. April 6, 2020
CBS News airs social media video of a crying woman who says she was a nurse and quit her job due to not having masks while treating coronavirus patients. The video got more than eight million views.
When questions were raised about the video, CBS left it up but added a "clarification": "Imaris Vera, the nurse in this video, clarified her experience on Monday in a tweet: 'We were each assigned 1 N95 per 1 covid patient?s room but was not allowed to wear it outside of the room, wear our own N95 mask around the Nurses station or Halls, which I came prepared with'."
The clarification did anything but clear up the facts, but it seems to indicate nobody was asked to treat coronavirus patients without masks, after all.
124. April 8, 2020
Days after CBS News mistakenly uses shots of an Italian hospital as if it is in New York City, and apologizes for the mistake (Mistake #122 above), the network uses the same Italy video again in a discussion about coronavirus-overrun Pennsylvania hospitals.
125. April 15, 2020
A Facebook "science fact check" incorrectly flags as "false" an Epoch Times coronavirus documentary about the virus's possible link to a Wuhan, China research lab. That's despite the fact that none of the documentary's information is proven false, and the documentary draws no conclusions.
In addition, contrary to Facebook's fake "fact check," the government has explicitly announced it is investigating information that the Covid-19 outbreak started with a leak at the lab.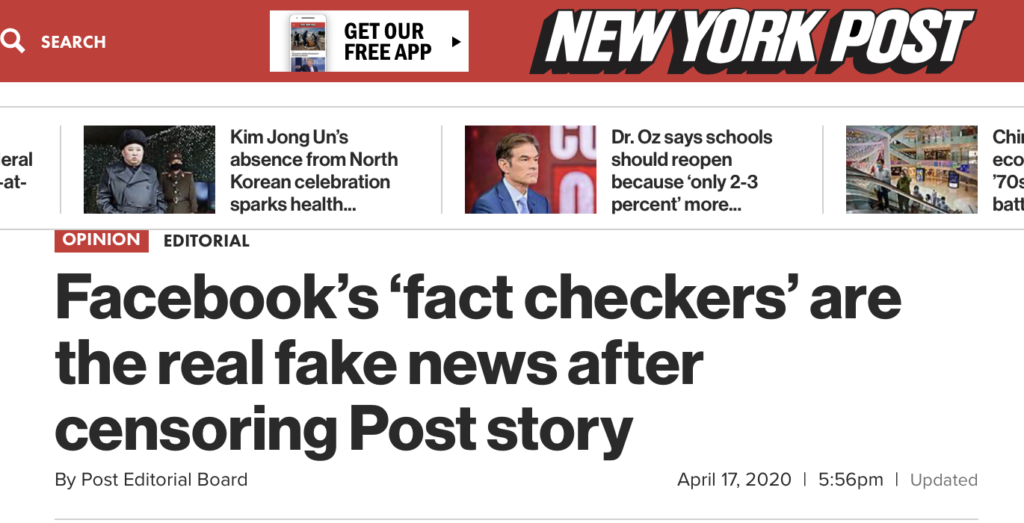 It turns out the first named reviewer referenced by Facebook's fact check is a U.S. scientist who has been working at the Wuhan lab.

126. April 14, 2020
The U.S. government publicly confirms it is looking into possible links between coronavirus and a research lab in Wuhan, China.
On Feb. 17, 2020, Paulina Firozi of The Washington Post had falsely declared the idea of the virus coming from the Wuhan lab to be "debunked." It had not been debunked.

In fact, a more recent April 14 article by The Washington Post debunked the earlier Washington Post article's claim that the Wuhan tie had been debunked.
127. April 22, 2020
Reuters and other new outlets claim President Trump tapped a "former Labradoodle breeder... to lead U.S. pandemic task force." They imply the official, Brian Harrison, is unqualified and blame him for supposed slowing the U.S. coronavirus response.
The stories from multiple outlets appear on the same day.
However, Harrison never led the coronavirus task force. Additionally, while he did briefly own a family business raising Labradoodles, he has also served three administrations in high level posts and was not plucked from dog breeding obscurity to serve on the pandemic task force.
128. April 25, 2020
After Marketwatch and The Washington Post report coronavirus checks may or "will" be delayed several days to get President Trump's signature on them, the Treasury Department announces the checks are being issued "on time, as planned" and that there was no delay.
129. April 25, 2020
In a widely distributed report, Politico reports that President Trump owes the Bank of China tens of millions of dollars in a loan coming due in 2022, as he deals with China on coronavirus. However, the Bank of China issued a statement saying it only held the loan for 22 days and sold it to a U.S. real estate firm in 2012.
Politico changed its headline and details of the story but did not issue a "correction" or apology, and still maintains Trump has improper ties to China.
Update: Politico belatedly issued a correction three days later, acknowledging that they committed a basic mistake by not asking the Bank of China for comment before publication.


130. April 28, 2020
Yahoo reporter Hunter Walker asks Trump a question with false information in it:
"Overall, South Korea has done five times more tests than the U.S. per capita," Walker asked Trump during an Oval Office meeting that included Gov. Ron DeSantis (R-Fla.) "Why is that?" "I don't think that's true," Trump replied.
"That is true," Walker insisted.
In fact, South Korea's testing was 11 per 100,000 people and the U.S. is at 17 per 100,000.
Walker later apologizes in a Tweet: "We have passed South Korea in the number of tests conducted per capita. I misread the mobile version of this chart and am sorry about that, @realDonaldTrump."
131. April 6, 2020
Maggie Haberman, Peter Baker, Katie Rogers and David Enrich at The New York Times report that "Trump has seized on [hydroxychloroquine] as a miracle cure."
In fact, the day before the article was published, the president repeatedly qualified his support for hydroxychloroquine-- as he usually does-- and did not call it a miracle cure.

"It may work, and it may not work. But if it doesn't work, it's nothing lost by doing it," said Trump at an April 5 media availability. He also stated, "in case it does work, we want to have it," and "Now, it may not work, in which case, Hey, it didn't work. It may work, in which case it's going to save a lot of lives. Now, a lot of people say...it has a profound effect. Well, maybe it does and maybe it doesn't."
132. May 10, 2020
NBC's Chuck Todd on Meet the Press used a deceptively edited comment made by Attorney General William Barr about the case of Lt. Gen. Michael Flynn. The network later apologized for the error.
133. May 10, 2020
CBS 60 Minutes falsely tweets that Secretary of State Mike Pompeo "attempted to resurrect a debunked theory that the virus was man-made in China." Pompeo had said the opposite.
"Look, the best experts so far seem to think it was man-made. I have no reason to disbelieve that at this point," said Pompeo.
When asked, "Your Office of the DNI says the consensus, the scientific consensus, was not man-made or genetically modified," Pompeo then replied, "That's right. I agree with that. I've seen the summary that you saw that was released publicly. I have no reason to doubt that that is accurate at this point."
When asked further, "So just to be clear, you do not think it was man-made or genetically modified?" Pompeo replied, "I've seen what the Intelligence Community has said. I have no reason to believe that they've got it wrong."
One other flaw with the 60 Minutes tweet is that the news organization cannot claim to know, first hand, the origin of coronavirus since nobody from the news agency was present for its birth.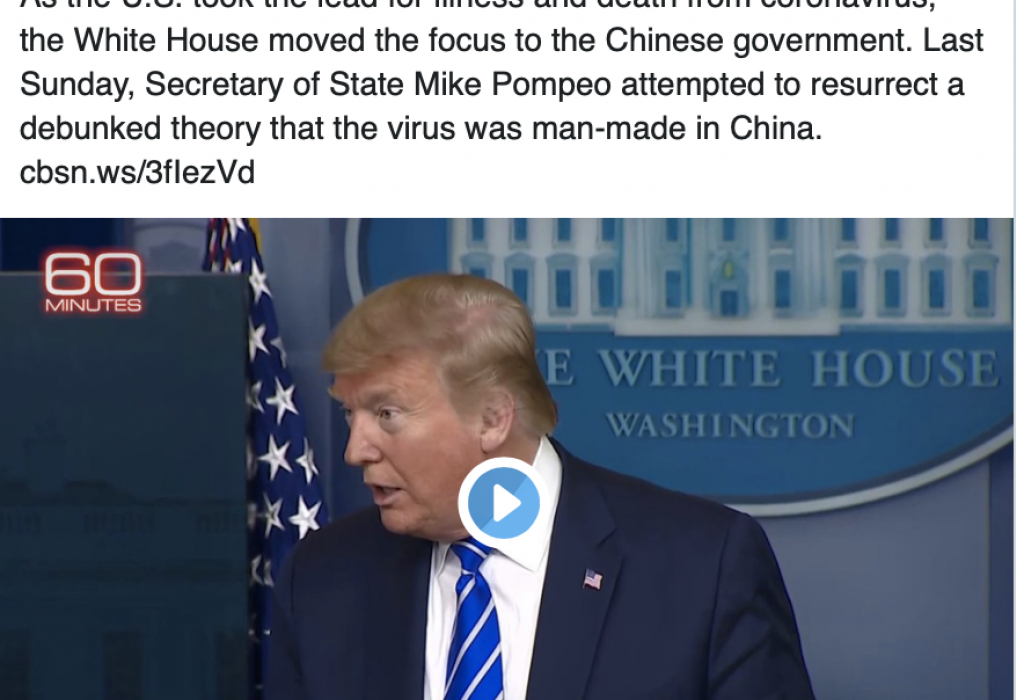 134. June 2, 2020
Mediaite writes an account of demonstrations outside the White House, quoting numerous reporters as saying tear gas was unjustifiably used. Fox News host Laura Ingraham said no tear gas was used. Mediaite quotes numerous reporters as "fact checking" Ingraham and concluding she is wrong.
However, the U.S. Park Police releases a report that recounts a litany of violent acts the protesters had allegedly been committing, including pelting officers with objects and trying to grab their weapons. The police confirmed that during the efforts to control the crowd, no tear gas was used.
"Correct your article, please," tweeted Ingraham.
As of this posting, Mediate had not corrected its article or reverse fact-checked the apparently false claims about Ingraham and tear gas.
135. June 22, 2020
The New York Times, NPR and others unquestioningly link, as if a fact, the discovery of a "noose" in a black NASCAR driver's stall to racism.
An investigation quickly concluded it was a garage door pull rope, and had been there for months, long before the driver had been assigned the stall.
136. July 12, 2020
USA Today used a "Fact check" to connect a Trump campaign T-shirt design using an eagle-- to a Nazi eagle.
The newspaper later "clarifies" its article to note that "the eagle is a longtime US symbol, too."
137. Fri. July 17, 2020
On this date, newly-released documents reveal at least nine factual errors or misrepresentations in a New York Times article by Michael Schmidt, Mark Mazzetti, and Matt Apuzzo about alleged Trump-Russia collusion in 2017.
Among other issues, internal notes made by then FBI official Peter Strzok-- but kept secret until this date-- contradicted claims in the Times article including: that Paul Manafort had been picked up communicating with Russians, that Roger Stone had been investigated by the FBI, and that Trump advisers had gotten caught communicating with Russians. Details here.
138. Thurs. July 23, 2020
The Atlantic issues a series of corrections to a false story it published, "How I Became a Police Abolitionist," written by social justice activist Derek Pernell who claimed she became scarred and anti-police because, as a child, she witnessed a police officer shooting her cousin, a "boy" for skipping a basketball sign in sheet, and that the police officer wasn't held accountable. It turns out, it wasn't a police officer, it was a private security guard; the victim, who was shot in the arm, was an adult, not a child; and the guard did not escape serious consequences, he was charged with assault.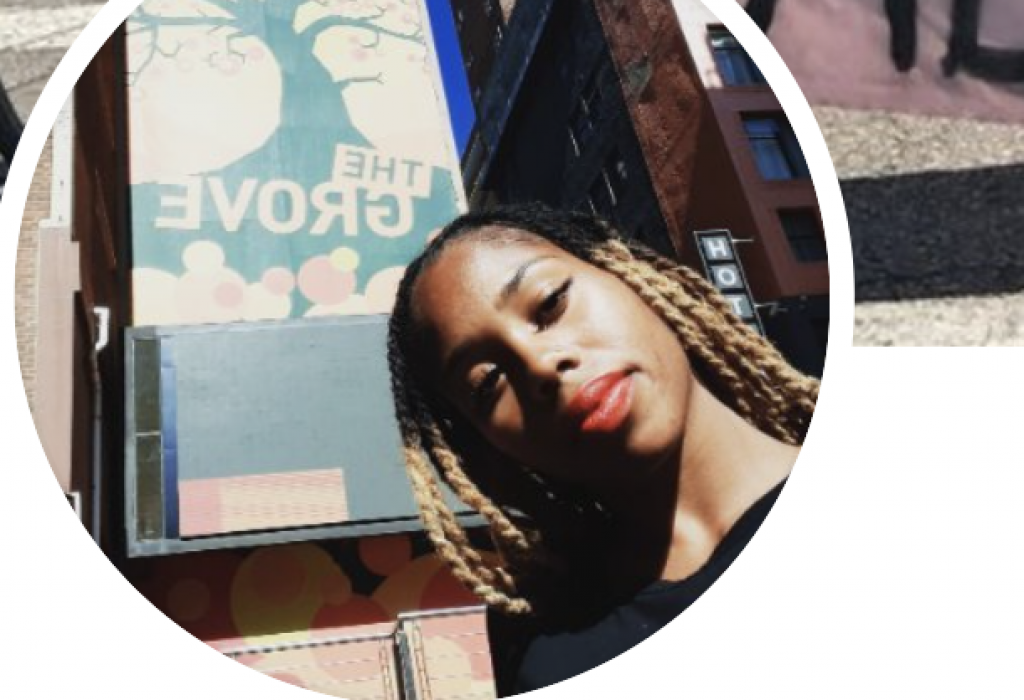 139. Thurs. Aug. 5, 2020
An AP report about groups named in an FBI affidavit regarding an alleged Ohio corruption scheme false reported that one named figure, D. Eric Lycan, is the current counsel for the Republican Party of Kentucky. But Lycan left that position more than a year ago.
140. Sat. Aug. 8, 2020
Multiple analysts, news outlets, politicians, and advocacy groups falsely report that President Trump has announced plans to eliminate Social Security and/or Medicare if he's re-elected. In fact, the executive order signed by the president clearly shows a temporary cut in payroll taxes (which fund the entitlement programs) applies to those earning under approximately $105,000 a year. Others continue paying. Others in the media, such as the LA Times' liberal and pharmaceutical propaganda columnist Michael Hiltzik, left false implications, though stopping short of claiming Trump announced a policy to eliminate the entitlements.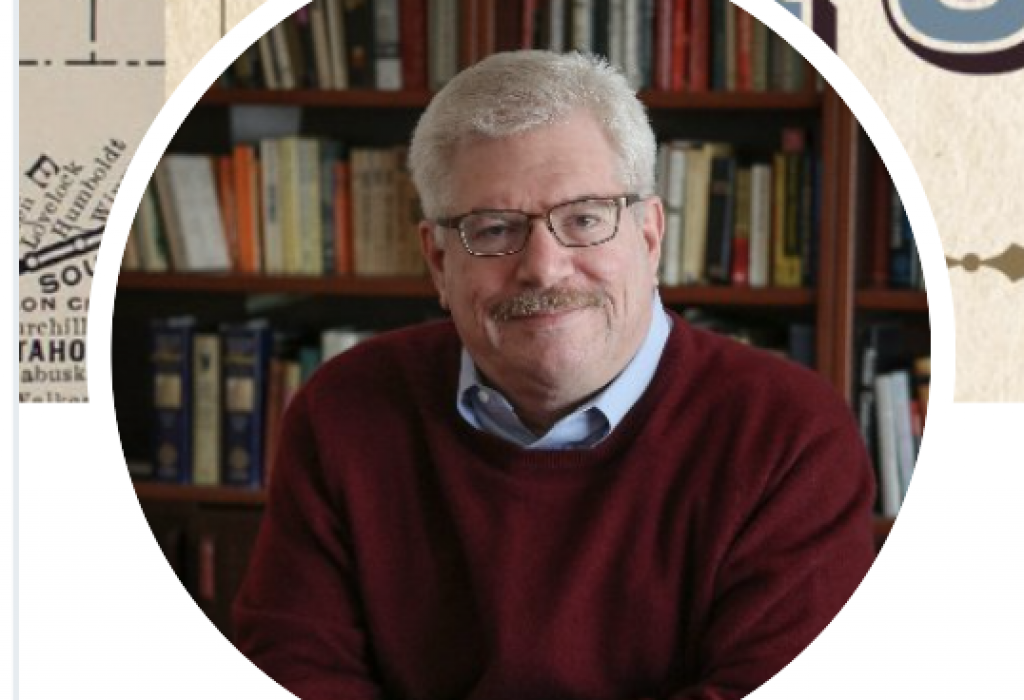 141. Sat. Aug. 8, 2020
The Washington Post publishes the "Mother of all Corrections," a 579 word correction of a July 23 article written by food writer Korsha Wilson. The correction consists of 15 bullet points. Post executive editor Martin Baron said the paper was "embarrassed by the widespread errors in this freelance article."
The article was titled "Black families once lived off their southern farmland. Their descendants are struggling to hold onto it." The Post acknowledged it "contained many errors and omitted context and allegations important to understanding two families' stories.".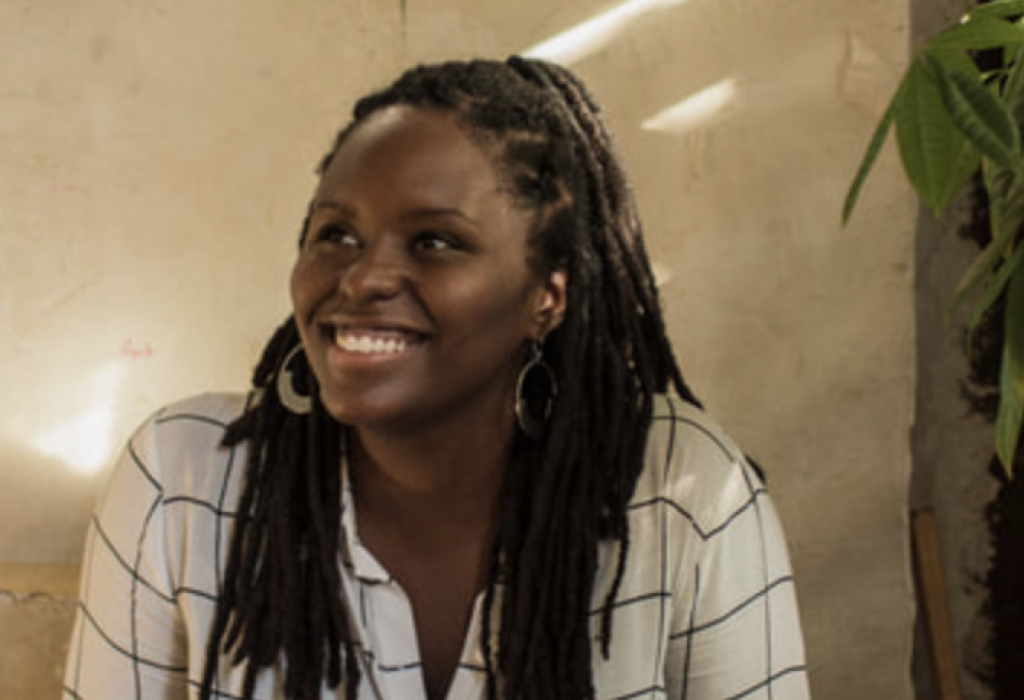 142. Sat. Aug. 22
AP publishes a fact check that concludes President Trump's true statement about an event at the Democratic National Convention was something other than true.
Trump had tweeted: "The Democrats took the word GOD out of the Pledge of Allegiance at the Democrat National Convention." AP labelled the true claim to be misleading even as the news agency acknowledged, "the Muslim Delegates and Allies Assembly and the LGBTQ Caucus meeting, both Tuesday, left out 'under God,' from the pledge." AP argued that because others Democrats had cited the pledge accurately, Trump's tweet did not qualify as true.
143. Mon. Aug. 31, 2020
The Washington Post's Yasmeen Abutaleb and Josh Dawsey publish allegations in an article entitled: "New Trump pandemic adviser pushes controversial 'herd immunity' strategy, worrying public health officials."
The headline contains no attribution and states the allegation as if it's an established fact. The article itself relies on unnamed, anonymous people.
However, the subject of the allegations, Dr. Scott Atlas, stated in unequivocal terms that he has never pushed nor spoken to President Trump about the described strategy, nor has anybody that he knows of.
(If evidence arises showing The Post was correct, after all, this item will be updated.)
144. Tues. Sept. 8, 2020
Trump critic John Bolton becomes the latest in a series of on-the-record, firsthand sources to debunk The Atlantic report by Jeffrey Goldberg that relied upon anonymous sources to claim that Trump faked the cancellation of a helicopter trip to a French cemetery in 2018 where fallen US soldiers were buried because he didn't want his hair messed up by the weather, and that Trump referred to the dead troops as "losers" and "suckers."
Multiple news outlets repeated the claims.
"That was simply false. I don't know who told the author [Jeffrey Goldberg] that," said Bolton who was in the room in Paris when the decision was made. "The president assented to the recommendation that he not go. It was a very straight weather call."
Shortly after the initial report, the White House denied the allegations and released documentation also showing there was, indeed, a weather cancellation, and that the call was made by military officials.
Bolton and others also said Trump did not call fallen soldiers names during the meeting in question or at any time that they ever heard.
When Fox News' Jennifer Griffin sought to confirm The Atlantic story, she came back with what she called "confirmation" of the anonymous claims, yet reported a different set of details. Griffin said that according to her anonymous sources, once the weather cancelled Trump's helicopter trip to the cemetery in France, he declined the option to drive there by car.
Griffin also said her sources heard Trump call living generals, not fallen US soldiers, names back in the US at a different time and place. She said Trump told the generals at the Pentagon that they were "losers" and babies."
Later in interviews, Goldberg acknowledged a key point of his story may be wrong, admitting that there could have been a weather cancellation of the helicopter trip. In all, 21 on the record sources disputed Goldberg's original claims. However, The Atlantic has not issued a correction.
https://twitter.com/JonathanTurley/status/1303125135570931717?s=20
(If evidence comes to light showing that The Atlantic was correct after all, this post will be updated.)
145. Mon. Sept. 21, 2020
Newsweek falsely reports that a particular Catholic group associated with Supreme Court nominee Amy Coney Barrett inspired The Handmaid's Tale, "set in the fictional Gilead, where women's bodies are governed and treated as the property of the state under a theocratic regime."
Later, Newsweek corrects its story.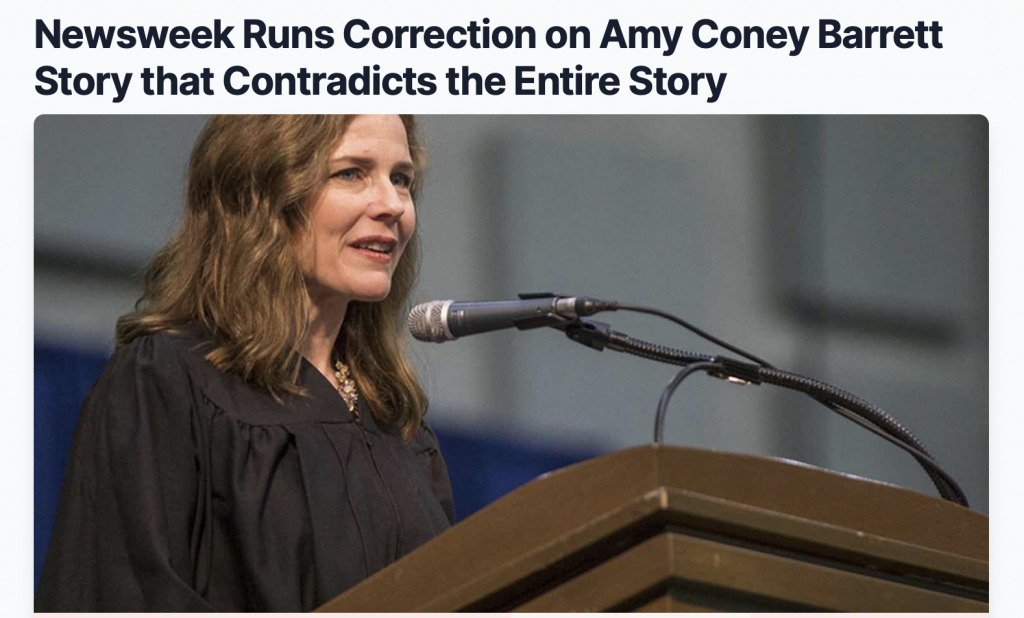 146. Fri. Oct. 9, 2020
Politico's "Playbook author" Anna Palmer tweets out the "breaking news" that President Trump lost the Nobel Prize, after apparently (mistakenly) believing his nominations were for this year rather than 2021.
https://twitter.com/apalmerdc/status/1314500362733268992?s=20
147. Sat. Dec. 19, 2020
The New York Times award-winning podcast "Caliphate," turns out to be centered on a man who told false stories about killing for the Islamic State. The Times returns the prestigious "Peabody Award" the podcast series won for the false reporting in 2018.
148. Wed. Dec. 30, 2020
A senior political reporter at The Huffington Post, Jennifer Bendery, falsely states that Vice President Mike Pence is wrong to claim that "millions" of Americans have been vaccinated for coronavirus... even as Bendery simultaneously acknowledges the number is in the millions.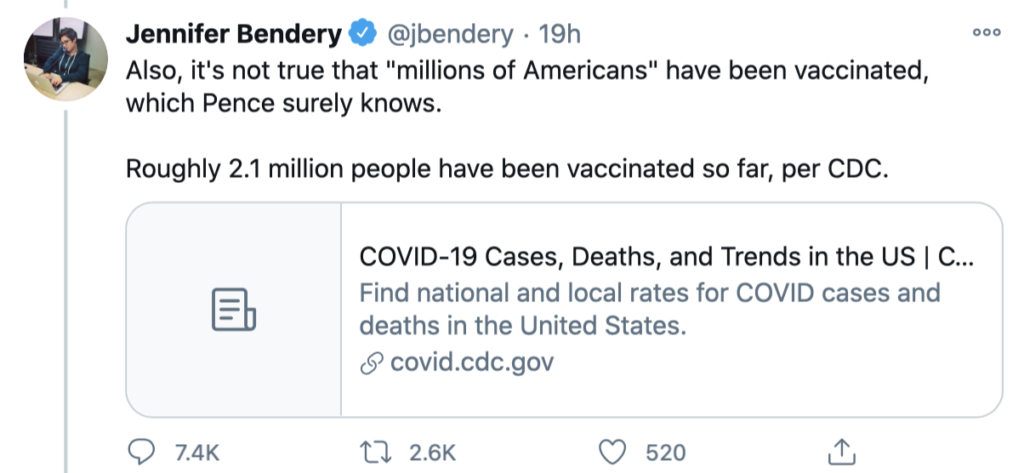 149. Sun. Jan. 10, 2021
The New York Times misidentifies a shirtless man outside a broken window at the Capitol as a Trump supporter. In fact, the Times didn't do a basic fact check of its assumptions.
The shirtless man was a credentialed journalist for The Daily Caller who had reportedly removed his shirt after getting maced in the chaos. The Times issues a correction.
https://twitter.com/elivalley/status/1348481465496035329?s=20
150. Thurs. Jan. 14, 2021
Numerous reporters falsely transcribe or refer to a falsely transcribed interview with a Republican senator, Tommy Tuberville of Alabama, to incorrectly claim he wants to delay Biden inauguration.
The accurate transcript makes clear that Sen. Tuberville was speaking hypothetically while accepting the inauguration date.
https://www.mediaite.com/news/prominent-reporters-spread-out-of-context-quote-claiming-sen-tommy-tuberville-wants-to-delay-biden-administration/
151. Saturday, Jan. 16, 2021
CNN's Jim Sciutto, Wolf Blitzer, and others report a man had been arrested at a checkpoint to a locked-down zone of the Capitol prior to Biden's inauguration carrying fake credentials, an unregistered handgun, and 500 rounds of ammunition.
However, it turns out the man was not an insurrectionist with fake credentials and an unregistered handgun; he was a security contractor with an inaugural credential who was working an armed security job with Capitol Police and authorized to have a firearm, which was licensed in Virginia.
He was released from custody with officials saying they considered him no threat to public safety.
152. Monday, March 11, 2021
The Washington Post corrects its false story (an "exclusive") that quoted then-President Trump as pressuring a Georgia elections investigator to "find the fraud," and that she would be a "national hero" if she did, and alleged it "could amount to obstruction."
As Breitbart News pointed out, the Post story "relied on information from a single anonymous source, described as 'an individual familiar with the call who spoke on the condition of anonymity because of the sensitivity of the conversation'."
More than two months after that report, the facts show Trump did not the quote, after all.
Although The Washington Post issued a correction, there was no published apology and no information on what action, if any, would be taken against the reporter who published the false material.
The correction reads:
Correction: Two months after publication of this story, the Georgia secretary of state released an audio recording of President Donald Trump's December phone call with the state's top elections investigator. The recording revealed that The Post misquoted Trump's comments on the call, based on information provided by a source. Trump did not tell the investigator to "find the fraud" or say she would be "a national hero" if she did so. Instead, Trump urged the investigator to scrutinize ballots in Fulton County, Ga., asserting she would find "dishonesty" there. He also told her that she had "the most important job in the country right now." A story about the recording can be found here. The headline and text of this story have been corrected to remove quotes misattributed to Trump.
153. April 15, 2021
U.S. intelligence dials back a New York Times bombshell. According to Daily Beast:
It was a huge election-time story that prompted cries of treason. But according to a newly disclosed assessment, Donald Trump might have been right to call it a "hoax."

The story by Charlie Savage, Eric Schmitt and Michael Schwartz claimed Russians put bounties on US troops in Afghanistan under President Trump.
Newly-released information, according to Daily Beast shows: "U.S. intelligence only had 'low to moderate' confidence in the story. Translated from the jargon of spyworld, that means the intelligence agencies have found the story is, at best, unproven—and possibly untrue."