The following is from Gallup News.
President Joe Biden's job approval rating among Democrats has tumbled 11 percentage points in the past month to 75%, the worst reading of his presidency from his own party. This drop has pushed his overall approval rating down four points to 37%, matching his personal low.
At the same time, Biden's approval among independents has declined four points, to 35%, while Republicans' rating remains unchanged, at just 5%.

After ranging from 49% to 57% during the first eight months of his presidency, Biden's approval rating has been mired in the low 40s for much of the past two years. Including the latest 37% job rating and an identical reading in April, Biden's approval has fallen below 40% four times in the 33 readings Gallup has taken since he took office.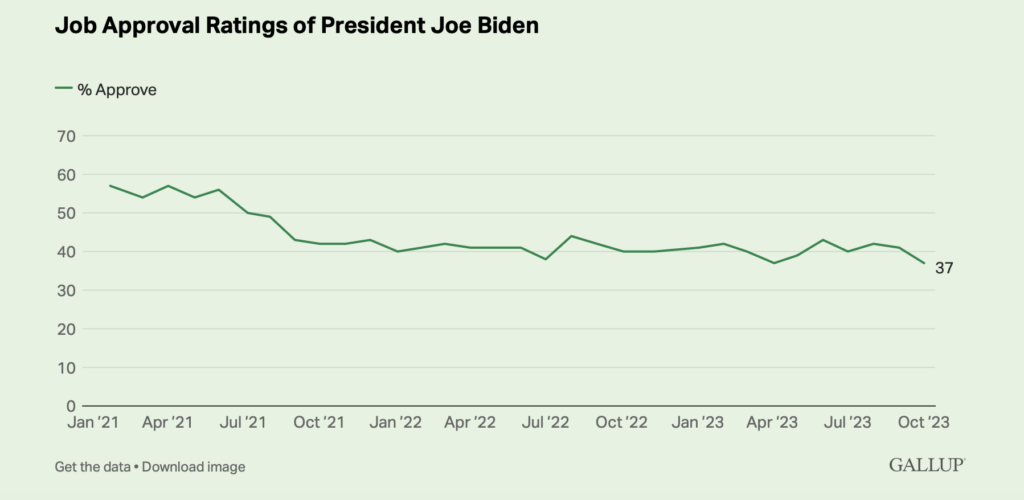 The latest downturn in Biden's job rating, from an Oct. 2-23 Gallup poll, comes in the wake of the Oct. 7 surprise attack on Israel by Hamas militants that resulted in at least 1,400 deaths and more than 200 kidnappings.
The attack by Hamas precipitated a counteroffensive by Israel, which has resulted in an estimated 5,000 deaths in Gaza thus far while also setting off a humanitarian crisis.
Immediately after the attack, Biden pledged "rock solid and unwavering" support for Israel from the U.S., and he subsequently visited the country on Oct. 18 to reiterate that message. But Biden has faced criticism from some members of his party for aligning too closely with Israel and not doing enough for the Palestinians.
Some prominent Democratic lawmakers and protesters around the U.S. have called for Biden to do more to help the millions of Palestinians who are in need of humanitarian aid as Israel attempts to eradicate Hamas.
Biden's current 75% approval rating among Democrats is well below the 86% average from his own party throughout his presidency.
Meanwhile, Biden's approval rating from Republicans has been consistently low and in the single digits for more than two years, while his rating from independents has been more variable but generally weak since July 2021. (Continued...)
Read more here.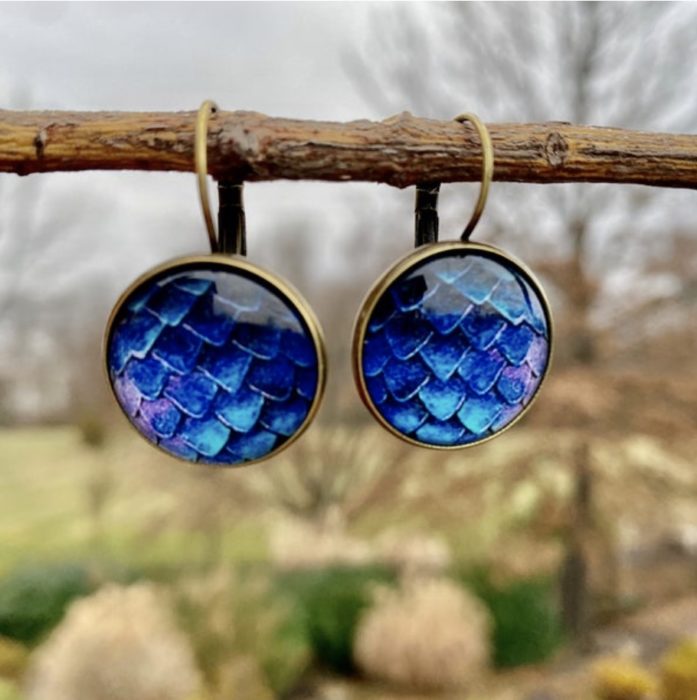 The Lemonade Mermaid Store
Unique gifts for Land or Sea Mermaids, Mer-pets and Little Mermaids!
Left: Our signature Blue Fins Earrings