The following is an excerpt from OpenTheBooks Substack by Adam Andrzejewski.
U.S. Mideast peace negotiators felt that freezing aid to Palestinians was disrespectful. But as soon as Biden opened the spigot, Hamas launched thousands of rockets from Gaza at Israel.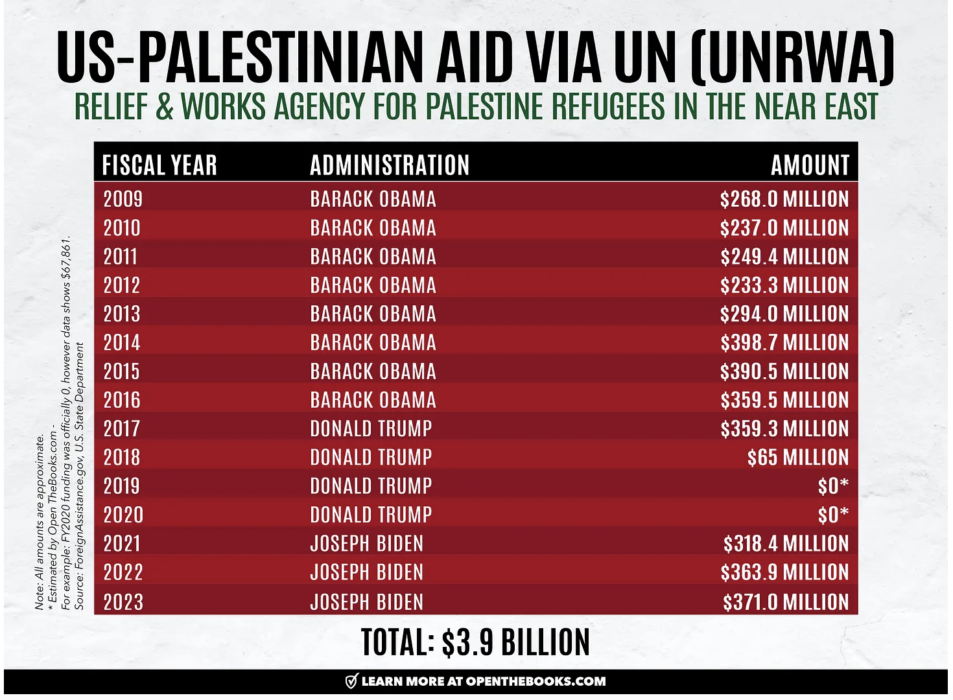 TOPLINE:
Our auditors at OpenTheBooks.com found that the Biden Administration spent more than $1 billion from U.S. taxpayers on "aid" to Palestinians. It proposes sending another $260 million in its FY2024 budget request, but that funding is not yet approved by Congress.
Here's how the Biden Administration allotted U.S. taxpayer Palestinian-aid through the United Nations: $318.4 million (2021), $363.9 million (2022), and $371 million (2023).
Biden's spending binge is a sharp reversal from President Donald Trump's August 2018 freeze. Biden started pouring taxpayer dollars into Gaza and the West Bank in April 2021.
BACKGROUND:
U.S. taxpayers have sent nearly $8 billion to assist Palestinian refugees living in Gaza, the West Bank, Jordan, Syria, and Lebanon since 1950. Most of these funds have gone through the United Nations (UN).
This humanitarian funding has been sent in the finest tradition of American generosity, but much of its use is now widely understood to have promoted the culture of Jew hate upon which Hamas, Palestine Liberation Organization (PLO), and the beleaguered Palestinian Authority (PA) rely.
2016: The Obama Administration, in 2016, sent $359 million. It was only $39 million less than the all-time high of $398.7 million in 2014.
2018: President Trump saw things quite differently. Disgusted by the diversion of U.S. taxpayer dollars into Hamas, PLO, and PA agendas, leaving needy Palestinians bereft, as well as the fungibility of our support possibly into rocket and arms-trading, he zeroed out the folks who refuse to recognize Israel's right to exist.
Trump cut Palestinian aid to zero. That had never been tried during the previous 71 years of subsidizing Palestinians.
The Palestine Liberation Organization (PLO), itself a longtime terror impresario, howled. The PLO said U.S. taxpayers had violated an obligation to fund them and their hatred of every Jew on earth.
2021: Three months after taking office, in April 2021, President Biden sided with the PLO, the PA and Hamas. He restarted aid.
Within weeks, Hamas rockets were raining down on Israelis. The region had begun the war we now see at full force.
Even a May 14, 2021, Associated Press (AP) headline seemed to conflate the events, "U.S. sending new aid to Palestinians as conflict intensifies."
TROUBLING INTEL: In 2021, Secretary of State Antony Blinken even acknowledged that it's possible the Palestinians could use U.S. aid to restock Hamas' arsenal of hate.
"We're going to be working in partnership with the United Nations and the Palestinian Authority to kind of channel aid there in a manner that does its best to go to the people of Gaza. I'm also sure that the government of Egypt will have some role in that."

"As we've seen in life, as we all know in life, there are no guarantees, but we're going to do everything that we can to ensure that this assistance reaches the people who need it the most."

SUMMARY: Here is a quick summary of U.S.-Palestinian aid…

April 2021: Biden announced a $115 million Palestinian-aid package – including $40 million from FY2016 and FY2017 funding and $75 million from FY2020.
Then, Secretary of State Antony Blinken announced $110 million in new economic assistance to Palestinians including $5.5 million in immediate relief to Gaza.
The Trump Administration froze or reprogrammed aid previously appropriated between 2018 and 2021.
One catalyst for cutting funding was the PA/PLO policy of paying pensions to families of dead terrorists – money for their "martyrs." In March 2017, The Wall Street Journal called this practice, "pay for slay" and said "U.S. aid was a transfer payment for terrorists."
Since 1950, U.S. taxpayers have sent nearly $8 billion through the UN to the Palestinian refugees using the United Nations Relief and Works Agency for Palestine Refugees in the Near East (UNRWA).

IMPORTANT TIMELINE:

The U.S. has been UNRWA's largest single funder, providing almost one-third of its budget. Created to help the hundreds of thousands of Palestinians displaced from the 1948 Arab-Israeli war, UNRWA today subsidizes over five million Palestinians living in Gaza, the West Bank, Jordan, Syria, and Lebanon.

OpenTheBooks.com auditors found that the UNRWA received more funds from the Obama Administration than any other administration.

Congress and President Obama provided UNRWA some $398.7 million in 2014 and $390.5 million in 2015. Funding for 2016 and 2017 hovered around $359 million a year.

In the first fiscal year of the Trump Administration, the subsidies fell to $65 million. And then it went to zero. (Continued...)

Read more here.

Visit The Sharyl Attkisson Store today

Unique gifts for independent thinkers

Proceeds benefit independent journalism