Robert F. Kennedy Jr.'s run for president might be seen as a logical extension of an American political dynasty. His uncle was President John F. Kennedy. His father was attorney general and presidential candidate Robert F. Kennedy. Both were assassinated. Another uncle was a lion of the Democrat party, Senator Ted Kennedy. But this Kennedy is running a very different race than his family forefathers. Shunned by his own party, refused Secret Service protection by the Biden administration, Kennedy says he's being forced to consider a giant move: leaving his political party. If he does, it stands to upend campaign 2024 in an unexpected way. Could he draw enough votes away from the two nominees to make a difference? We spoke with Kennedy in New Jersey.
The following is a transcript of a report from "Full Measure with Sharyl Attkisson." Watch the video by clicking the link at the end of the page.
Sharyl: A Rasmussen Reports poll just found that one in three Democrats say they might vote for you if you were to leave the Democrat party and run as a third-party candidate. What thoughts do you have about that?
Robert F. Kennedy Jr.: If the Democratic Party does not allow me to actually have a fair election, in other words, if they, you know, continue doing what they're doing, which is to rig the outcome of the election, then I would look at all options.
Sharyl: Can you explain in simple terms what the Democrat Party is doing to discourage your candidacy?
Kennedy: One of the most, I think, egregious thing is that they've passed a rule that says that any candidate who steps into New Hampshire — that no vote that is cast for that candidate in New Hampshire will count toward them. And so I have campaigned in New Hampshire. I've been campaigning there from the beginning, and every delegate that I win from New Hampshire will go instead to President Biden. And they have the potential to do the same thing in Iowa. It's more akin to what we saw in the Soviet Union during, you know, the Soviet era, when the political party, in that case, the Communist Party, was claiming that they had a democracy. But the way they controlled the democracy is the party alone could designate who the nominees were. And so the only people the public could vote on were candidates that were chosen by the party apparatchiks rather than, you know, the public.
Sharyl: Why do you think the Democrat Party is so against your candidacy? Lifelong Democrat, Kennedy is a Democrat Party name.
Kennedy: I think the Democratic Party is increasingly dependent on corporate money, and I think there's concern that if they elect a populous candidate like Tulsi Gabbard or Bernie Sanders or myself, that the corporate faucets will be shut off. You know, it really is a uni-party and both parties are involved with protecting those corporate donors, and they're the same corporate donors. And I think that frightens them that that flow of money would be shut off.
Sharyl: The Twitter Files revealed that you were targeted by government and vaccine interests for questions you raised and information you distributed about Covid and Covid vaccines, even when it was absolutely true. What are your thoughts about that?
Kennedy: So they couldn't find anything that I wrote that was actually misinformation, that was erroneous. So they made up a new word, which is malinformation, and malinformation is information that is true, but nevertheless inconvenient for government. And they began censoring me on that. There were literally thousands of people who ended up being censored. Mothers who reported that their child had been injured by a medical product were abolished. Doctors who saw patients who were injured or who had treatment regimens that, you know, that they felt worked to restore people — they were removed from the social media. And then any discussion of scientific articles, even publications of CDC's own website that showed things that were critical of vaccine safety. It wasn't good for public health and it wasn't good for our democracy.
Sharyl: So how do you prevent something like that from happening?
Kennedy: Well, as president, I would, I would prevent it by issuing an executive order immediately. Then I would try to pass legislation as well. And particularly the intelligence agencies need, you know, we need to get a handle on them, because as we now know, the FBI had opened a portal so that they could directly censor Facebook and Twitter. And they were allowing the CIA also to censor people that they didn't want — censor discussions, that they didn't want, that they did not want to occur in public.
Sharyl: You've spoken more than any candidate that I've heard about, about really, a really big problem: chronic health disorders that are plaguing our society, our children, and adults as well — such as immune disorders like juvenile diabetes, Crohn's, POTS, celiac disease, as well as disorders like autism, the epidemic that has not been successfully addressed even by the most well-funded public health agencies in the world. What would you do about that?
Kennedy: Well, we've gone to, from having 6% of Americans have chronic disease when my uncle was president, to probably around 60% now. We don't really know because NIH won't publish the numbers or do the studies. And we have the sickest generation of kids that we've ever had in our country, and we are the sickest country in the world. So you have to figure out an exposure that hit all Americans, every demographic, beginning around 1989. There's a limited number of them. High fructose corn syrup, cell phone radiation, and, you know, there are PFOAs, which are flame retardants that were put in a lot of products, or children's pajamas, and almost every piece of furniture at that time. And then the vaccine schedule that of course went from three vaccines I had as a kid to 72 vaccines over a very short period of time during that period. And all of those disease, by the way, are listed on the manufacturer's inserts for those 72 vaccines as potential side effects. And those have to be a culprit too. It's probably a combination of all of these, you know, insults. I'm gonna go down to Bethesda, to NIH headquarters, and I'm gonna say to them, we're gonna shift a lot of our focus now from development of incubating pharmaceutical drugs, pharmaceutical products, which is what NIH does, allow them to treat the chronic disease that they're causing. And I am going to say we are going to start figuring out what's causing chronic disease. And there's a lot of other things that need to be done. We need to get pharmaceutical advertising off of TV so that the television stations can return to telling the truth to the American public about health, rather than serving as propagandists for this very, very corrupt industry.
Sharyl: What are your answers or thoughts as to what you would do about the situation with Ukraine and all of the money that's going out the door now?
Kennedy: Well, with Ukraine, you know, I will settle the war very, very quickly as soon as I get into office. The Russians have tried to settle it twice, on terms that were very, very beneficial to us. And in both cases, the United States government blew up those agreements.
Sharyl: Why do you think that is?
Kennedy: I think that the U.S. wanted the war. So you have Republicans and Democrats on both sides who are saying, you know, the real objective for this war is to degrade the Russian army for strategic reasons. And Ukraine has ended up as a pawn in a proxy war between the United States and Russia. I think it's a bad policy. I don't think our objective should be to degrade the Russian capacity. I don't think Russians threaten the United States. Russia had a defensive capacity, but they've never done anything to develop an offensive, you know, imperialistic capacity.
Sharyl: What is the status of Secret Service protection for you?
Kennedy: We've made multiple applications for Secret Service Protection. And the Biden administration has denied me.
Sharyl: What reason are they giving you?
Kennedy: They don't really give a reason. They just say that they don't — the White House has determined that it's unnecessary. I've had home invasions by intruders. Since I declared, I've had, you know, people... a man got up to the second floor of my house, who had tried to invade Kennedy homes before. You know, I think the Biden administration has decided to play hardball. And they know that 30% of the money that we raise from my campaign, I have to spend on private security.
Sharyl: Former President Trump, when I asked the question, said he knows you, he likes you, and he could see working with you in some capacity. What do you think?
Kennedy: I think that's very nice of President Trump to say that.
Sharyl: Could you see yourself working in any capacity with Donald Trump?
Kennedy: I mean, that's not a job that I would look for. If I'm not able to run things, I would not want to be in government at all.
Sharyl (on-camera): We'll be hearing from other candidates in the weeks ahead. One note, we've been asking Joe Biden for an interview since 2019 and are still hoping he'll agree at some point.
Watch story here.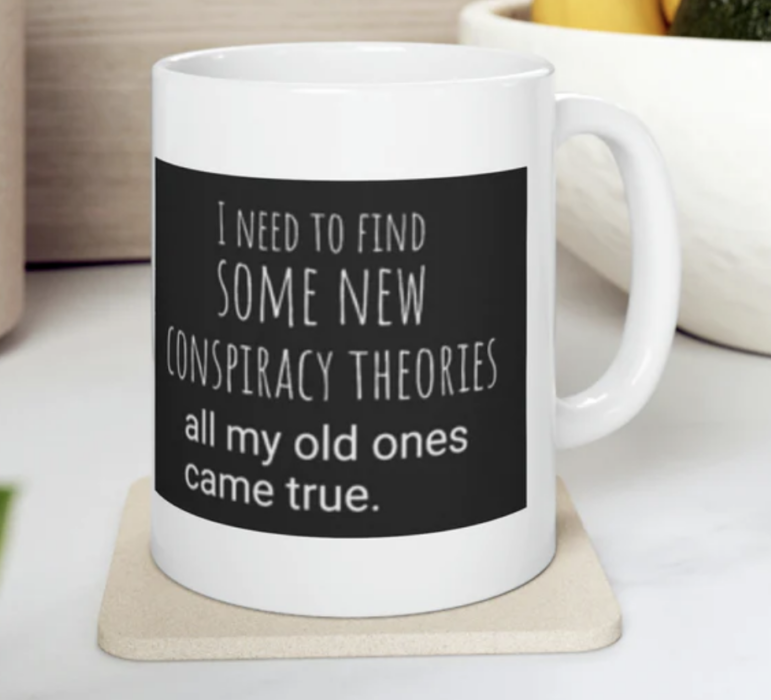 Visit The Sharyl Attkisson Store today
Unique gifts for independent thinkers
Proceeds benefit independent journalism