Congress is now investigating Saudi Arabia's recent takeover of America's Professional Golfers' Association or PGA. Critics say it's the kingdom's latest play to use sports to whitewash Saudi Arabia's dark human rights reputation and even lingering controversies over the 9/11 attacks. Fifteen of the 19 Islamic extremist hijackers were Saudis. Lisa Fletcher has more.
The following is a transcript of a report from "Full Measure with Sharyl Attkisson." Watch the video by clicking the link at the end of the page.
The Saudi-backed men's golf league, LIV, debuted in 2022 to compete with the PGA Tour.
It's backed by the country's half-trillion-dollar investment fund, which threw crazy money at the game's top names, to pull them away from the rival PGA Tour and secure them to the LIV brand. Phil Mickelson is among them and was reportedly paid some $200 million just to sign a contract with LIV.
PGA Tour Commissioner Jay Monahan pushed back, suspending all players taking part in the first LIV tournament, and lobbied Congress and 9/11 victim families to help the Tour fight the Saudi enterprise. A court battle ensued, and the PGA fought hard against the Saudi investment they said could destroy the American sports institution. Then, in June, the PGA flip-flopped and announced it was working on a deal to merge with LIV.
The Senate Homeland Security Investigative Subcommittee launched an inquiry into what was actually happening. Chairman Richard Blumenthal, a Democrat, is leading the bipartisan probe.
Sen. Richard Blumenthal, D-Ct.: We're here because we're concerned about the PGA Tour's deal in terms of what it means for an authoritarian government to use its wealth to capture American institutions.
Senators pressed PGA Tour executives Ron Price and Jimmy Dunne for nearly three hours, in front of a hearing room crowded with 9/11 victims' families.
Blumenthal: What is the amount of the Saudi investment that is going to be made?
Ron Price: North of $1 billion.
Brett Eagleson: I don't really buy the argument that they had to do it. They put up a chart today that they had $1.2 billion in revenue. I think that they saw an opportunity. Mr. Dunne's a deal-maker. He saw an opportunity. He smelled blood in the water.
Brett Eagelson is the founder of the group "9/11 Justice" and was 15 when his father Bruce was killed in the World Trade Center attacks.
Eagleson: Look, for the last year and a half, the PGA used our talking points. They used these documents. They used all the rhetoric about human rights. And behind closed doors, they folded like a beach chair. The very minute that they got offered a pot of money, they took it.
Terry Strada's husband Tom was also a victim of the Twin Tower attacks.
Terry Strada: It isn't a deal. It's a hostile takeover of one of our most treasured sports.
Strada says Saudi Arabia is using billions to make-over its public image.
Strada: They want a platform to sports-wash away their crimes against humanity to look better to the world. They want the people to forget how they used to spend their billions, which was supporting terrorism and Al-Qaeda and the September 11th attacks.
While Democrats and Republicans on the committee shared anti-trust concerns about a potential monopoly, given the early stage of the merger, some argued Congress should stay out of it.
Sen. Ron Johnson: There's nothing wrong with the PGA Tour negotiating its survival.
We sat down with Senator Ron Johnson after the hearing.
Johnson: It was an existential threat for the PGA Tour, so what else were they supposed to do?
Lisa: What are our priorities if we're putting the survival of the PGA over what many people see as a national security threat, to allow the Saudis to reach that deeply into an American institution like the PGA?
Johnson: If there truly was a national security threat with the Saudis, we ought to stop buying their oil. We ought to stop filling the coffers of the Public Investment Fund. We haven't done that. We're expecting that the PGA Tour is supposed to bear the full burden of holding Saudi Arabia accountable for, example, the brutal assassination of Khashoggi, or responsible for those Saudi citizens that funded terrorism?
Terry Strada hopes the Saudis' flashy makeover, using famous athletes, doesn't fool anyone, because just below the surface lurks a regime tied to one of the darkest days in America's history.
Lisa: Some people might say, look, these are two completely different issues. Saudi Arabia and the PGA Tour, and 9/11 families. Is it two separate discussions?
Terry Strada: No, because it's sportswashing. If we don't hold them accountable, who's to say any of this has ever stopped, and what are they planning next?
For the next move from Congress, the Homeland Security committee has signed off on a subpoena to investigate the Saudi investment fund behind the huge golf merger.
For Full Measure, I'm Lisa Fletcher, in Washington, D.C.
Watch story here.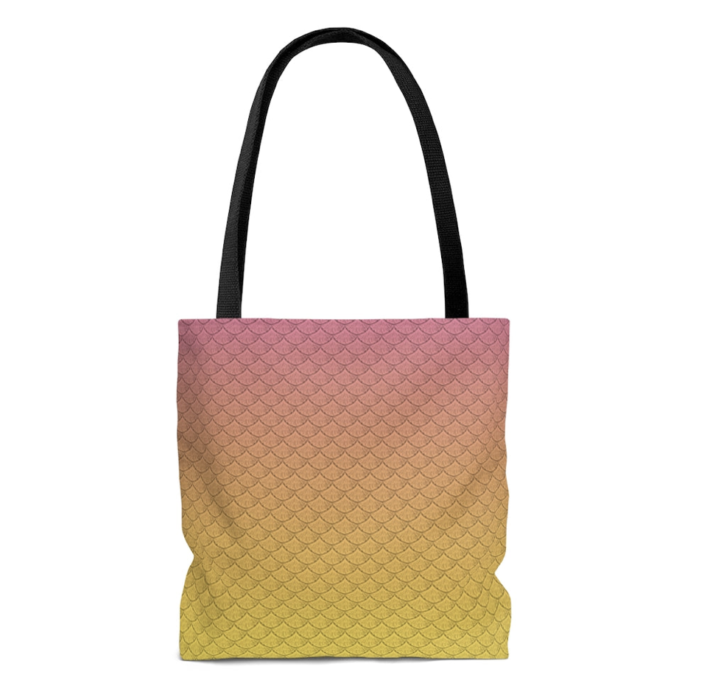 The Lemonade Mermaid Store
Unique gifts for Land or Sea Mermaids, Mer-pets and Little Mermaids!
Left: Our signature Fish Scales design tote bag in Citrus