The war between Israel and Hamas and spreading conflict with a second Islamic extremist terrorist group, Hezbollah, is heightening concerns about attacks outside Israel. The U.S. is warning American travelers to be on alert. Scott Thuman reports from Germany on the long history of Islamic extremist terrorist attacks overseas.
The following is a transcript of a report from "Full Measure with Sharyl Attkisson." Watch the video by clicking the link at the end of the page.
This is Munich, a city of one and a half million people. Most Americans know it as the Bavarian capital, home to Octoberfest, the world's largest beer festival, which just ended. But fifty years ago, it was a Palestinian terror attack in this city that stunned the world.
September 5, 1972, at the Munich Olympics. Eight members of the Palestinian militant group Black September invaded the athletes' village. Their target: the team from Israel. A deadly drama ended 20 hours later with 11 Israeli athletes and five of the hostage takers dead.
What happened in Munich — just one of the many terror attacks launched in the name of the Palestinians over the years. Experts now worry this latest war between Israel and Hamas could trigger more terrorism.
Dr. Matthew Levitt: So October 7th not only was a colossal tragedy in terms of what happened specifically in southern Israel; it also has created this tension throughout the region.
Dr. Matthew Levitt is an expert on terrorism at the Washington Institute for Near East Policy.
Levitt: None of us saw this coming. And so we now need to sit back, all of us, myself included, and reassess our assumptions.
While many Americans associate terrorism with 9/11 and al-Qaida, groups like Hamas and Hezbollah have much longer histories when it comes to attacks against the U.S. and its Western allies.
Levitt: Hezbollah and Hamas are both committed to the destruction of Israel. They're both very close to Iran. Hezbollah is a Shia militant organization. Iran is a Shia country. Hamas is Sunni, a different sect in Islam, but they're happy to work together on their shared goal of destroying Israel and opposing the U.S. presence in the region.
Shortly after Hamas staged its October 7 attack, French President Emmanuel Macron visited Israel to express solidarity and call for an international coalition to fight terror.
Emmanuel Macron: The priority, your priority, but also that for all democracies and for France, is to defeat these terrorist groups together.
Levitt: The barbarism was Isis-style stuff. When the president of France visits Israel and says we should have an international coalition — the president of France, not always the strongest on this particular issue — is saying we need an international coalition to deal with Hamas, they're beyond the pale.
Macron's urgent call for action came as ripples of attacks are already beginning. As happened in Berlin when a synagogue was firebombed; in the Belgian capital, Brussels, when two were shot by a suspected Islamist terrorist; and this attack on an airliner arriving from Israel, landing in a largely Muslim region of Russia.
There are already signs of that increased concern about terrorism having an impact at airports like this in Europe. Security measures have been tightened because, as history shows us, aviation is often a target for terrorists.
In 1968, a Palestinian group hijacked an Israeli airliner after it left Rome, Italy — an event that started a wave of airplane hijackings. In 1970, members of the Popular Front for the Liberation of Palestine commandeered five planes, later blowing one up in Cairo, Egypt.
In recent years, attacks by pro-Palestinian terror groups like Hamas have been focused directly on Israel. But the threat of a second front brings a broader concern.
Levitt: For good reason, everybody's focused on Hamas right now, but Hezbollah is many, many times more powerful. It is better armed, better trained, much larger militia.
Hezbollah is infamous for being the terror group largely thought to have pioneered suicide bombings in 1983. In the span of a few months, car bombers attacked the U.S. embassy in Beirut, Lebanon, killing 17 Americans. And in October, the U.S. Marine barracks, killing 241 Americans there as part of a peacekeeping force.
Levitt: The United States has sent two U.S. aircraft carrier groups to the region. We have amazing firepower in the region. The president was blunt: if you're thinking about getting involved, don't. It's quite clear the United States doesn't want or intend to initiate anything, but it's also clear the United States is not going to allow a situation where Israel is put in any type of existential risk.
Even as the war is focused on that narrow strip of land called Gaza, the world waits and watches to see where terrorism will rise again.
For Full Measure, I'm Scott Thuman in Germany.
Watch story here.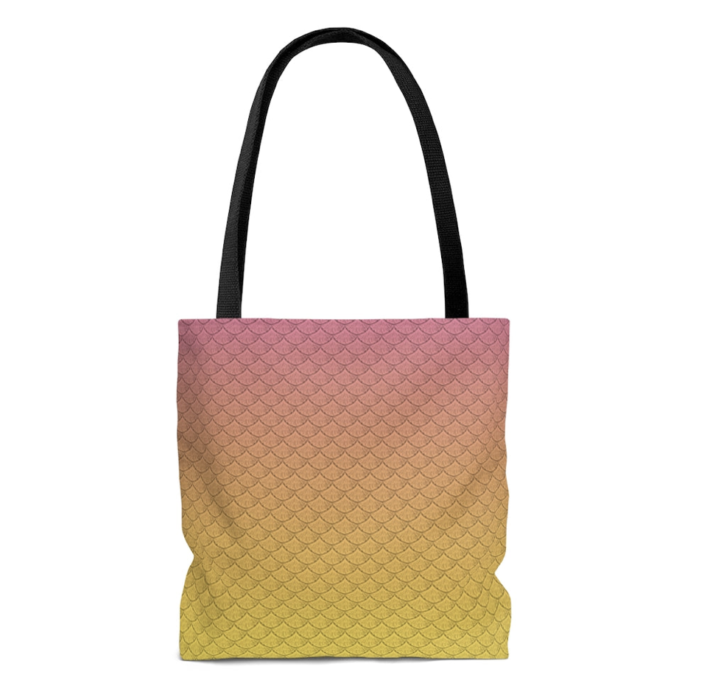 The Lemonade Mermaid Store
Unique gifts for Land or Sea Mermaids, Mer-pets and Little Mermaids!
Left: Our signature Fish Scales design tote bag in Citrus