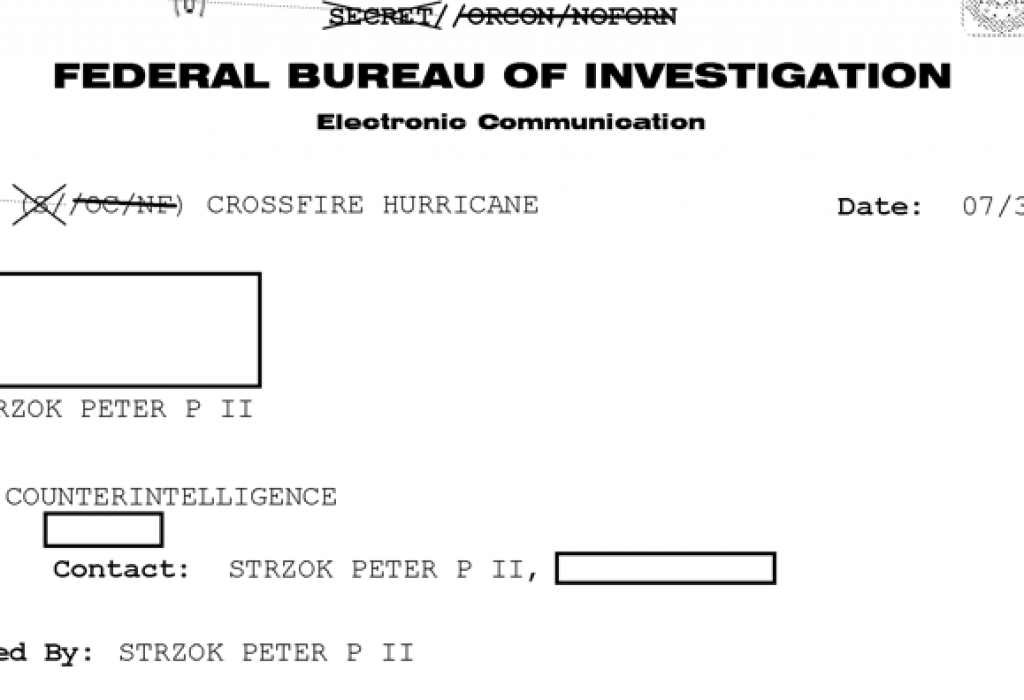 The watchdog group Judicial Watch has obtained the FBI document, by former agent Peter Strzok, beginning "Crossfire Hurricane."
Dated July 31, 2016, Crossfire Hurricane was an investigation into the Trump campaign to determine "whether individual(s) associated with the Trump campaign are witting of and/or coordinating activities with the Government of Russia."
In the end, Special Counsel Robert Mueller and other investigations concluded the FBI was off the mark: nobody from the Trump campaign-- in fact no American-- had colluded with Russia.
According to Judicial Watch:
The redacted document details seeming third hand information that the Russian government "had been seeking prominent members of the Donald Trump campaign in which to engage to prepare for potential post-election relations should Trump be elected U.S. President." The document also alleges Trump campaign adviser George Papadopoulos, claimed to an unnamed party that "they (the Russians) could assist the Trump campaign with the anonymous release of information during the campaign that would be damaging to Hillary Clinton."
Read the document by clicking the link below:
https://www.judicialwatch.org/wp-content/uploads/2020/05/JW-v-DOJ-reply-02743.pdf
Fight government overreach. Support free speech and free press. Donate to Attkisson v. DOJ here.