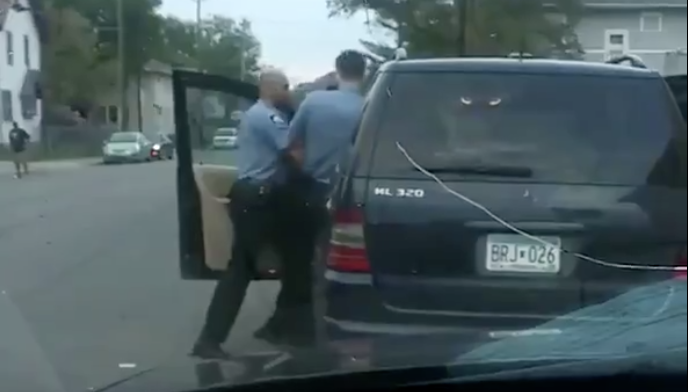 See additional camera views of the arrest
View the prior complaint card against the main police officer charged
Read the charges against the officer, who was fired after the incident
The complaint says the officer used a restraint tactic that is known to be dangerous
Read the account of events as outlined in the complaint
The officer and Floyd had worked at the same night club
Organized groups are promoting violence in the wake of the death of an unarmed forgery suspect, George Floyd, after a Minneapolis police officer used his leg to pin Floyd to the ground by his neck.
That's according to Minnesota Governor Tim Walz and mayors Jacob Frey and Melvin Carter, who appeared at a news conference to condemn the violent riots that have been going on.
The officials announced they are fully mobilizing the Minnesota National Guard for the first time in 164 years to help.
"Every person arrested last night was from out of state," said St. Paul Mayor Melvin Carter. "We don't know these folks."
However, another report said a majority of arrestees have Minnesota addresses. Then again, USA Today reports this.
"Let's be very clear, the situation in Minneapolis is no longer in any way about the murder of George Floyd," said Walz.
Derek Chauvin, 44, has been arrested and charged with third-degree murder and manslaughter. He was a Minneapolis police officer at the time of the incident, but was fired shortly afterwards.
The Hennepin County Medical Examiner's office reports it has found "no physical findings that support a diagnosis of traumatic asphyxia or strangulation."
Floyd's underlying health conditions included coronary artery disease and hypertensive heart disease. The Medical Examiner's office says the underlying health conditions, combined with Chauvin's restraint (which reportedly lasted almost nine minutes) and any possible intoxicants in Floyd's system, likely contributed to his death.
The family of Floyd is said to be seeking a second opinion.
Update: According to CNN on Monday:
Experts hired by the family George Floyd and the Hennepin County Medical Examiner have concluded his death was a homicide, but they disagree on what caused it.The [family commissioned] autopsy says Floyd died of "asphyxiation from sustained pressure" when his neck and back were compressed by Minneapolis police officers during his arrest last week. The pressure cut off blood flow to his brain, that autopsy determined. But the medical examiner's office, in its report also released Monday, said that the cause of death is "cardiopulmonary arrest complicating law enforcement subdual, restraint, and neck compression." Cardiopulmonary arrest means Floyd's heart failed. The medical examiner made no mention of asphyxiation.
Floyd was charged with armed robbery in a home invasion in Houston, Texas in 2007. He was sentenced to five years in prison in a plea deal, according to reports.
This video shows the early moments of the confrontation between Floyd and police. Two officers struggle to handcuff Floyd when they remove him from his vehicle.
Once handcuffed, Floyd appeared to be calm until police explained he was under arrest and going to be transported to jail.
The second video at the TMZ link below around six minutes in shows Floyd falling as police attempt to get him in the transport vehicle. The complaint against officer Chauvin says Floyd was falling "intentionally" and telling officers he would not get into the vehicle.
https://www.tmz.com/2020/05/28/teen-recorded-george-floyd-video-traumatized-backlash/
As Floyd struggled and police were unable to get him in the vehicle, Chauvin arrived on the scene and also struggled to get Floyd in the back seat of the car.
Floyd fell to the ground again and Chauvin pinned him down with his leg on Floyd's neck, a restraint tactic that police are "taught is dangerous."
Additional video below:
According to the criminal compliant against officer Chauvin, the following events occurred:
Officers were dispatched to a Cup Foods store after a complaint about someone trying to buy products with a counterfeit $20 bill.
Store workers told police the man, Floyd, was parked in a car around the corner.
Two officers, Lane on the driver's side and Kueng on the passenger side, approached the car which had three people inside: Floyd in the driver's seat and another man and woman as passengers.
Lane began speaking with Floyd, drew his gun and ordered Floyd to show his hands, then put his gun away when Floyd put his hands on the steering wheel.
When police tried to handcuff Floyd, he resisted, and it took two of them to cuff him. At that point, the officers walked Floyd to the sidewalk and seated him down, handcuffed.
Lane spoke informed Floyd he was going to be arrested for passing counterfeit money.
Lane and Keung assisted Floyd to a standing position and tried to take them to their squad car.
Floyd then "stiffened up, fell to the ground and told the officers he was claustrophobic."
Officers Chauvin and Tou Thao arrived.
As the officers repeatedly attempted to get Floyd in the squad car, he struggled while handcuffed and "intentionally" fell down.
Floyd told police he was "not going into the car" and "refus[ed] to stand still."
While standing, Floyd began repeating he could not breathe.
Chauvin then went to the passenger side and tried to get Floyd in from that side, with Lane and Keung assisting.
Chauvin then pulled Floyd out of the passenger side and Floyd "went to the ground" face down.
While Keung and Lane held Floyd's back and legs, Chauvin "placed his left knee in the area of Mr. Floyd's head and neck."
Floyd continued saying "I can't breathe."
Floyd stopped moving. Kueng then checked for a pulse and couldn't find one. Chauvin kept his knee on Floyd's neck.
Two minutes later, Chauvin removed his knee from Floyd's neck as medics arrived. He was pronounced dead at Hennepin Healthcare.
Chauvin had his knee on Floyd's neck for 8 minutes and 46 seconds. Nearly three minutes of that time was after Floyd became unresponsive.
According to the medical examiner, "the combined effects of Mr. Floyd being restrained by the police, his underlying health conditions and any potential intoxicants in his system likely contributed to his death."
"Police are trained that this type of restraint with a subject in prone position is inherently dangerous," says the complaint against Chauvin.
Chauvin faces up to 25 years in prison on the murder charge and up to 10 years in prison on the manslaughter charge.
The "employee complaint card" for Chauvin: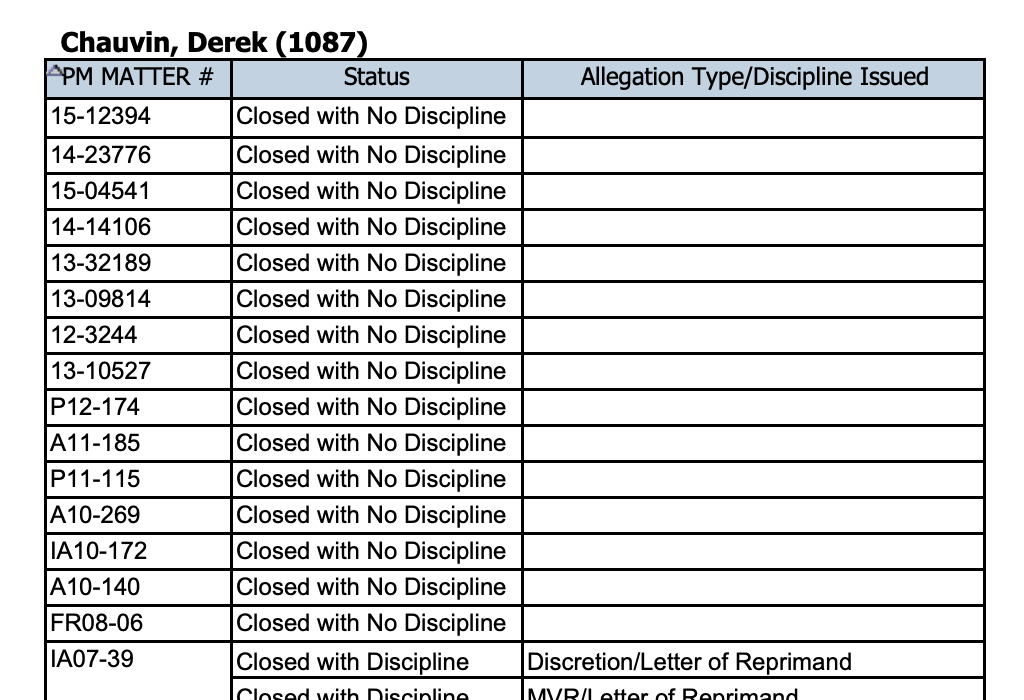 The arrest complaint against former Officer Chauvin: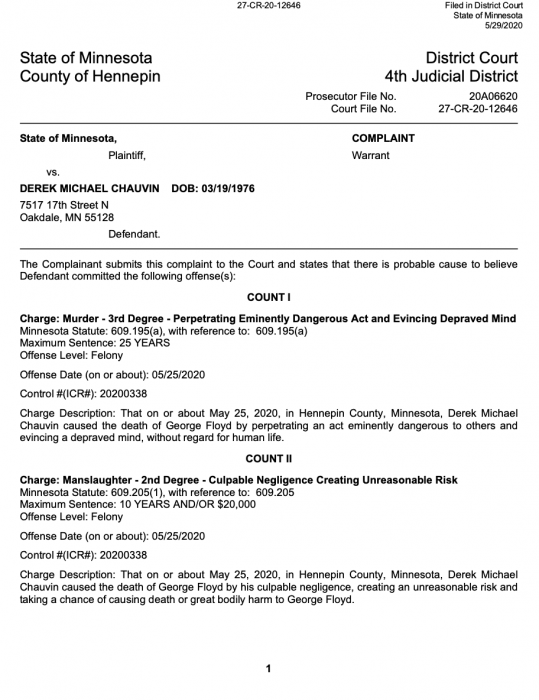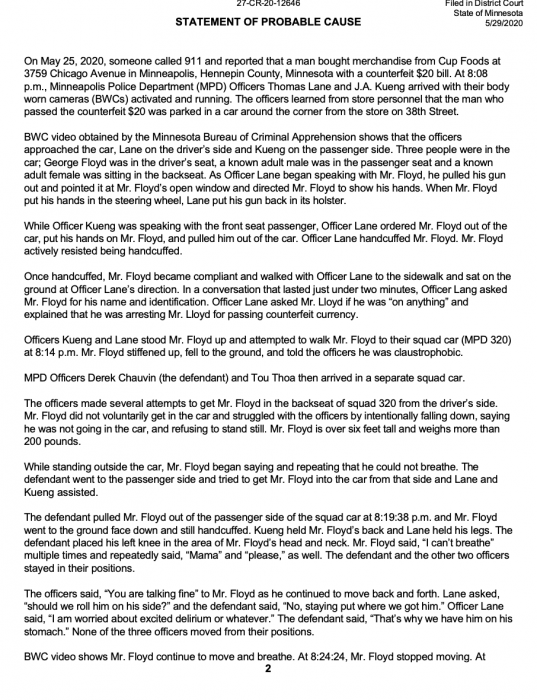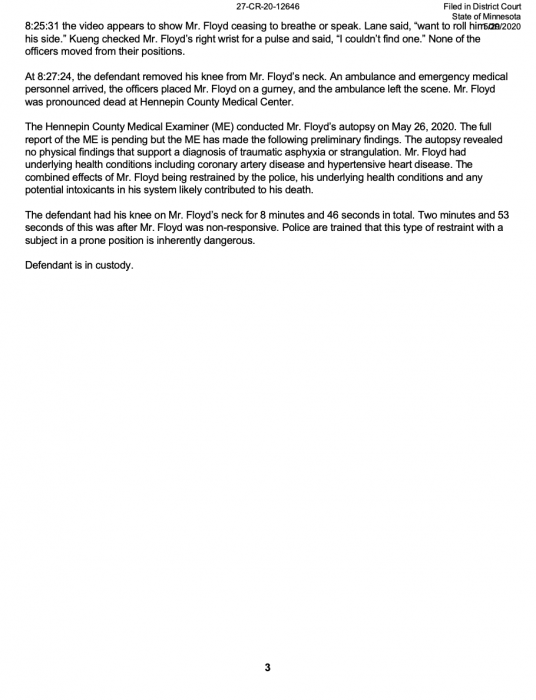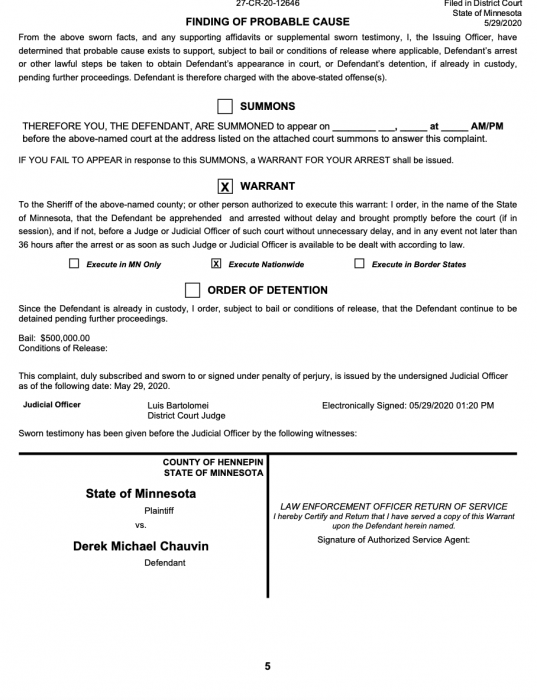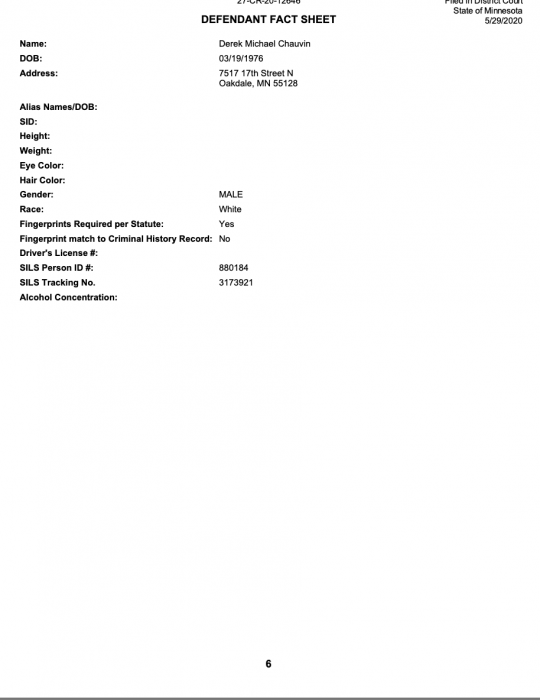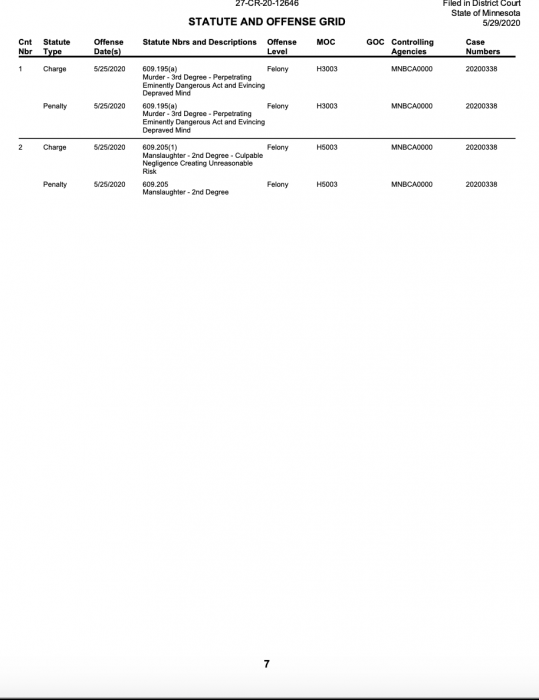 According to an interview on NPR, Chauvin and Floyd worked at the same night club. The owner said she isn't sure if they knew each other.
Maya Santamaria, former owner of El Nuevo Rodeo, said that both Floyd and Chauvin worked security at the club. She said that the two could have crossed paths, though Chauvin mostly worked outside as an off-duty officer, while Floyd primarily was inside as a bouncer. She wasn't sure if they knew each other.
"Chauvin was our off-duty police for almost the entirety of the 17 years that we were open," Santamaria told KSTP. "They were working together at the same time, it's just that Chauvin worked outside and the security guards were inside."
Read the NPR article by clicking the link below.
https://www.npr.org/2020/05/29/865803157/george-floyd-and-derek-chauvin-were-co-workers-says-former-club-owner