Some observers say the numbers are up to the millions in people who are taking to the streets in French cities to protest mandatory vaccination and vaccine passport requirements.
This is the third weekend in a row that France has seen widespread protests over the issue.
A majority of those surveyed reportedly said they are protesting because they object to their right to a choice in medical matters being taken away.
Tighter restrictions are coming in France beginning tomorrow, August 1.
The vaccine pass will be required for people to enter shopping areas and restaurants-- even outdoors.
As of July 21, proof of vaccination or a negative Covid test was required to enter movie theaters, sporting venues and other places where more than 50 people gather.
Once indoors, people can take off their face masks but masks must still be worn inside shops or businesses or on public transportation.
Beginning in August, the pass will become obligatory for access to shopping centres, cafés and restaurants – even on France's famed outdoor terraces.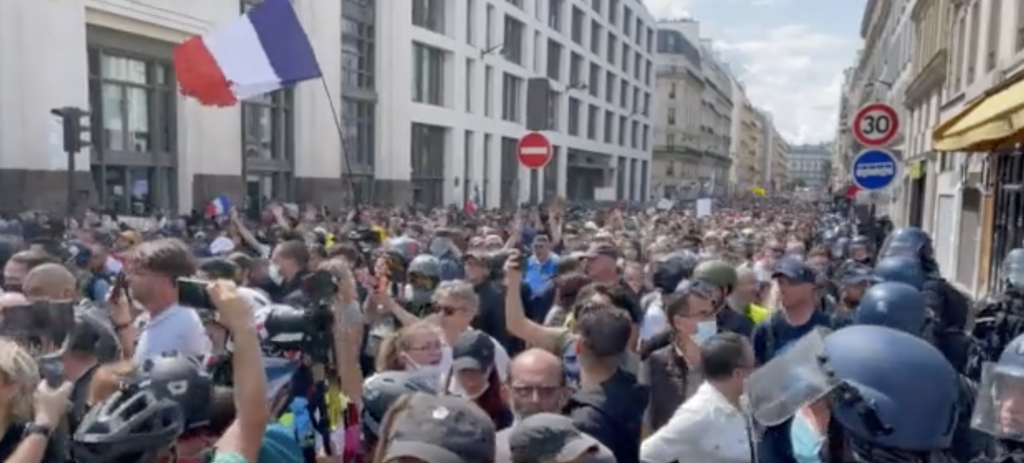 NOW - Hundreds of thousands are taking to the streets in Paris, Nice, Montpellier, Nantes, Strasbourg, Reims, Toulouse, Marseille, and many more cities across France to protest vaccine passports and mandatory vaccinations.#manif31juillet pic.twitter.com/yDB02vYNzw

— Disclose.tv 🚨 (@disclosetv) July 31, 2021