As President Joe Biden prepared to deliver his first State of the Union address 78% of Americans said they are unhappy with the country's direction.
That's according to Gallup polling in which Americans named the economy as their "top concern," with 70% viewing U.S. economic conditions as "worsening." Those rating economic conditions as "poor" increased five percentage points to 42% in February.
Those figures are tied for the highest since the first few months of the pandemic.
In January of 2020, under President Trump and prior to the start of the pandemic, 63% of Americans viewed economic conditions as "excellent" or "good." Today that number is down to 21%.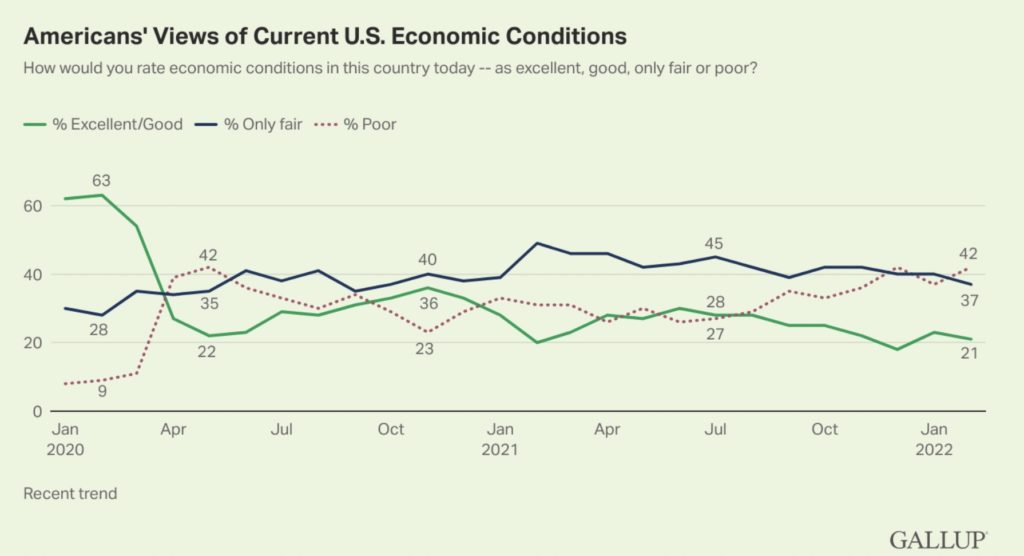 "Just a year ago, the national mood was brightening as Americans started receiving Covid-19 vaccines, and the economy was opening up in the first months of the Biden presidency. But after peaking at 36% last May, Americans' satisfaction with the direction of the country headed back down -- in part due to rising Covid-19 cases but also mounting inflation -- and has yet to recover," says Gallup.
Although the U.S. troops are not directly fighting in Ukraine, even before Russia invaded Ukraine, a majority of Americans viewed the conflict as a threat to U.S. vital interests.
As for Covid, the ending Omicron wave and the resulting waning infections and hospitalizations have changed perceptions. In January, 20% named Covid-19 as a top concern. But in February, that number dropped 7 percentage points to 13%.
The only other issues that 5% or more of Americans said they consider important are immigration (8%) and lack of unity in the country (6%).
While there are a variety of reasons for Americans to feel like things have gone awry, the lingering pandemic, ongoing rising inflation, and the latest threat of being drawn into a full scale war with Russia all play a central role in America's current discontent, according to Gallup.