The following is from ScreenGeek.net
A whistleblower has come forward to make some shocking claims about Disney.
According to their reports, Disney requires employees to have "Diversity, Equity, and Inclusion (DEI) Virtue" diaries that measures how they're compensated for their work.
Furthermore, this has resulted in the alleged persecution of conservative employees at the massive company.
The whistleblower is said to have released these reports in the form of documents to YouTube user and scooper WDW Pro.
Here's what was shared:
"It is now our understanding that at Disney since the summer of 2020 many employees of the company have been required to maintain their various virtuous actions within diversity, equity, and inclusion. And that that diary of their 'good deeds' was part of maintaining their job security, but not only that, but in fact it was also tied to their job compensation if you can believe it."
He continued:
"We're talking about bonuses that you might not receive if you went afoul of [Latondra] Newton, the prior Chief Diversity Officer of Disney, if you went afoul of her belief systems."
WDW Pro added other surprising details which included being sent to HR if you didn't have "far left views" that aligned with theirs:
"If you espoused, starting in the summer of 2020 and moving forward until today, if you espouse political beliefs in the workplace, or outside the workplace, or on social media and those political or sociocultural beliefs did not align with very far left views than you could expect to be sent to HR to have some serious conversations and discussions."
This resulted in the alleged removal of many conservative employees for simply sharing anything that might be of "some sort of conservative value" on their social media:
"So if you went beyond not just filling out your Word doc where you had DEI requirements noted for your MBO document, let's say, but instead you were actually on social media saying that you supported some sort of conservative value you were going to be brought into HR," he explained. "And in doing this The Walt Disney Company seems to have eliminated the vast majority of their conservative employees and have turned the company into a monolithic kind of state where everyone there is is either far to the left on the spectrum or they are a moderate or conservative in hiding."
The whistleblower also claims how devastating this was to experience after having dreamed of working for Disney for so long:
"The whistleblower says that if they had known what working like Disney would be like, that it would have devastated them because they dreamed of working for Disney for so long. Once they received the job and they actually worked at Disney that it was a nightmare and that they had never worked at any company like this that had them do these things and tied it into their pay." (Continued...)
Link to article here.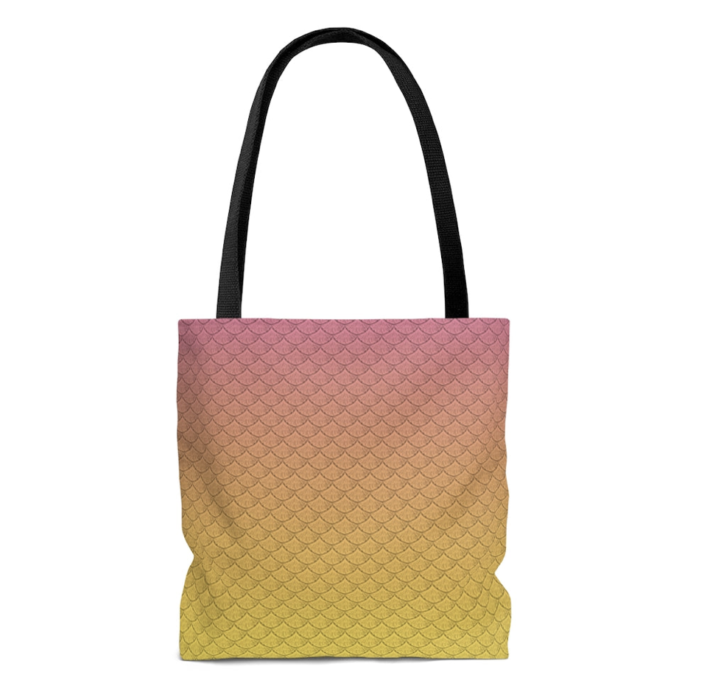 The Lemonade Mermaid Store
Unique gifts for Land or Sea Mermaids, Mer-pets and Little Mermaids!
Left: Our signature Fish Scales design tote bag in Citrus