Judicial Watch has received 11 pages of Secret Service records detailing the denial of protection to presidential candidate Robert F. Kennedy Jr., despite Kennedy having received numerous threats from "known subjects."
The records were produced the day after Judicial Watch filed a FOIA lawsuit against the Dept. of Homeland Security (DHS) over similar but broader requests for DHS/Secret Service leadership records regarding the decision to not provide Secret Service protection for Kennedy.
"The Biden administration's refusal to provide Secret Service protection to Mr. Kennedy is dangerous and vindictive. These FOIA requests and our new lawsuit aim to get the full truth on why Mr. Kennedy's life is being put at unnecessary risk by the Biden administration."

Tom Fitton, Judicial Watch President
RFK Jr. is nephew of former President John F. Kennedy and son of former Attorney General and presidential nominee Robert F. Kennedy. Both elder Kennedys were assassinated.
On July 28, 2023, Kennedy posted to X (formerly Twitter), "Since the assassination of my father in 1968, candidates for president are provided Secret Service protection. But not me."
Recently, Kennedy again requested for Secret Service protection following an incident on the campaign trail involving an armed man impersonating a police officer.
The records listed below were obtained by Judicial Watch and include a Secret Service "Protective Intelligence and Assessment" that reveals numerous threats to Kennedy ("Behaviors of Interest"):
On April 23, 2023, a known subject [Redacted] submitted an inappropriate comment on the White House website addressed to President Biden [Redacted] stated, "Born to a political family, his twelfth cousin—Robert Kennedy—announces their candidacy to succeed Joseph Biden for 'President of the United States.' There's no way you'd… assassinate former president Donald Trump. `Go get 'ern, kiddo!" No further USSS investigation was conducted.
A known subject [Redacted] mailed a nonsensical letter to the hotel where Kennedy held his presidential campaign announcement event [redacted] warned a "madman" may commit a "serious terrorist act" and wanted to discuss his sins with Kennedy. [Redacted] is of record with the USSS [Secret Service] since March 2023 after he sent a nonsensical letter to President Biden with similar rhetoric. The USSS investigation is complete.
A known subject [Redacted] sent materials to Kennedy's residence. One letter contained a 32-page manifesto in which [Redacted] made nonsensical religious references and described himself as a "commissioned messenger of God."
A known subject [Redacted] sent numerous packages, including gifts and a wedding band, to Kennedy [Redacted] stated that she loves Kennedy and expressed anger about being kept away from him.
A subject [Redacted] sent inappropriate communications to Kennedy. The subject believed Kennedy was spying on him, paying people to follow him, and was responsible for vandalism against him. The subject state "your behavior has complete [sic] freaked me out. Focus on your damn campaign and leave me the hell alone."
The assessment also notes:
Many comments suggested that, for no other reason than that he is a Kennedy, he would be at risk of assassination.
In May 2023, Kennedy received increased media attention after accusing the CIA of involvement in the assassination of his uncle.
Kennedy has advocated for the release of the individual currently imprisoned for assassinating his father, Sirhan Sirhan, because he believes a CIA contractor was responsible for the death.
Kennedy has received both support and criticism for his stance on vaccines and has been described as an anti-vaccine activist.
In a July 28, 2023 email chain with the subject line "RFK Jr Says Biden Administration Denied Him Secret Service Protection – The Messenger" Secret Service officials discuss a news article in which Kennedy makes a case for protection.
The chief of communications, whose name is redacted, writes to Michael Plati, the assistant director of Protective Operations, and others: "We're getting Press calls on this and sending to DHS."
An official in the Office of Intergovernmental and Legislative Affairs, whose name is redacted, responds: "Request for protection to DHS dated 5/26; Response by Congressional Advisory Board 7 /11; Passed to DHS front office on 7 /14."
The deputy special agent in charge, whose name is redacted, adds:
[T]he following language was key to the recommendation and subsequent decision.
"Protection under these guidelines should only be granted within one year prior to the general election. Protection more than one year prior to the general election should only be granted in extraordinary, case by case circumstances in consultation with the committee, based on threat assessment and other factors."
Read more at this link: Judicial Watch v. U.S. Department of Homeland Security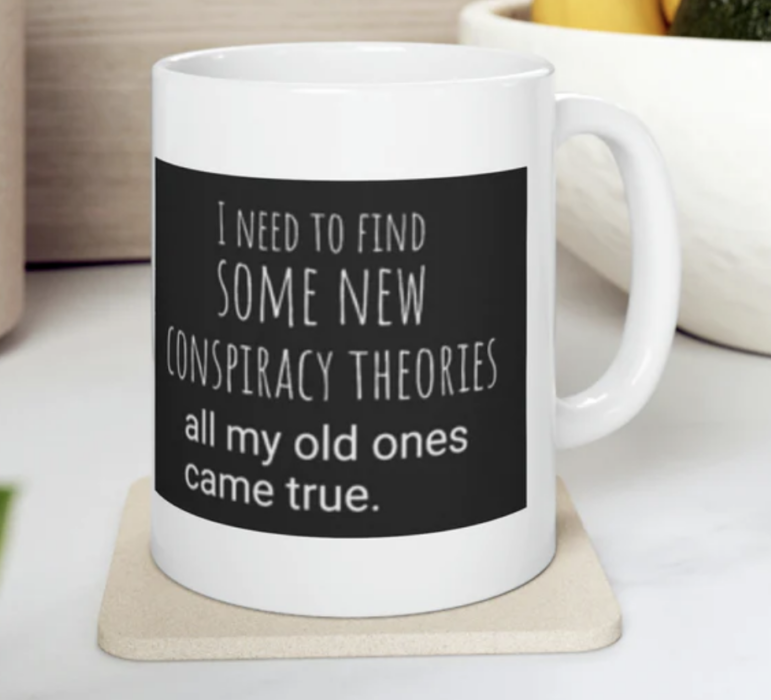 Visit The Sharyl Attkisson Store today
Unique gifts for independent thinkers
Proceeds benefit independent journalism