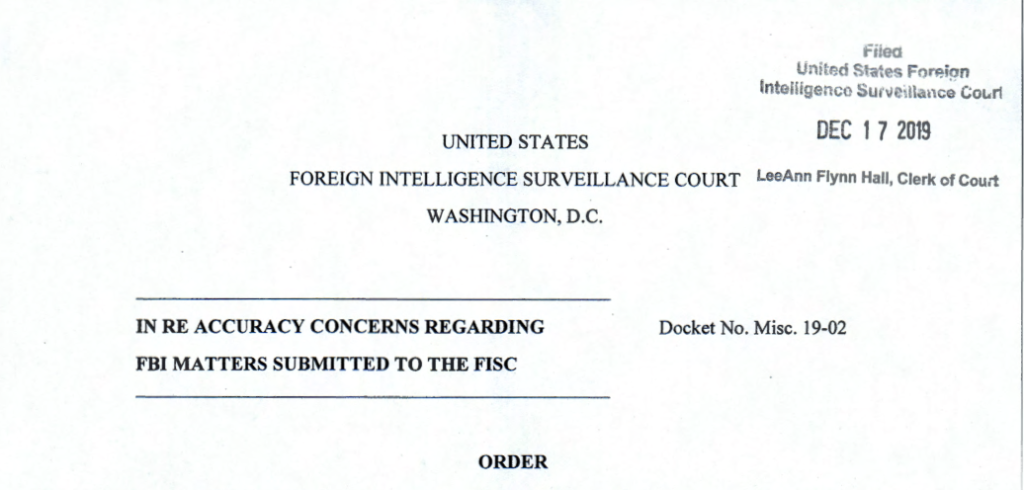 The secretive Foreign Intelligence Surveillance Court (FISC) has finally weighed in on FBI misconduct and abuses.
The court issued an order today titled: "Accuracy concerns regarding FBI matters submitted to the Foreign Intelligence Surveillance Court."
It gives the FBI until January 10 to explain how it will rectify the sorts of errors committed in wiretapping a U.S. citizen linked to the Trump campaign.
"When FBI personnel mislead NSD in the ways described above, they equally mislead the FISC."

Rosemary Collyer, Presiding Judge, Foreign Intelligence Surveillance Court
Presiding judge Rosemary Collyer wrote: "The frequency with which representations made by FBI personnel turned out to be unsupported or contradicted by information in their possession, and with which they withheld information detrimental to their case, calls into question whether information contained in other FBI applications is reliable."
The FBI has not issued an apology to the harmed citizen, Carter Page, whom the FBI wiretapped four times using badly flawed applications and, in one case, a doctored document. The FBI had claimed Page was the nexus between Trump and Russian President Putin. That theory fell apart and Page was never charged with any crime.
The Department of Justice Inspector General last week found three handpicked FBI teams committed critical errors, and there was a failure leadership under FBI Director James Comey.
The Justice Department previously set aside a recommendation by the Inspector General to file charges against Comey for mishandling classified documents and for leaking, in an effort to harm Trump.
The Justice Department said it did not think Comey intended to do harm or knew that he was breaking rules.
Read the Collyer order by clicking the link below:
https://www.fisc.uscourts.gov/sites/default/files/MIsc%2019%2002%20191217.pdf