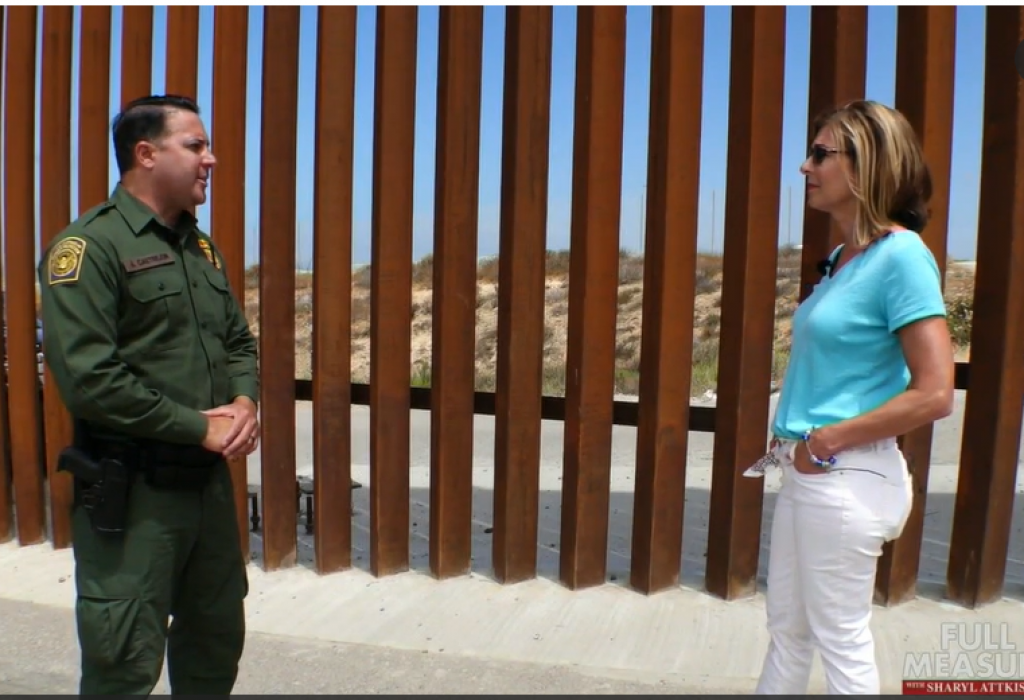 The following is a transcript of a report from "Full Measure with Sharyl Attkisson." Watch the video by clicking the link at the end of the page.
In 2016, Candidate Trump promised to "build that wall." But the effort was blocked by numerous lawsuits and Congress. Ultimately, the Trump administration was able to move billions from sources including the military budget, and construction has been going on ever since. We set out to find how much has really been built and how much tax money it's cost.
We start on the far west coast in San Diego, with border patrol agent Justin Castrejon.
Border Patrol Agent Justin Castrejon: We're about a mile east of the coast. This will continue on another 13 miles into the mountainous area, the Otay mountains here in San Diego. So that includes the secondary and the primary, they mirror each other. So, 14 miles off the coast.
Sharyl: And that's 18 feet tall?
Castrejon: 18 feet tall.
Sharyl: How tall is that?
Castrejon: And this is 30 feet tall. So actually, infrastructure here in San Diego started back in 1994, under Operation Gatekeeper. Before that, we virtually had no physical barrier at the border, so you can imagine it was quite chaotic at times right on the border. In fact, it was a situation where not a whole lot of law and order existed.
(Border Patrol video)
In this video produced by Border Patrol, agent Rodney Scott describes the old days.
Rodney Scott: Early in my career I was in San Diego where 10s of thousands of people would cross nightly and vehicles would cross intermittently with thousands of pounds of narcotics.
Castrejon: Underneath Operation Gatekeeper in 1994, we established the border barrier with the Vietnam war era landing mat, the metal that was actually utilized in the Vietnam war for helicopter landing zones and other runways and such. So, that's when our barriers began way back in 1994. 2007, we actually established a secondary wall system that helped us out a lot, it gave agents a lot more time. It did have the ability we could see through it, that's something that we didn't get with the initial barrier. So, this construction of both projects here started in 2018, and we're hoping to get the secondary. The primary is finished. We're hoping to get the secondary finished by the end of this year.
The government says since January 2017, it has identified about $15 billion to build about 738 miles of new border wall system. The money comes from the Department of Homeland Security, the Defense Department, and the Treasury Forfeiture Fund. So what's gotten done so far? Border patrol reports about 400 miles have been built, shown here in red.
(video shows graphic of U.S. map with red dotted line)
Castrejon: And I've worked now with underneath this new structure, and I can tell you personally working this area is, it's much better. Safer for the agents as well.
Sharyl: Most Americans will never visit the U.S.-Mexican border. What would you like to tell them about the work that's done here?
Castrejon: So, I believe of course it's important work. Things that illegally cross the border in between the ports of entry aren't necessarily destined just for the border towns or cities. A lot of times we'll talk to folks and their final destination is much in the interior of the U.S.. What we see with the maritime events, we see Pangas and pleasure crafts landing as far North as San Francisco. So, to say that people being smuggled at the border, or drugs being smuggled across the border will stay just on the border areas? It's simply not true. In fact, I would have to say yes, border security is national security.
Sharyl (on camera): Mexico hasn't written a check to pay for the wall. But President Trump has been insisting Mexico IS paying through benefits from updated trade terms between the U.S. and Mexico. He's also suggested Mexico will reimburse the cost through future tolls and fees. Meantime, Democrats suggest the Trump administration has "robbed" from the military budget to pay for the wall.
http://fullmeasure.news/news/terrorism-security/border-wall