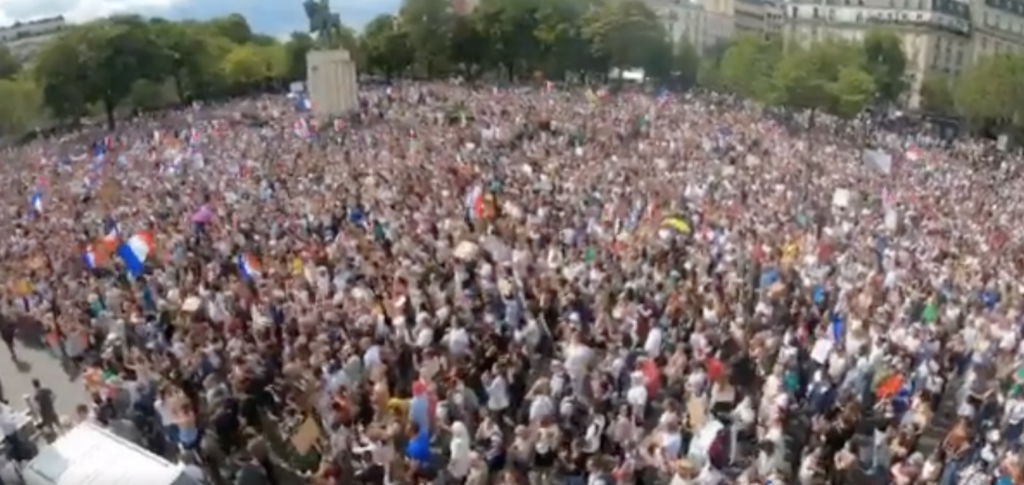 Updated Sun. July 25 to include protests in Greece
Huge protests continue in Greece over the government's mandates of Covid-19 vaccines for health care workers.
Protests are also underway in Italy over  "green pass" requirements proving vaccine status to eat inside restaurants or enter other public areas.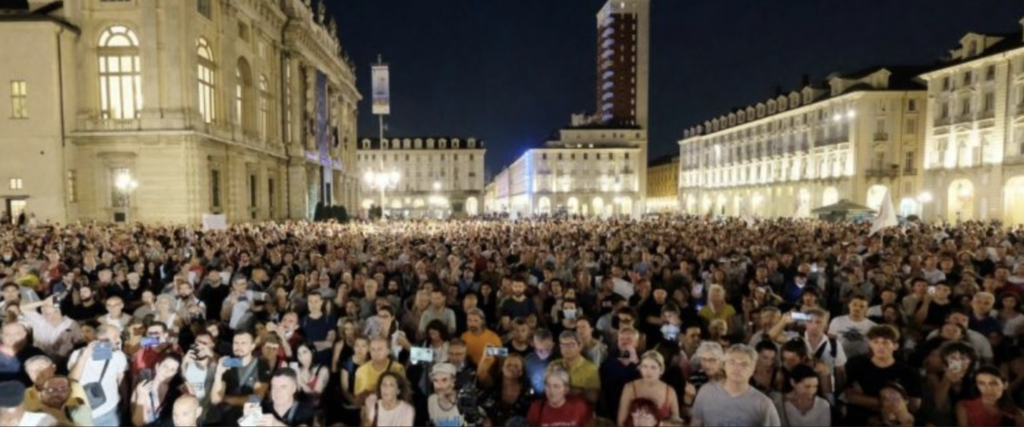 Thousands have also taken to the streets in Australia to protest continued lockdowns. Greater Sydney has been in lockdown status for four weeks. Residents must have a "reasonable excuse" to leave home.
Government officials say the protests are irresponsible and will contribute to the spread of Covid-19, which is reported to be surging in some cities. Demonstrators say the government restrictions implemented to date have not proven effective, are contrary to science, and violate citizens' rights to freedom.
Original article:
Massive protests in France are being held in opposition to a proposed law requiring a special "virus pass" in order for patrons to eat at restaurants. It also mandates Covid-19 vaccinations for all health care workers.
Some propagandists in the U.S. are falsely labelling the protests as "anti-vaccine." While attendees say some anti-vaccine protesters are no doubt part of the group, they insist the protests are centered on "freedom, liberty and science," not opposition to vaccination.
https://twitter.com/sree/status/1419067828632793092?s=20
https://twitter.com/TheMarieOakes/status/1418958723905638404?s=20
Protesters point to scientific experts who agree that natural immunity after Covid-19 infection is proving to be longer-lasting and more effective, so far, than immunity conferred by Covid-19 vaccines. In Israel, the Pfizer vaccine has proven largely ineffective against a dominant strain of Covid-19. Vaccine manufacturers have said a booster is already needed just months after vaccinees received the recommended course of shots. Also, the vaccines have been subject of numerous cautions and warnings around the world as new side effects emerge.
https://twitter.com/search?q=paris%20protests&src=typed_query
Still, U.S. health officials generally recommend vaccination for most everyone, saying the benefits outweigh the risks.
The guidance of health officials has fallen into question as Covid-19 and restrictions have lingered. Polls show only half of the public trusts the CDC and FDA.
Read: Covid-19 vaccine safety concerns
The Centers for Disease Control (CDC) is been mired in controversy over its oversight and recommendations on Covid-19. Earlier this year, the agency and it's top immunization scientists got caught intentionally misrepresenting studies on vaccine effectiveness for those who have already had Covid-19 vaccine. To date, CDC has not fully corrected the misrepresentations, nor explained who is responsible for widely disseminating them even after the agency acknowledged they were wrong.
Protests against Covid-19 restrictions are also taking place in Italy and other countries.