We just observed Veterans Day, thanking all those who served our country — many of them Purple Heart recipients. Now there's an unprecedented effort to track down the names of all those who have received the honor. Lisa Fletcher reports.
The following is a transcript of a report from "Full Measure with Sharyl Attkisson." Watch the video by clicking the link at the end of the page.
From the battlefields of two world wars, to conflicts in Vietnam, Afghanistan, and beyond, America's heroes are remembered and honored.
And while there are different medals for bravery, service, and skill, there's one decoration that stands apart — reserved for sacrifice, either in body or life.
The Purple Heart is our most-awarded medal. More than 1.8 million have been given. And a few hours north of New York, there's a place dedicated to those who've received it.
Peter Bedrossian is the program director.
Lisa: What is the National Purple Heart Hall of Honor?
Bedrossian: Well, it's the first museum dedicated to collecting, preserving, and sharing the stories of Purple Heart recipients. Only one in the nation.
The Purple Heart traces its origin to George Washington, who in 1782 created the Badge of Military Merit for soldiers of the Continental Army. After the Revolutionary War, the award was forgotten for a long time. But in 1932, Army General Douglas MacArthur revived and renamed it the Purple Heart. In the midst of World War II, it became a decoration for all members of the armed forces wounded or killed in action.
Lisa: Why is it a Purple Heart?
Bedrossian: It's a Purple Heart — Washington picked the color purple. Purple is the color of royalty. He wanted something that would stand out and separate that soldier from the rest of the soldiers.
Perhaps because of just how many have been issued, there's no central list of all those who've received the medal. That's one thing Bedrossian and his team are trying to fix.
Bedrossian: There is no comprehensive list. The reason for that is, the information is found in the records of the recipient. The data were never shared to create award lists. The only medal in American military awards that has that distinction is the Medal of Honor.
Those who've received the Purple Heart are encouraged to enroll their names and their stories here for preservation.
Lisa: Why is it important to track down the Purple Heart recipients?
Bedrossian: Because no one knows who they are. It's not a figure that's out there. It's not a — you've seen Medal of Honor recipients at award ceremonies. This is one you're not aware of. It's invisible to many, many people. And those sacrifices that are made are done by people who didn't intend to do that on a given day. They're people who served this country, they took their oath, understanding it might be costly to them. And I think we need to say, "thank you."
And beyond saying "thank you," they're trying to keep the names and stories of all those who sacrificed in combat pulsing through America's memory.https://fullmeasure.news/news/national/purple-heart-11-10-2023
For Full Measure, I'm Lisa Fletcher in New Windsor, New York.
Watch story here.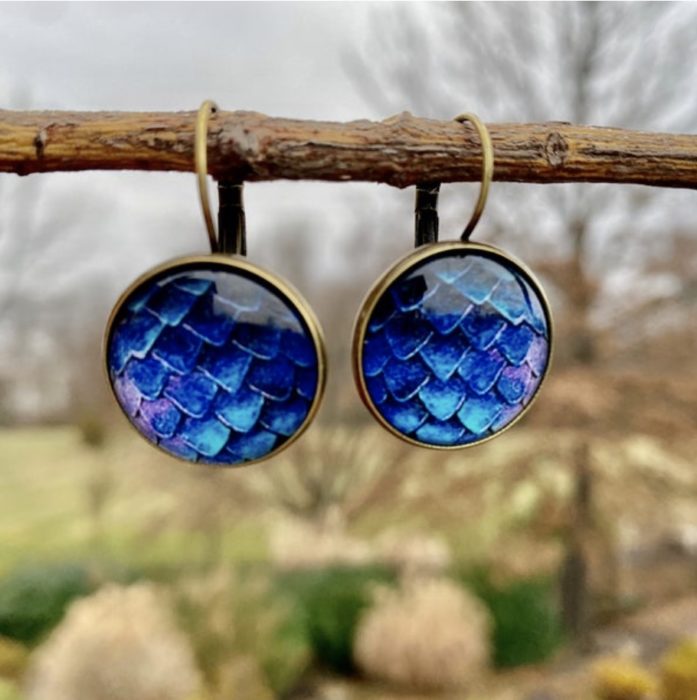 The Lemonade Mermaid Store
Unique gifts for Land or Sea Mermaids, Mer-pets and Little Mermaids!
Left: Our signature Blue Fins Earrings